DVDs from TCM Shop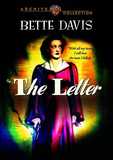 The Letter A woman claims to have killed... MORE&nbsp> $14.36 Regularly $17.99 Buy Now
Articles
SEE ALL ARTICLES
The Letter (1940)
SYNOPSIS

On a sultry night on a Malayan rubber plantation, Leslie Crosbie shoots and kills Geoff Hammond, an old family friend. She claims self-defense and immediately sends for her devoted husband Robert. Leslie, the perfect picture of a respectable society lady, has a stellar reputation, and with the help of lawyer Howard Joyce she is all but sure of being acquitted. However, when an incriminating letter turns up and blackmailers want $10,000 to suppress it, it looks like all is not as it seems.

Director: William Wyler
Producer: Hal B. Wallis (Executive Producer), Robert Lord (Associate Producer)
Screenplay: Howard Koch
Based on the play The Letter by W. Somerset Maugham
Cinematography: Tony Gaudio
Editing: George Amy, Warren Low
Music Composer: Max Steiner
Costume Designer: Orry-Kelly
Cast: Bette Davis (Leslie Crosbie), Herbert Marshall (Robert Crosbie), James Stephenson (Howard Joyce), Frieda Inescort (Dorothy Joyce), Gale Sondergaard (Mrs. Hammond), Bruce Lester (John Withers), Elizabeth Earl (Adele Ainsworth), Cecil Kellaway (Prescott), Sen Yung (Ong Chi Seng), Doris Lloyd (Mrs. Cooper), Willie Fung (Chung Hi), Tetsu Komai (Head Boy), Leonard Mudie (Fred), John Ridgely (Driver), Charles Irwin (Bob's Friend), Holmes Herbert (Bob's Friend), Douglas Walton (Well-wisher).
BW-95m. Closed Captioning.

Why THE LETTER is Essential

The Letter reunited director William Wyler and star Bette Davis for the second time, and they both do some of their best work together. The two had first worked together on the highly acclaimed Jezebel (1938) which had earned Davis the Best Actress Academy Award. Wyler was one of the few directors whom Davis trusted and was able to handle her notoriously difficult personality. "I personally, after Jezebel," she said, "would have jumped into the Hudson River if he had told me to. That's how much belief I had in his judgment as a director."

As the calculating and duplicitous Leslie Crosbie, Bette Davis gives one of the best, most nuanced performances of her career. Davis, proving once again that she was never afraid of tackling a complicated or unsympathetic character, received her fifth Academy Award nomination as Best Actress for her work in The Letter. Pauline Kael famously said of her performance, "Davis gives what is very likely the best study of female sexual hypocrisy in film history."

The Letter features one of the most talked-about opening shots in movie history. Setting the scene in one breathtaking shot, William Wyler carefully conveys the suspense of a tense tropical night that ends in murder.

There are several versions that have been made of W. Somerset Maugham's original play The Letter. In 1929 Jeanne Eagels starred as Leslie, and in 1947 a version called The Unfaithful was made starring Ann Sheridan. There was even a TV movie made in 1982 with Lee Remick. It is the William Wyler-Bette Davis version, however, that remains the definitive standard.

Warner Bros. contract player James Stephenson had been making films for years, but had never reached stardom. When the meaty part of lawyer Howard Joyce in The Letter came along, he knew he had the opportunity of a lifetime. At the age of 51 Stephenson finally received some long deserved attention and was nominated for an Academy Award as Best Supporting Actor.

The Letter was nominated for seven Academy Awards including ones for Best Picture, Best Actress, Best Director, Best Supporting Actor (James Stephenson), Best Cinematography, Best Editing and Max Steiner's arresting dramatic musical score.

by Andrea Passafiume
back to top
---
The Letter (1940)
The Letter was based on a play by W. Somerset Maugham written in 1924. It was first published in his collection The Causarina Tree.

W. Somerset Maugham reportedly based The Letter on a real-life incident in which a married woman in Kuala Lumpur shot a male friend dead and went to trial for his murder.

The play was first produced in London in 1927 and starred Gladys Cooper.

The Broadway production of The Letter opened on September 26, 1927 and starred Katharine Cornell as Leslie. It ran for 104 performances.

The Letter was performed twice for the Lux Radio Theatre. The shows were broadcast on April 21, 1941 and March 6, 1944. Herbert Marshall from the film's cast was one of the actors in both broadcasts.

William Wyler also directed a version of The Letter for television on NBC's Producers' Showcase on October 15, 1956. It starred Siobhan McKenna as Leslie, John Mills as Robert, Michael Rennie as Howard Joyce, and Anna May Wong as the Chinese Woman. It was 85 minutes long and was broadcast live.

Merle Oberon and Walter Huston starred in a Lux Radio Theatre broadcast version of The Letter in 1938, two years before the film was released.

Ann Sheridan starred in a 1947 film version of The Letter directed by Vincent Sherman. It was called The Unfaithful.

Lee Remick starred in a 1982 TV movie version of The Letter.

Paramount made the first film version of The Letter in 1929. It starred Jeanne Eagels as Leslie and Reginald Owen as Robert. Herbert Marshall, who played Bette Davis' husband Robert in the 1940 film, played the role of Leslie's murdered lover Geoff Hammond in the 1929 film. Jeanne Eagels received an Academy Award nomination as Best Actress for her performance.

The Santa Fe Opera announced that in July 2009 it will premiere a new opera based on The Letter. It is being called the first "opera noir".


back to top
---
The Letter (1940)
Bette Davis was reportedly fascinated by the actress Jeanne Eagels, who had played the part of Leslie in the 1929 film version of The Letter.

In W. Somerset Maugham's original play The Letter, after Leslie confesses to her husband that she still loves the man she killed, she gets away with the crime. The implication is that her punishment will be living the rest of her life in an unhappy, loveless marriage. The ending was changed for the 1940 film version in order to satisfy the Production Code Administration who believed that Leslie needed to pay more dearly for her crime.

Actor George Brent was considered to play the role of Leslie's husband, Robert.

In a 1974 interview Bette Davis complimented the performance of co-star Gale Sondergaard in The Letter. "Gale Sondergaard's performance in The Letter as the Eurasian wife of the man Leslie Crosbie killed," she said, "was breathtakingly sinister. I was so lucky that she was cast in this part."

In order to get the perfect shadowy look in some of the scenes in The Letter, director William Wyler reportedly ordered the property department to paint shadows on the floor of the sound stage.

Herbert Marshall, who played Leslie's husband Robert, also appeared in the 1929 film version with Jeanne Eagels. In that version he had played Geoff Hammond, the man that Leslie murders.

Bette Davis and William Wyler battled over how her character Leslie should deliver the crucial line, "With all my heart, I still love the man I killed." Wyler wanted her to look her husband in the eye while saying it, and Davis thought that it was much too cruel, and that she would not be able to meet his eyes. Wyler's idea won out. When Bette Davis was being honored by the American Film Institute in 1977, Wyler referred to the incident in his tribute to her. "Even today 37 years later," he said, "we still disagree on it. Well, Bette read it the way I asked her to, but I'm sure she would like nothing better right now than to drive over to Warner Bros. and re-shoot the scene her way." Davis nodded her head in agreement.

The Letter was shot in seven weeks and three days.

Famous Quotes from THE LETTER

Leslie Crosbie (Bette Davis): He tried to make love to me and I shot him.

Robert Crosbie (Herbert Marshall): You did what every woman would have done in your place but nine tenths of them wouldn't have had the courage.

Robert: You've been the best wife a man could have.

Robert: If you love a person, you can forgive anything.

John Withers (Bruce Lester): How can you tell what a man will do when he's drunk?
Robert: Why do they make her go through the ordeal of a trial?
Howard Joyce (James Stephenson): Because she admitted killing a man and in a civilized community a trial is inevitable.
Robert: She shot him! She would shoot a mad dog.

Robert: I'll do whatever you think is right.
Howard Joyce: I don't think it's right, but I think it's expedient. Juries can sometimes be very stupid, and it's just as well not to worry them with more evidence than they can conveniently deal with.

Howard: One of the things that's impressed me is that every time you've told your story you've told it in exactly the same words. You've never varied a hair's breath.
Leslie: What does that suggest to your legal mind?Howard: Well, it suggests that either you have an extraordinary memory....
Leslie: Or?
Howard: Or either you're telling the plain unvarnished truth.

Howard (to Leslie): I don't want you to tell me anything but what is needed to save your neck.

Leslie: Are you going to let them hang me?
Howard: What do you mean by that Leslie?
Leslie: You could get the letter.
Howard: Do you think it's so easy to do away with unwelcome evidence?

Leslie: I've always wanted to visit the Chinese quarter. I hear it's a bit creepy. Of course I'd have chosen other circumstances for a visit.Howard: Be flippant about your own crimes if you want to but don't be flippant about mine.

Robert: Leslie darling, this time you must let me have my own way.

Robert: Buying that gun was a criminal offense wasn't it?
Howard: Well it's not the sort of thing a respectable lawyer does in the ordinary way of business.
Robert: It was a criminal offense?
Howard: Yes, it was. I might be disbarred for it.Robert: Then why did you do it? You of all people. What were you trying to save me from?

Howard: Strange that a man can live with a woman for ten years and not know the first thing about her.

Leslie: There's no excuse for me. I don't deserve to live.

Robert: My wife's a good sport. I can always count on her. She's not afraid of anything.

Leslie: With all my heart, I still love the man I killed.

Compiled by Andrea Passafiume
back to top
---
The Letter (1940)
The Letter began as a play by W. Somerset Maugham originally published in 1925. After a successful stage production in London's West End in 1927 starring Gladys Cooper, the play opened on Broadway later the same year with Katharine Cornell starring as Leslie. In 1929 Jeanne Eagels starred in the first film version of The Letter for Paramount. The role of Leslie Crosbie was a challenging and complex character study that attracted many strong actresses, including Bette Davis a decade later.

Warner Bros., Bette Davis' home studio, had bought the rights to The Letter for their top actress to star in. Before they could move forward with the production, however, the studio first had to get the material approved by the strict Production Code Administration. With its subject matter rife with themes of adultery, greed, deception, lust and murder, that was no easy task.

In a memo to Jack Warner from Production Code Administration (PCA) Director Joseph Breen dated April 18, 1938, Breen condemns the material. "We have read with great care the playscript of The Letter, by W. Somerset Maugham," wrote Breen. "In the development of this story we have the murder of the lover; all the sordid details of the illicit sex relationship between the married woman and her lover; and very pointed and very numerous references to the second mistress of the murdered man, who is characterized as a China woman...Because of all this, we could not, of course, approve a motion picture, based upon this story."

A few months later writer Robert Lord wrote to producer Hal Wallis expressing his wishes to work on a treatment of the screenplay that could potentially get around the objections of the PCA. In a memo to Wallis dated December 20, 1939, Lord wrote, "I will try a scheme which I believe will enable us to get by the censors. I do not guarantee that we will get by, but it is certainly worth trying; because, in my opinion, if we can follow the play very closely and manage to get by the censors, we will have one of the most powerful and different motion pictures ever made." Together he, along with writer Howard Koch, pounded out what they hoped would be an acceptable treatment for The Letter. They changed the character of the murder victim's Chinese mistress into his Eurasian wife, and they made sure that Leslie's character would be severely punished for her crime.

The plan worked and The Letter was green-lighted at Warner Bros. on the strength of the completed final screenplay by Howard Koch. William Wyler, who was on loan out from Sam Goldwyn, agreed to direct. It was the second film he would direct for Warner Bros. His previous film for them, Jezebel (1938), had been a triumph for everyone involved and the studio was happy to have him.

Bette Davis was thrilled that William Wyler would be directing her in The Letter. Wyler had directed her Academy Award-winning performance two years earlier in Jezebel and she adored him. He was one of the very few directors she trusted completely and who knew how to handle her. "I personally, after Jezebel, would have jumped into the Hudson River if he had told me to," she said. "That's how much belief I had in his judgment as a director." It was also no secret that she and Wyler had had an affair during Jezebel. According to producer Hal Wallis in his 1980 autobiography Starmaker, Davis had even left her husband Ham Nelson for Wyler at the time. Their relationship ended, but they always had a strong mutual respect and worked well together. Though the affair was long over by the time they made The Letter, Wallis believed that their romantic history gave a charge to the finished film. "I do believe," writes Wallis, "the emotional tension between them added an extra quality to the pictures they made together: the air hummed with feeling from first frame to last."

Actor Herbert Marshall was hired to play Leslie's forgiving husband, Robert. Interestingly, Marshall had played the part of Geoff Hammond, Leslie's lover, in the 1929 film version. Gale Sondergaard, a Caucasian actress, was brought on to play Mrs. Hammond, the Eurasian wife of Leslie's murdered lover. "Gale Sondergaard was very good," said William Wyler in 1973. "Today you would take a Chinese [actress], but there weren't any then. Anna May Wong was the only Oriental actress I could have used and she was kind of a sex kitten and too young."

The role of Leslie's conflicted lawyer Howard Joyce was a meaty part, and Wyler wanted a strong actor for it. Jack Warner called Wyler up and recommended James Stephenson. Under contract to Warner Bros., Stephenson, a fine actor, had worked steadily but had not yet achieved stardom. Wyler gave Stephenson a screen test and liked what he saw. When he told Jack Warner that he wanted to hire him, however, Warner balked. Apparently Warner hadn't realized what a tremendous opportunity the part of Howard Joyce was for an actor and thought the role should be filled by a bigger name star. Wyler found himself in the position of fighting Warner to use Stephenson, whom Warner had suggested in the first place. Wyler won the battle, and James Stephenson finally had the role of a lifetime. It was an opportunity that he wouldn't waste.

With shooting set to begin on The Letter in May 1940, Wyler still had some business to finish with the script. Ever the perfectionist wanting his work to be the very best it could be, Wyler went to screenwriter Howard Koch. "He came to me and said, 'I don't know what it is,'" Koch recalls. "'There's something missing. An image. Something to unify the story that isn't there now.' I thought about it for a while. He was searching for a fundamental image - something that by its recurrence would reveal the woman's suppressed guilt behind the faade of her protested innocence. Finally I came up with an idea and went to Willie. 'Why don't we use the moon?' He thought that was interesting. We had decided to have a full moon the night she did the shooting. Now we would really make use of it. From then on, starting with that night, she would draw away from the moonlight to avoid the memory of what she'd done."

by Andrea Passafiume
back to top
---
The Letter (1940)
Shooting began on The Letter in May 1940 on the Warner Bros. studio lot. The first scene that William Wyler shot was the famous opening shot in which we see Leslie shoot Geoffrey Hammond. "I felt this opening shot should shock you," said Wyler. "To get the full impact of the revolver being fired, I thought everything should be very quiet first. I also wanted to show where we were, give a feeling of the dank, humid jungle atmosphere of rubber plantation country."

The opening shot, which lasted two minutes on screen, took an entire day to film, and that was before even a single word of dialogue was spoken. The studio expected him to shoot at a rate of 3-4 script pages a day, but the opening shot reflected a mere paragraph on page one. Wyler had a reputation for taking a long time to shoot, but he also had a reputation for doing excellent work. Still, his slow pace had some studio executives up in arms. "Wyler had a mania for endless takes," said producer Hal Wallis in his 1980 autobiography Starmaker, "and on The Letter, it became an obsession."

The shooting schedule for the opening scene, according to Wallis, was a particular bone of contention with the studio brass. "It was a simple setup," explains Wallis, "and could easily have been done in two or three takes, but Wyler insisted on shooting thirty-three. Bette kept running out of ammunition, the extra playing the shot man kept brushing his tuxedo free of dust, and the white cockatoo had to be taken out and brought back again and again so that it would respond to the sound of the bullets. Everyone grew weary, especially Bette, who by the last take was so exhausted she could hardly raise the gun."

Angry, Hal Wallis and Jack Warner demanded an explanation from Wyler about why it was taking so long. "He had no explanation," said Wallis. "I think he simply enjoyed the scene so much he wanted to spend two days doing it over and over."

The frustrated Wallis took the footage from all thirty-three takes of the opening shot home to look at. "I sat up all night watching the thirty-three takes," Wallis said, "then made a selection of one of them. When the picture was completed, I ran it for Wyler and asked him if he was pleased with the opening scene. He said, 'Yes. Now you see the value of doing it thirty-three times.' 'I'm sorry to inform you,' I replied, 'that I used the first take.'"

Even though there were clashes over the opening scene, there was no denying that the end result was stunning. It set the moody tone for the whole film. Bette Davis loved it. "This long opening shot in The Letter," she said in 1974, "is, in my opinion, the finest opening shot I have ever seen in a film. This was due to the genius, and I use the word advisedly, of William Wyler, our director."

Wyler, who loved a challenge, used several long scenes in The Letter, feeling that the drama would often play out better that way. For instance, regarding the scene in which Leslie's lawyer confronts her in his office Wyler said, "We rehearsed longer and longer stretches. Instead of cutting, I thought, 'why not go on?' It was not done by design, but there was just no reason to stop. James Stephenson and Bette Davis were superb, every emotion was in it and every one came through. The scene ran on and on, for some eight minutes." When Wyler looked at the footage later, however, he felt that a close-up was needed of Stephenson in the middle of the scene, which would mean making a cut. "I sort of debated with myself," said Wyler. "'Hell. To have to cut up the scene, put in the close-up.' But does the audience care whether it's all in one shot? No. So I cut the scene and put in a close-up."

According to Bette Davis, actor James Stephenson would often get into fights with William Wyler during the making of The Letter and walk off the set out of frustration from time to time. "Every time Jimmy would leave," said Davis, "I would run after him and make him come back, saying, 'It will be worth it, Jimmy don't go. You will give the great performance of your career under Wyler's direction.'" Each time Stephenson would return to work and shooting would resume.

Bette Davis herself walked off the set once in a fight with William Wyler over the film's climactic scene in which Leslie says to her husband, "With all my heart I still love the man I killed." It was a crucial line, and the way it was delivered was of utmost importance to the drama. Wyler believed that Davis should look her husband's character in the eye as she delivered the devastating blow. Davis, however, disagreed. "It was such a cruel thing to say to the husband," said Davis in her 1962 memoir The Lonely Life, "I felt I could not say it to his face. I couldn't conceive of any woman looking into her husband's eyes and admitting such a thing. I felt it would come out of her unbeknownst to herself, and therefore she would not be looking at him. Willie disagreed with me - most definitely. I walked off the set! Something I had never done in my whole career...I could not see it his way, nor he mine. I came back eventually - end result, I did it his way. It played validly, heaven knows, but to this day I think my way was the right way. I lost, but I lost to an artist."

After shooting was completed on The Letter, Wyler watched a rough cut and decided that he wanted the character of Leslie to be more sympathetic. He ordered some re-writes and planned to shoot them. Bette Davis was not happy. "I was heartbroken," she said, "as I felt, after reading the rewrites, that my performance could be ruined with these additions. I asked Willie if I could see the film before doing the retakes. To my horror I was crying at myself at the end of the showing. There was dead silence in the projection room when the lights came up. I said, 'If we film these retakes, we will lose the intelligent audience. It is impossible to please everyone with any one film. If we try to accomplish this, we can lose all audiences.' Plus, to my shame, even though I played the part, I deeply sympathized with Leslie Crosbie. We only made one small addition to the original film. Wyler had agreed with me. Thank God!"

The Letter opened in November 1940 to widespread critical praise. It was a solid box office hit and garnered seven Academy Award nominations. It was the fifth film directed by William Wyler in a row to be nominated for Best Picture. It marked Wyler's third nomination for Best Director and Davis' fifth nomination for Best Actress.

James Stephenson, who was also nominated for an Academy Award as Best Supporting Actor, was singled out with praise for his performance as Howard Joyce. It was the break he had been waiting for his entire career. He didn't forget how Bette Davis had convinced him to stay on The Letter when he had walked off the set. "We were both having lunch in the Green Room at Warner Bros.," recalled Bette Davis, "He came to my table and said, 'Bette, I'll thank you all my life for making me stay on the picture.'" Unfortunately, Stephenson didn't get to enjoy his triumph for very long. Just months after The Letter was released, he died suddenly of a heart attack at the age of 53.

"The Letter was a magnificent picture due to Willie," said Bette Davis, summing up her feeling about the film. "Willie believed in one thing while directing a film. It didn't matter how many differences of opinion or how many upsets occurred during filming the only thing that mattered was the finished product, what was on the screen after the film was completed."

by Andrea Passafiume
back to top
---
The Letter (1940)
It is a sultry, sweltering, moonlit night on a Malayan rubber plantation. The camera pans across the native workers sleeping fitfully in their hammocks, through the silent, menacing darkness. Suddenly, a shot rings out. A ghostly tropical bird, startled, flies off its perch. A man stumbles down the steps of the veranda, followed by a woman who pumps several more shots into him and drops the gun. In two wordless minutes, director William Wyler grabs the audience and sets the mood of The Letter (1940), with one of the most stunning opening sequences ever.

Based on a short story and play by British author W. Somerset Maugham, The Letter is the story of Leslie Crosbie, who has killed her lover and claims self-defense. But an incriminating letter exists...

The legendary Jeanne Eagels starred in Paramount's silent film version shortly before her death in 1929. Bette Davis was thrilled when Warner Brothers purchased the rights for her. She was even more delighted when the studio borrowed William Wyler from Goldwyn to direct.

Wyler had guided Davis' Oscar-winning performance in Jezebel (1938), and the two had had a romantic relationship. That ended, but they still respected each other professionally. Davis would say that Wyler was one of the few directors she trusted completely, to whom she would subordinate her own instincts and judgment. That devotion was sorely tested in the climactic scene of The Letter, when Leslie admits to her husband that she still loves the man she killed. Davis felt that no woman could look at her husband when she admits such a thing. Wyler disagreed. Davis walked off the set. Later, she returned, and did it Wyler's way, but ever after, Davis insisted her way would have been better.

Cast as the lawyer who compromises his professional ethics to help Leslie was a British actor named James Stephenson. Jack Warner had suggested that Wyler use him in a film, but once Wyler cast Stephenson, Warner had second thoughts and felt the role was too important for an unknown. But Wyler stood firm, and Stephenson's performance earned him an Oscar nomination. Sadly, he had only a short time to enjoy the acclaim. Less than a year later, Stephenson died of a heart attack.

Wyler's visual storytelling is one of the most striking elements of The Letter. Like the opening, the confrontation between Leslie and her lover's Eurasian wife has virtually no dialogue and no music, only the eerie sounds of a wind chime, enhanced to menacing proportions. Yet Wyler also knows when to let dialogue carry a scene. A prison scene between Leslie and her lawyer - with virtuoso performances by Davis and Stephenson - is held on a single two-shot for eight minutes, broken only by a single reaction shot of Stephenson.

The Letter was nominated for seven Academy Awards, including Best Picture, Actress, and Director. It won none of them. But it is one of the finest examples of the craft of filmmaking within the studio system.


Director: William Wyler
Producer: Hal B. Wallis & Robert Lord
Screenplay: Howard Koch, based on the novel by W. Somerset Maugham
Editor: George Amy
Cinematography: Tony Gaudio
Art Direction: Carl Jules Weyl
Music: Max Steiner
Principal Cast: Bette Davis (Leslie Crosbie), Herbert Marshall (Robert Crosbie), James Stephenson (Howard Joyce), Frieda Inescort (Dorothy Joyce), Gale Sondergaard (Mrs. Hammond), Bruce Lester (John Withers), Sen Yung (On Chi Seng).
BW-96m. Closed captioning.

by Margarita Landazuri
back to top
---
The Letter (1940)
AWARDS AND HONORS

The Letter was nominated for seven Academy Awards including Best Picture, Best Actress (Bette Davis), Best Supporting Actor (James Stephenson), Best Cinematography, Best Director (William Wyler), Best Editing and Best Musical Score.

The Critics' Corner: THE LETTER

"A superior melodrama, compounded of excellent acting, insinuating atmosphere and unrelaxed suspense...Miss Davis is a strangely cool and calculating killer who conducts herself with reserve and yet implies a deep confusion of emotions. James Stephenson is superb...But the ultimate credit for as taut and insinuating a melodrama as has come along this year-a film which extenuates tension like a grim inquisitor's rack-must be given to Mr. Wyler. His hand is patent throughout."
The New York Times

"One of the best pictures of the year...Bette Davis has to divide honors of this great triumph with, first, William Wyler, the director, and secondly, with Max Steiner for his most interpretive music; this triple creation was the height of fine picture making. The star was never better in a role that called on every ounce of her great ability. Wyler's handling of his people and his direction of Tony Gaudio in the photographing, was nothing short of genius. The musical background of Max Steiner is truly his masterpiece, and a great contributing factor to the success of the show."
- Hollywood Reporter

"Meticulous little Director William Wyler has packed this picture with atmosphere, an elusive quality for movie. He keeps the audience strained with a most effective dramatic time bomb the constant feeling that something very bad is about to occur. Bette Davis helps with a display of psychopathic evil as repulsive as her Mildred in ...Of Human Bondage [1934]. Herbert Marshall, more limber than usual, behaves appropriately for a true-blood British colonel. James Stephenson, hitherto confined to furnishing British background, gives the part of the lawyer a distinguished, neatly devised piece of acting...[Tony] Gaudio's fine photography represents the kind of perfection that is automatically expected from the skilled, unpublicized, tight little fraternity which grinds Hollywood's cameras."
- Time Magazine

"...never has the [W. Somerset Maugham play] been done with greater production values, a better all-around cast or finer direction...Set is of tremendous proportions and the music by Max Steiner is particularly noteworthy in creating and holding a mood, as well as in pointing up the drama."
- Variety

"Bette Davis's 43rd movie; it marked her 10th year in films, and it is one of her few good vehicles...Davis gives what is very likely the best study of female sexual hypocrisy in film history. Cold and proper, she yet manages to suggest the passion of a woman who'd kill a man for trying to leave her. She is helped by an excellent script (by Howard Koch) and by two unusually charged performances--James Stephenson as her lawyer and Herbert Marshall as her husband. The cast also includes two formidable women--Frieda Inescort, who seems ineffably absurd as the lawyer's wife, and Gale Sondergaard, whose performance as the Eurasian woman was actually taken very seriously by many people."
Pauline Kael"A superbly crafted melodrama, even if it never manages to top the moody montage with which it opens - moon scudding behind clouds, rubber dripping from a tree, coolies dozing in the compound, a startled cockatoo - as a shot rings out, a man staggers out onto the verandah, and Davis follows to empty her gun grimly into his body . . . [The] camerawork, almost worthy of Sternberg in its evocation of sultry Singapore nights and cool gin slings, is not matched by natural sounds..."
- TimeOut London

"...A fine performance by Davis; no one is better at playing characters who act their way through life...Wyler's direction is very moody; there are long passages in which dialogue is sparse or nonexistent and the erotic tension is built through Max Steiner's music, shadows, sounds...the moon floating through the clouds, character movements and expressions. The worst aspect of the film is the embarrassingly invidious portrayal of the non-white characters, which almost justifies the colonialists' matter-of-fact racism."
- Danny Peary, Guide For the Film Fanatic

"The Letter remains a great, bursting melodrama of the sort that hinges upon censorship saying you can't show the sex - and so the desire builds out of all proportion and it becomes a study in yearning and the way desire can wreck every civilized system."
- David Thomson, Have You Seen...?

"Excellent performances and presentation make this the closest approximation on film to reading a Maugham story of the Far East, though censorship forced the addition of an infuriating moral ending."
- Halliwell's Film & Video Guide

"With a great sequence to open and close the film, a wonderful turn by Davis combining her effervescent skills at being ladylike and selfish, and an appropriate female enemy in sinister, impassive Gale Sondergaard (as the spider woman wife of the man Davis killed), you'd think The Letter would play far better than it does....Unfortunately, most of the screen time is afforded to Stephenson...Like Frankenstein's monster in the Universal horror classics, The Letter keeps its prize creature too long in the shadows. But a Davis movie cannot withstand scrutiny without her, and even a bad Davis movie where she's hamming and mugging and even humiliating herself is more fun than practically no Bette at all."
- Jeremiah Kipp, Slant Magazine

"Though W. Somerset Maugham's story could easily have been filmed as a turgid melodrama, director William Wyler's magnificent handling of the material and Bette Davis's taut and calculated performance converted it into enduring cinematic art. The Letter is as good today as it seemed upon its first release. Though Davis's strong performance is the film's center, Herbert Marshall (who had played the lover in an earlier version of the story) is excellent as the long-suffering husband, and James Stephenson actually manages to steal scenes from his costars as the honest lawyer who puts his career in jeopardy for a friend."
- TV Guide

Compiled by Andrea Passafiume
back to top
---
The Letter (1940)
With the turn of the '70s, storied filmmaker John Huston was sorely in need of a hit when he signed on for the screen adaptation of Noel Behn's Cold War espionage potboiler The Kremlin Letter (1970). Suffice to say that the box-office returns were not what either director or studio had hoped; still, the finished project is an entry in Huston's oeuvre still worth investigating, for its echoes of such front-line offerings as The Maltese Falcon (1941) and The Asphalt Jungle (1950), and the satiric audaciousness that Huston brought to the proceedings.

Huston's black bird here is the titular missive, an unauthorized written promise made by a U.S. diplomat promising the U.S.S.R. America's alliance should the Soviets ever decide to attack Red China. Uncle Sam, understandably, wants this document back, and a high-ranking intelligence chieftain referred to only as "the Highwayman" (Dean Jagger) selects his point man for the mission, retired naval officer Charles Rone (Patrick O'Neal).

Along with his briefing, Rone receives the identities of the genuinely mixed bag of operatives who'll be at his disposal, including B.A. (Barbara Parkins), the gorgeous lockpick who inherited her notorious safecracker father's skills and then some; "the Whore" (Nigel Green), a small-time pimp from a Mexican brothel; Ward (Richard Boone), the matter-of-fact veteran spy who's the Highwayman's trusted second; and "the Warlock" (George Sanders), an aging San Francisco transvestite possessed of entre into Moscow society.

After blackmailing a Soviet spy (Ronald Radd) to gain access to his Moscow apartment for a base of operations, the cadre sets out to bug the office of Vladimir Kosnov (Max von Sydow), the chief of the secret police. It isn't long before the spies find themselves caught in a power struggle between Kosnov and politician Aleksei Bresnavitch (Orson Welles), and in working their way out, encounter a string of double-crosses as well as the stunning truth underlying their mission.

In his memoir An Open Book, Huston remembered his disappointment with the popular reception that met The Kremlin Letter. "The book [had] been a best seller. It had, moreover, all those qualities that were just coming into fashion in 1970 - violence, lurid sex, drugs...Gladys Hill and I wrote the script, which I considered quite good, though in retrospect it was perhaps overcomplicated."

Perhaps overcomplicated, and perhaps too over the top too often; New York Times critic Vincent Canby wrote at the time of the film's opening that "as with so many recent Huston films, the scale of everything - geography, sets, absurdities, misanthropies, running time - has been enlarged as if to disguise what looks to be the director's awful boredom with movies."

More charitable was Sight and Sound, which declared that "Even if we forget the meaning and concentrate on the fun - as Huston himself has done for long stretches - the eventful trip through Hustonland should leave us with little cause for complaint." Huston felt "the performances couldn't have been bettered. It was extremely well photographed [by Ted Scaife]-there was a virtuosity, a shine to it...I wished I could have given my friends [producers Richard Zanuck and David Brown] if not blockbusters, at least successful films. I still feel bad about it."

Producers: Carter DeHaven, Sam Wiesenthal; John Huston (uncredited)
Director: John Huston
Screenplay: Gladys Hill, John Huston; Noel Behn (novel "The Kremlin Letter")
Cinematography: Ted Scaife
Art Direction: Elven Webb
Music: Robert Drasnin
Film Editing: Russell Lloyd
Cast: Bibi Andersson (Erika Kosnov), Richard Boone (Ward), Nigel Green (The Whore), Dean Jagger (Highwayman), Lila Kedrova (Madam Sophie), Micheal MacLiammoir (Sweet Alice), Patrick O'Neal (Charles Rone), Barbara Parkins (B.A.), Ronald Radd (Captain Potkin), George Sanders (Warlock), Raf Vallone (Puppet Maker), Max von Sydow (Colonel Kosnov), Orson Welles (Bresnavitch), John Huston (Admiral).
C-125m. Letterboxed.

by Jay S. Steinberg
back to top
---
The Letter (1940)
"The course of our lives can be changed by such little things. So many passing by, each intent on his own problems. So many faces that one might easily have lost. I know now that nothing happens by chance. Every moment is measured; every step is counted."
--Joan Fontaine, Letter from an Unknown Woman

Love and fate, two of the most fertile concepts in dramatic history, were rarely as perfectly realized as when one of the world's greatest directors and one of Hollywood's most under-valued stars joined forces to create his 1948 romantic opus, Letter from an Unknown Woman. Too European for success in an era of Hollywood escapism, the film failed at the box office, but has lived in the hearts of its fans to become one of the most cherished of all Ophuls films.

Fontaine had recently completed a long and, ultimately, frustrating contract with David O. Selznick. Although he had made her a star with Rebecca (1940), for most of her contract he simply lent her out for a profit, often for lackluster roles. Determined to gain some control over her career (and, in some opinions, save her marriage to producer William Dozier), she and her husband created their own production company, Rampart Pictures. For their first film, they chose an adaptation of Stefan Zweig's popular 1932 novel Letter from an Unknown Woman. Universal had filmed an American version of the story in 1933 as Only Yesterday, with Margaret Sullavan making her film debut as a woman hopelessly in love with a man who, years later, does not even remember the encounter that produced her son. Dozier had long wanted to make another adaptation of the novel, and Fontaine thought the long-suffering romance not only offered her a perfect role, but also was the kind of love story women enjoyed at the movies.

To produce Letter from an Unknown Woman, they turned to John Houseman, Orson Welles' one-time associate who had worked with Dozier at Paramount and was just finishing a producing contract at RKO. Houseman was enthusiastic about the project and suggested an old friend, Howard Koch, to write it. With producer and director committed to returning the film to Zweig's original setting, turn-of-the-century Vienna, Koch suggested director Max Ophuls as the perfect choice to capture the city's weary sophistication. When he showed his colleagues Ophuls' pre-war film Liebelei (1933), the Vienna-set film convinced them to hire him. They also let him use one of his favorite cameramen, Austrian Franz Planer, and Universal Pictures' Moscow-born art director Alexander Golitzen to add to the film's authentic flavor. They also decided to cast a European actor, Louis Jourdan, as the leading man.

Ophuls was already disillusioned with Hollywood, where he had fled during World War II. He had been fired after only three days shooting his first film there and had been able to complete only one U.S. film to that time, the Douglas Fairbanks, Jr. adventure The Exile (1947). Part of the problem was his poor English, which made communication difficult. But the demanding filmmaking methods that would one day win him a position among the world's greatest directors were at odds with Hollywood production, which too often shot films in an assembly line process. At least the first problem was solved when he met Houseman, who spoke French fluently and whose family came from the Alsace, the same part of Europe where Ophuls had lived.

With Houseman supervising, Koch and Ophuls worked on the screenplay. From the first, Ophuls was demanding, insisting on authentic, creative choices throughout the film. Though he did not receive a screenwriting credit, Houseman's memoirs credit him with some of the film's most distinctive touches, including the snow-filled amusement park, the deserted dance-hall in which the stars dance as an all-female orchestra plays Strauss and the fake train ride, with an attendant pedaling furiously to roll scenery past a stationary train carriage.

During the filming of Letter from an Unknown Woman, Ophuls' painstaking craftsmanship began to disturb Houseman. In particular, the producer was concerned with a proposed three-minute take following Fontaine from her carriage on the street through the crowded lobby of an opera house and up the stairs to the diamond horseshoe, where she finally sees Jourdan in the lobby below for the first time since their brief fling. Houseman felt that the sequence, which required dozens of extras, was tying up valuable resources for too long and threatened to slow the film down. But when he expressed his concerns, the director became enraged and accused him of selling out to studio management (the film was being made on the Universal lot). After another day of rehearsal, Houseman expressed his concerns again and finally asked Ophuls to shoot some close-ups in case they felt the need to break up the shot. When Ophuls refused, Houseman threatened to shoot the close-ups himself, though he also promised not to use them without the director's approval. Finally, after days of rehearsal, Ophuls got his traveling shot, and the cast and crew broke out in applause. Then, with Houseman watching, Ophuls ordered the crew to set up for two close-ups, one of each star. By that point, the director was not speaking to his producer, but a few days later, Ophuls invited Houseman to join him for a rough cut of the last part of the film, including the much-debated tracking shot. Houseman watched as the scene unfolded, with both close-ups inserted, cutting the shot in half. As he left the screening room, Ophuls called out to him and said, "I'm glad we got those close-ups."

For all his demanding ways, Ophuls had no problems with Fontaine. She would later write in her memoirs that even though she spoke no German, there was no language barrier between them. When he gave her notes on a scene, he only had to say a few words before she got exactly what he wanted and adjusted her playing. Certainly that symbiotic relationship benefited the film. Many critics consider her work in Letter from an Unknown Woman to be her best ever. She had previously shown her ability at capturing youthful innocence in films such as Rebecca and Jane Eyre (1944). But this time she allowed the child-woman to grow up into a sophisticated, elegant wife and mother still capable of being ruled by the child within.

Ophuls created the perfect setting in which to display that performance. His Hollywood-back lot Vienna often seems to be the real thing, filled with the kinds of meticulous design details that mark all of his films. In addition, his use of the camera manages to be romantic and rapturous while also underlining the film's themes. In particular, he repeats the same shot of Jourdan's character at the foot of a staircase at three different times, once when, as a child, Fontaine watches him bring home a date, again when he brings her in from their first evening out together, and finally when she sees him standing below her at the opera.

This careful use of camera effects turns the film into a piece of music, which is underlined by Ophuls' painstaking selection of the appropriate classical pieces to reflect action and milieu. Jourdan's theme is taken from Lizst's piano etude No. 3, which his character is shown practicing early in the film when he is still a student. It plays whenever Fontaine thinks of him, over their love scenes and as he finishes reading her letter at the end. When Fontaine encounters him again at the opera, where he does not remember their previous liaison, the music is from Mozart's The Magic Flute. This offers a particularly poignant doubling of the film's plot and the opera, in which the comic lead, Papageno, does not recognize his true love when she visits him in disguise.

None of this artistry seemed to matter to post-war audiences. Letter from an Unknown Woman received only mixed reviews, with critics praising the period art direction but often noting the film's slow pacing. It was decidedly not what post-war film audiences wanted. Theories about the film's box-office failure usually blame the casting of Jourdan, whom producer Houseman felt lacked the sex appeal necessary to make Fontaine's lifelong devotion both believable and touching. Later critics, however, have pointed out that Ophuls' direction supplies all the sensuality required and that, on re-evaluation, Jourdan's performance is perhaps his finest. Another problem for audiences was the film's fatalistic plot. By the final shot Fontaine's character is dead of typhus while Jourdan, now chastened from reading her letter, is going off to certain death in a duel with her husband. Although this finale seems tragic to contemporary critics, it may have lacked the obvious sense of ennoblement audiences of the 1940s wanted from what was still basically an escapist medium.

Over the years, however, Letter from an Unknown Woman has found its audience through revival screenings, television and home video (though it is not currently available on DVD). Critics such as Andrew Sarris and fellow filmmakers like Francois Truffaut and Martin Scorsese, have raised Ophuls to the ranks of the world's greatest filmmakers. Although his later European films are usual given the primary place among his works (and Sarris considers one of them, The Earrings of Madame de... (1953), the greatest film ever made), Letter from an Unknown Woman is usually hailed as his best American film and the clear favorite among many film buffs, both for Ophuls' romanticism and the finely etched performances of Fontaine and Jourdan.

Producer: John Houseman
Director: Max Ophuls
Screenplay: Howard Koch
Based on the novel by Stefan Zweig
Cinematography: Franz Planer
Art Direction: Alexander Golitzen
Music: Daniele Amfitheatrof
Principal Cast: Joan Fontaine (Lisa Berndle), Louis Jourdan (Stefan Brand), Mady Christians (Frau Berndle), Marcel Journet (Johan Stauffer), Art Smith (John), Erskine Sanford (Porter), Betty Blythe (Frau Kohner), Celia Lovsky (Flower Vendor).
BW-87m.

By Frank Miller

SOURCES:
Front and Center by John Houseman

back to top
---