DVDs from TCM Shop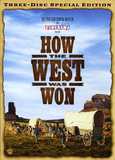 How the West Was Won Three generations of pioneers... MORE&nbsp> $15.71 Regularly $20.98 Buy Now blu-ray
USER REVIEWS
See Detailed Ratings
Acting of Lead Performers

Acting of Supporting Cast

Director

Music Score

Title Sequence

Screenplay

Cinematography

Historical Importance

Would You Recommend?

0 Member Ratings
Rate the acting of the Lead Performers

Rate the acting of the Supporting Cast

Rate the Director

Rating of the Music Score

Rating of the Title Sequence

Screenplay

Creatively uses the camera to tell the story

Importance in Cinema history

Would you recommend for fans of this genre
Submit Ratings
Cancel
Write a Review
Read Reviews
NO REVIEWS AVAILABLE
The title has not been reviewed. Be the first to write a review by clicking here to start.
HOWTHE WEST WAS WON

HOW THE WEST WAS WON is an excellent movie and a true epic. The movie shows how our country was developed with all its trials and tribulations along with its successes. Hard work went into our nation's growth. The movie reminds us that life was/is not easy. Many sacrifices were made in the name of expansion. With today's society, we forget what our ancestors endured to give us what we have today. The end of the movie shows all that was accomplished and passed down to us. Great actors/actresses and great music score.

How The West Was Won

A mammoth western made when the movies were getting bigger and this one was the last of the true Cinerama films requiring a 3 projector system "How The West Was Won" had an all-star cast and characters showing how America made its way west. It didn't come easy as there were Indians and the Civil War to get through and rivers to navigate as mile by mile our country got bigger. The widescreen of the 60s enhances the character movement through thick and thin as this one stood out well. In 1963 this was a western to end all westerns and "It's a Mad,Mad,Mad,Mad World" was a comedy to end all comedies. They didn't really do that but the larger screen gave Hollywood more options.

how the west was won

Saw this movie when it first came out, with my PARENTS, who hated Westerns, but made an exception in this case 'cause it was the first film in Cinerama. I shoulda known it would be dull as hell. I mean, any movie your PARENTS want you to see is the kiss of death, right? Well, it didn't disappoint. As I said below, the longest, dullest etc. However, even at thirteen, I could see that the John Ford directed Civil War section was superior, both visually and psychologically, to the sections directed by George Marshall (a real hack) and Henry Hathaway, (hit or miss, and the three sections he helmed constitute a strikeout.) Ford is such a good director that you don't even notice or care that Carol Baker, who plays George Peppard's mom, is roughly equal in age to her son. Anyway, let's give it an overall C. (Woulda been a D plus without Ford.) P.S. Only time I've ever liked Alfred Newman's music. What is it about Westerns that decrees that, no matter who the composer is, the music'll be good?

how the west was won

One of the longest, dullest westerns ever made.

how the west was (fun) won

Like the man says, a true epic. maybe not letter historically accurate, but like John Ford said, if you want a history lesson by all means, go to the library, We are in the business of making movies. Yes the songs are not in there proper historical time frame, but they fit so well. Debbie Reynolds, a great talent. My only itch is this film is on the brink of becoming the unsinkable Debbie. Also as I said once before, the end is one of the most chilling I have ever seen, with the over head shots of the L A Freeway is like a voice saying OH My God, what have we done to there dreams. I think, They would be heart broken.

How The West Was Won

How the West Was Won"derful". This was the first time my husband and I saw this western. It was the perfect long movie for a lazy Saturday with a fire in the fire place, a glass of Merlot, cozy clothes and a couch. We truly enjoyed the mixture of very light "comedy", action, romance, adventure, dedication, etcetera. There were so many enjoyable moments. It was an old fashioned western that is sorely missed. And, it was great to see so many of our favorite actors. Great fun had by all!! :)

A true epic!

I view this film as a history of our nation and the settlement of the West. It is unimaginable today that entire families would pick up and journey somewhere that had no roads and the families had no notion of what they would encounter. Burying loved ones you lose along the way must have been gut-wrenching. I am so thankful for our forebears who journeyed on against such hardships. We've been a blessed nation because of these brave souls. The film bears out the hardships of settling the West. The story of one family and one lady is the backdrop. I loved Debbie Reynolds in this role, as she had the grit necessary for a woman of the time, and Gregory Peck as the gambler lover is stellar. The all-star (truly!) cast makes the film more enjoyable but the actual cinematography is what really shines. It's no wonder this film was nominated for eight Academy Awards! I never miss an opportunity to view this film, as it is a constant reminder of what it took for this nation to come into being and it makes me feel very humbled.

"Away, away, come away with me"

Super lyrics from a super song, but superficial acting and a superfluous story could make a casual viewer supine even with all the superstars. The buffalo stampede scene, the score, and that super song "Home in the Meadow" (a variation of the Christmas classic "Greensleeves") stand out. HTWWW is an epic near the end of the epic era, and it essentially ended the American western era (an Italian's "Big 3" were forthcoming). HTWWW also brought to an end Old Hollywood's celebration of America's progress, replaced by a new breed of "progressives" intent on questioning it.

TCM Delivers Cinerama in Grand Style(1962)

What can only be described as a Cinematic Triumph, TCM displays "How The West Was Won" in Grand Smileox digitally restored corrected format ! and what a Showcase it is !!! With the exception of not having a curved 180 foot screen, this is an amazing display of will over time ! Kudos to TCM for its' handling of this historic film ! Starring Debbie Reynolds, James Stewart, George Peppard, Gregory Peck ,and many more Stars, this look at how the West became populated and tamed is Amazing ! But shown in its' proper format is the icing on the cake. Now only if they could find a way to do Illusion-O...10 stars rating if they had it.

HTWWW

I know that TCM is showing This Is Cinerama, Cinerama Adventure and HTWWW this Thurs(10/18/12} I hope they are showing them in the Smileox versions. The flat screen versions are terrible as shown on Encore western Channel in full screen. I just purchased This Is Cinerama and Windjammer in Smilebox and watched them om my new Toshiba 50" in a darkened room. Marvelous reproductions. Smilebox is terrific. HTWWW is great in Smiebox. Especially the River boat scenes and the Buffalo stampede. I saw this the 1st wk it came out at the Boston Cinerama and went back several times after. If you are not showing these films in the Smilebox versions you are doing the viewers a great disservice. Are you going to show Windjammer soon?

Bad restoration

I tried to watch "HOW THE WEST WAS WON"at the Pacific Cinerama Dome on 10/4/2012.The moment the curtain opened was exciting, it kept getting wider and wider exposing the curved massive screen.I was so looking forward to enjoying this so called restored print .I have been waiting for over 49 years to relive the time back in 1963 when I saw HTWWW,as a 10 year old boy in Cinerama.To my amazement , the picture was so unbelievably difficult to watch because of the shaking of the two side panels, that I could not stand watching this classic movie more than 15 minutes.I walked out with the feeling of being mislead by the restoration company that bragged about there years of hard work removing all the flaws in the original 35 m print.I guess I might have been expecting more than I was hoping for, but my oh my.The distraction of trying to enjoy the movie with my eye wanting to go to the shaking lines , and the different colors on each panel was just to much for me to bare.I have been enjoying my Blu-Ray DVD in the Smile format for over 4 years .The restoration of the DVD is fantastic.I guess I should have not expected that the new print presented on the CINERAMA BIG SCREEN to be as flawless as my DVD, which I watch on my 73 inch DLP T.V.I sure would like to see HTWWW on the Cinerama Screen presented in 70 mil or Super Panavision. TCM, please keep me informed when that might happen. Thanks Gregg

The Sons of Zebulon

I enjoyed watching How the West was Won. It was a gr8 movie. There is one thing that im stumped at...the children of Zebulon they all ( 2 daughters and 2 sons) survive the rapids scene but, after the funeral the sons are no longer mentioned or around in the movie, just the two daughters. When they cut 2 the scene of the oldest daughter talking to her son Zebullon(grandchild) they show a graveyard. There are some other tombstones other than the parents. There is no mention of who those other tombstones belong to, could they have died and the producer neglected 2 put that in?

Great, for its time

I saw this film the first time as a new high school graduate in 1963. That makes me pretty old. It was considered the "cat's meow", at the time, for its cinematography. I loved the movie then. I love it every time I see it. Thank you, TCM, each time you allow us the privilege of viewing it.

Classic

I saw this movie at Martin's Cinerama in Atlanta when it first came out. I was 11 and really into the western genre. I developed a crush on Carol Baker and thought Henry Fonda played a good role as a mountain man. Too bad MGM opted for obvious studio scenes, like the civil war segment where Grant and Sherman are conversing, and the special effects during the rafting scene should have been completely reworked. I noticed these imperfections at age 11 but bore with them because the rest of the movie was so much better. I do love the film and have seen it about 10 times and will probably continue to watch it in the future. I think Spencer Tracy's narration is fabulous, the sound score is dramatic and compelling and George Peppard does an outstanding job of acting throughout the story. I do sincerely wish they had left out the final few scenes where "modern day" California is depicted with a bird's eye view of a cloverleaf expressway interchange and industrial smokestacks are highlighted, billowing out smoke and soot. The movie does such a wonderful job of transporting us back in history to a simpler and more natural setting, that it is almost incredible that such an epic movie would end by attempting to show how much the west has been "improved" by modern development. The final scenes only serve to jerk us out of the nostalgic mood that has been so artfully presented and shake us back to reality.

A Classic Western

MGM in the early 60's was the number 1 studio in Hollywood produced the Cinerama process this giant Western.All the credits are first class: Photography, Art Direction, etc. and a great cast starring John Wayne, GregoryPeck, James Stewart, George Peppard, Debbie Reynolds. This film is narrated by Spencer Tracy who at one time was committed to star in the film. Tracy's great narration is a plus for this film. George Marshall, Henry Hathaway and John Ford all of whom knew their way around Westerns directed special segments of this all star movie which was a smash hit when released. Carroll Baker plays Peppard's Mother. I wish a more mature actress such as Jennifer Jones or possibly even Joan Crawford cast in the role. Brigid Bazlen and Russ Tamblyn were cast and were also MGM contract players. MGM had great hopes for Peppard and the actor is central to the film. The real star with the major stars doing cameos.This is a great Movie

How The West Was Won

As a fan of John Wayne and his movies, I requested several months ago to have How The West Was Won shown on TCM, I'm glad they are finally showing it. The all-star cast, scenery and music make it one of my "favorite classic western" John Wayne movies. Thank you TCM

CINERAMA VERSION

The last time I saw this on TCM, they ran the full widescreen Cinerama version with the overlaps where the images joined together smoothed over digitally and the color differences between the different film strips evened out. The imagery and sound are truly awesome. I wish TCM would have the courage to run the SMILEBOX version of HTWWW included on the Bluray edition. The images were digitally treated so as to create a deeply curved image as if it were being shown on a Cinerama screen. It is truly astonishing.

Manifest Destiny on the Big Screen!!!

This is my favorite movie of all time. I saw it in Cinerama in its original release when I was eleven and it made a huge impression on me, a little historian-in-the-making. I still have the book about the film that you could buy in the lobby. Yes, some of the obviously shot in-studio scenes fall short of today's production standards and some of the dialogue is hokey now but this is a GREAT movie experience. The buffalo stampede and the fight on the train (really "ON" the train!) are still spectacular. Every time I watch it I find that I have been holding my breath through these scenes. I have not bought any of the DVDs released so far because I have read nothing good about any of them - poor color reproduction and an apparent technological 'glitch' that dooms successfully reducing Cinerama to digital media (or to VHS, as well). I taped it long ago for on-demand viewing and I do look at it periodically and I watch it whenever it's on -- thanks TCM!!!

EPIC SCALE ADVENTURE SAGA IN THE OLD WEST

Despite what people may say about the film being cliched with elements typical of the western genre, HOW THE WEST WAS WON nonetheless proves to be a mighty spectacle in it's own right, packed with an assortment of stars from Hollywood's golden age, reckless action sequences that are among the best ever filmed in film history, the amazing use of Cinerama for it's grand scale story, and Alfred Newman's simply MAGNIFICENT, bombastic score blaring on the screen, being perhaps his greatest along with CAPTAIN FROM CASTILE and AIRPORT. this film practically said goodbye to the old fashioned western movie before sergio leone would begin his "modernized" westerns with A FISTFUL OF DOLLARS in 1964.

How the West was Won

This is one of the greatest film ever shown on TCM. The gigantic scope & legendary cast (I don't use that term lightly) will only enhance this movie's greatness. I am still in awe of the Buffallo stampede in "The Railway" episode. If you enjoyed "Red Dead Redemption," I would stronly advise you to see this film.

How the West was Won

"How the West was Won" is the best film I've seen on TCM. The gigantic scope & legenadry cast (I don't use that term lightly) makes this a film for all fans of classic & modern westerns. I am still in awe of the Buffallo stampede in "The Railway" episode, an incredible piece in epic filmaking. If you enjoyed "Red Dead Redemption," I would strongly suggest that you see this movie.

Wonderful cast!

Spencer Tracy narrates this brilliant American western saga,spanning three generations of Western families as intrepid pioneers and heroes. It is one of the greatest casts ever assembled in a movie with James Stewart, Henry Fonda, Gregory Peck, John Wayne, Richard Widmark, Eli Wallach, Robert Prestonalong with the female stars Debbie Reynolds, Carroll Baker,Carolyn Jones, and Thelma Ritter. OK, it is a bit corny at times,but it is a movie to be enjoyed for the fabulous acting troupeplayfully overacting, much like Murder on the Orient Express.Three directors lend their talents to bring a very entertainingsaga to the screen. The standouts are the always excellent Gregory Peck, George Peppard (never better) and reliable richard Widmark, a personal favorite. Must mention of great actors in support, including Karl Malden, Agnes Moorehead, Walter Brennan,Harry Morgan, and lovely Brigid Bazlen. A must see.

How The West Was Done - to Death!

Every Western Star - you have ever heard of makes an appearance!Some true "Cameos" - some not so much. When seen on the "big screen" a true epic. If this is a "pan & scan" you miss a lot. Watch this if Antiques Roadshow is a "re-run"!

Thumbs down on this one

I really tried to give this film the benefit of the doubt. But I feel like it's a puffed up picture, over-budgeted, over-long, and just all-out overblown. First, I don't buy James Stewart as a romantic lead, especially at his age. And I felt like the action sequences were contrived...the water rapids scene was the phoniest, with on-location shots of stunt doubles whose faces are looking down or away from the camera, then suddenly cutting to close-ups of the principle actors on the raft, looking directly at the camera. When did they all have time to look up at the camera? Aren't they busy trying to save themselves from drowning? The technology is very basic, and it's obvious that the actors are being filmed in the studio against a false background. The only thing that worked for me was Debbie Reynolds' musical scenes; and her chemistry with Gregory Peck. All the other sequences fell flat, especially the Civil War sequence with John Wayne, Henry Morgan and George Peppard. I think the idea was great, and the characters had great promise, but the film needed to be edited down, and the story made tighter. The effort proves that bigger is not necessarily better.

A Multi-talented Western Epic.

This is probably one of the greatest Western epics ever made in motion picture history. Three legendary directors, John Ford, Henry Hathaway and George Marshall along with an all-star cast led by John Wayne, James Stewart, Henry Fonda, Debbie Reynolds, Gregory Peck, Richard Widmark and Robert Preston, go on different locations to make this extraordinary Western epic narrated by Spencer Tracy about three generations of Western pioneers paving their way through the Western frontier in search of a new life. Also starring George Peppard, Carolyn Jones, Karl Malden, Carroll Baker, Eli Wallach, Agnes Moorehead, Lee Van Cleef, Thelma Ritter, Andy Devine & Henry (Harry) Morgan.

WOW

I LOVE THIS FILM"S CINEMATOGRAPHY!

Re: missing scenes

I would reccomend this movie highly. I consider it a classic. However, I can remember watching it as a young child, and there are scenes that were in the original that just aren't there anymore. Did they restore it, and couldn't find them all?

Great Memories

I have to admit I was too young to remember HTWWW when I saw it the first time, my guess is I was 4 years old and my family was on one of our very rare vacations -- yes there was a time when family vacations were a once or twice in a lifetime kind of thing. We had driven to Florida from Ohio in a convertible -- yes there was a time when cars didn't have air conditioning. The conditions alone, made this seem like our own family pilgimage across the wild terrain. Nonetheless, somewhere along that journey we stopped to see the movie. And although I don't remember the movie at all, the soundtrack bacame a permanent part of our family's life. Every Sunday after church as Mom was making a big breakfast, Dad would stoke up the album and we would all Raise our own Rukus. To this day, the opening chords of the soundtrack take me back to the 60s and all those wonderful memories. Mom and Dad are gone now, but I still have the old record and on the rare occasions that my sisters and I get together, just the three of us, we haul out an old record player and fire it up.I just saw the movie on TV last night for the first time since my childhood. Now I know why this movie made such a lasting impression on my father and why this became a big part of our family legacy.I wish they would offer this in Cinerama somewhere in Columbus sometime.

My #1 Film of 1963

In 1963, when I was 10 years old, a group of us were taken on a YMCA outing to the Warner Cinerama Theater in downtown Pittsburgh to attend a Saturday afternoon matinee of this film. What a fantastic experience that was, and I still remember it to this day, and the remembrance of that experience makes me rank this as the #1 movie to open here that year. Now as an adult, I know it isn't quite as good (artistically) as "Lawrence of Arabia" and other films of the year, but it's still the one I would watch over and over.This is a film that would be wonderfully ripe for a remake (hint MGM!), especially if the screenwriter included the story lines that are present in Louis L'Amour's novel, based on the James Webb screenplay, that were not included in the 1963 film. These primarily deal with Zeb Rawlings' love life before his marriage to Julie, as well as the fates of Sam and Zeke Prescott, as they traversed West following the raft accident at the falls.Even so, the original 1963 release has lovely cinematography, a magnificent Alfred Newman scors, and probably the greatest cast ever assembled for one film. Seeing Debbie Reynolds singing "A Home in the Meadows" on the riverboat made me have my first crush on a movie star and a fan of hers for life.Now (in 2007) the only stars still alive from the original are Carroll Baker, Debbie Reynolds, Russ Tamblyn, Richard Widmark, Karl Malden, and Eli Wallach, and the last three named are or are close to being in their 90s.They don't make them like this anymore! A great history lesson, too.

Too Big for TV or DVD

HTWWW is one of my favorites. They showed it here in Seattle 3 years ago at the newly restored Cinerama Theatre in its original format. Three projectors running simultaneously, huge screen, great sound, a clear/gorgeous print. Wow. Sometimes the format of a film is as important as any other element. Sure, some dialogue was creaky, but the stars, the action, the humor (yes, the script is good. it even won an Oscar). It thrills on many levels; Alfred Newman's amazing score, the scope of the tale, the river raft sequence, the buffalo stampede, the AMAZING action finale on the runaway train, and the SIZE!! I refuse to watch it on TV. And for those who've only seen it in that format, you really haven't seen it.

The Cliff Notes of the West

Watch it to appreciate the strong points and flaws of cinerama - if only to think about other 20th century failures like Ford's Edsel car.Never have so many fine actors struggled so valiantly through insipid dialogue.

" How The West Was Won "

A great western with a historical overview. Great performances by an all star cast.
*We protect your personal infortmation and will not provide it to anyone without your consent. For a complete explanation, please refer to TCM's Privacy Policy. By submitting your contribution, you agree to TCM's Terms of Use.