DVDs from TCM Shop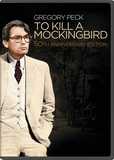 To Kill a Mockingbird A young girl grows up fast... MORE&nbsp> $11.21 Regularly $14.98 Buy Now blu-ray
Quotes
Atticus Finch


If you just learn a single trick, Scout, you'll get along a lot better with all kinds of folks. You never really understand a person until you consider things from his point of view...Until you climb inside of his skin and walk around in it.

Bob Ewell


You nigger lover.

Atticus Finch


No need to be afraid of him, son. He's all bluff.

Atticus Finch


There's a lot of ugly things in this world, son. I wish I could keep 'em all away from you. That's never possible.

Reverend Sykes


Jean Louise. Jean Louise, stand up. Your father's passing.

Jem


Atticus says cheating a black man is ten times worse than cheating a white.

Sheriff Tate


I may not be much Mr. Finch, but I'm still sheriff of Maycomb County. And Bob Ewell fell on his knife. Good night sir.