DVDs from TCM Shop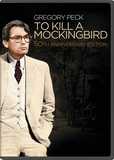 To Kill a Mockingbird A young girl grows up fast... MORE&nbsp> $11.21 Regularly $14.98 Buy Now blu-ray
Home Video Reviews
The Deer Hunter
, one of the inaugural trio of releases in Universal's Legacy Series, is among the sorriest 2-disc DVD sets anyone has had the nerve to market. Fortunately,
To Kill a Mockingbird
, another in that trio, fares better.
You probably don't need me to tell you that 1962's
To Kill a Mockingbird
is the best coming-of-age movie ever made, or that Mary Badham's performance as Scout, its protagonist, is perhaps the most well-rounded child performance on film. But, if you haven't seen the movie in a while, it might be news to hear that every teacher who wheeled in a Bell & Howell projector to show it to a social studies class in the 1960s and 1970s overemphasized that it was "about civil rights." The movie is most of all about how Scout and big brother Jem (Phillip Alford) have their eyes opened to the world around them, with the realization of racial injustice being just one part of that bigger scope. All those teachers actually underestimated the movie's power.
The 2-disc
To Kill a Mockingbird
, which replaces the 2002 "Collector's Edition" DVD, adds several extras, almost all of which focus on Gregory Peck, who died in 2003 and, for the last 41 years of his life, was inextricably linked with Atticus Finch, the wise, dignified single father and ethical lawyer who defends a black man (Brock Peters) being framed for rape. As the new extras demonstrate, to many who knew Peck, the dignity, wisdom and sense of justice in Atticus were the same ones found in him.
The meatiest new extra is 1999's feature-length documentary
A Conversation with Gregory Peck
. Although directed by the formidable Barbara Kopple (
Harlan County, U.S.A.
,
American Dream
), this is something of a vanity project, having been co-produced by Peck's daughter Cecilia. The movie takes its name from the one-man "show" with which Gregory Peck toured the country in the 1990s, during which he would tell stories about his life and career and field numerous questions from the audience. In between onstage moments in Galveston, Boston and other locales, the documentary also follows Peck and wife Veronique in a wide variety of settings — at a family reunion at their Los Angeles home, passing time at their French country home and awaiting the birth of Cecilia's first child among them. There are also clips from several BBC interviews in which Peck directly discusses his views on acting. Overall, the documentary lacks a driving purpose and tends to ramble on, but it's certainly an appealing look at an aging star in repose that Peck fans will appreciate.
A Conversation with Gregory Peck
shares disc 2 of the DVD reissue with the most important holdover from the 2002 single disc, Charles Kiselyak's
Fearful Symmetry
, another feature-length documentary that is as comprehensive and lyrical as any making-of documentary created for a DVD. It's still the best thing here, and its wide variety of interview subjects include two other key contributors to
To Kill a Mockingbird
who've since died besides Peck, actor Peters and soundtrack composer Elmer Bernstein.
Several shorter new extras share disc 1 with the movie (and director Robert Mulligan and producer Alan Pakula's heldover commentary), many arriving thanks to the recent merger of NBC and Universal. One is a 1999 NBC interview with Badham about her relationship with Peck, who became practically a second father to her during the filming of
To Kill a Mockingbird
, and who she famously continued to call Atticus until Peck's death (he continued to call her Scout). Another is Peck getting the American Film Institute's 1989 Life Achievement Award. Although Peck's 10-minute speech is wonderful, I assumed this bonus would contain the
entire
TV special of this event, in which such audience members as Anthony Quinn and Jane Fonda paid tribute to Peck. But it's
only
the Peck speech that closed out the ceremony (to an audience conspicuously full of stars of late-1980s NBC series). Peck's Academy Award acceptance speech for winning Best Actor for playing Atticus is also here, though it's purely a watch-once quickie.
So there's a decent array of new extras to be had. Not strong enough to recommend replacing the single-disc
To Kill a Mockingbird
if you already have it, but Universal has certainly sweetened the pot for those who don't. The 2-disc version does have one annoying redundancy worth noting, though. An anecdote about novelist Harper Lee's visit to the film set — in which she teared up not because, as Peck first thought, of his performance, but because his "little pot belly" reminded her of her late father — gets told
three times
: once by Peck onstage in
Conversation
, once by Peck when interviewed in
Fearful Symmetry
and once by Badham in her NBC interview. By the last time, the story has definitely lost its charm.
For more information about
To Kill a Mockingbird
, visit
Universal Home Entertainment
. To order
To Kill a Mockingbird
, go to
TCM Shopping
.
by Paul Sherman