DVDs from TCM Shop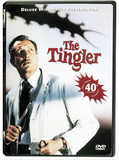 The Tingler A scientist discovers an... MORE&nbsp> $7.46 Regularly $9.99 Buy Now
NOTES
The working title of this film was The Chiller. As the film opens, producer-director William Castle appears onscreen to warn that the physical reaction felt by the actors will also be experienced by certain members of the audience. Castle states that the strange tingling sensation selected audience members May feel can be alleviated by a scream. Castle's appearance is followed by a montage of screaming faces. The film ends with the offscreen voice of Vincent Price as "William" telling the audience that if they are still unconvinced about the existence of the tingler, the next time they are frightened, they should refrain from screaming.
According to the Variety review and several Hollywood Reporter news items, the sensation referred to by Castle was created by attaching a series of war-surplus vibrating motors to the undersides of random seats throughout the theater auditorium. At certain moments in the film, the motors would send a tingling sensation to those seats. The Variety review noted that the process, known as "Percepto," was effective because it "menacingly moves closer and closer in waves, and coupled with a whirring noise and sound track heartbeats and screams, put the film goers in the midst of terror." The review also stated that when it was screened at certain theaters, the film would be brought to a halt and the house lights turned up. Price's voice would then calm the audience as two men would race down the aisle with a stretcher to pick up a woman who had supposedly fainted from fright. According to an August 1959 Hollywood Reporter news item, the success of the Percepto screening in Detroit and Baltimore prompted Castle to order 100,000 units to be used in future bookings.
A May 1959 Hollywood Reporter news item noted that location filming was done at the Columbia Ranch in Burbank, CA. Although the film was shot in black-and-white, the blood in the bathtub sequence is colored a bright red. Modern sources state that the hallucinatory drug administered by William was LSD, although it was not specifically named in the film. A clip featuring Richard Barthelmess and Ernest Torrence from the 1921 film Tol'able David (see AFI Catalog of Feature Films, 1921-30), is intercut with shots of the audience watching the film in the tingler theater sequence. Although a May 1959 Hollywood Reporter news item noted that Felice Richmond, who had appeared in Tol'able David, would play a bit part as an audience member watching the 1921 film in The Tingler, her appearance has not been confirmed in either of the films. In 1999, Jeffrey Schwartz directed a video documentary titled Scream for Your Lives! William Castle and The Tingler, which dealt with the making of The Tingler.