DVDs from TCM Shop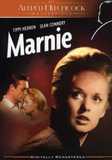 Marnie A rich man marries a... MORE&nbsp> $14.96 Regularly $19.98 Buy Now blu-ray
USER REVIEWS
See Detailed Ratings
Acting of Lead Performers

Acting of Supporting Cast

Director

Music Score

Title Sequence

Screenplay

Cinematography

Historical Importance

Would You Recommend?

0 Member Ratings
Rate the acting of the Lead Performers

Rate the acting of the Supporting Cast

Rate the Director

Rating of the Music Score

Rating of the Title Sequence

Screenplay

Creatively uses the camera to tell the story

Importance in Cinema history

Would you recommend for fans of this genre
Submit Ratings
Cancel
Write a Review
Read Reviews
NO REVIEWS AVAILABLE
The title has not been reviewed. Be the first to write a review by clicking here to start.
Incongruous, compelling mess

While I would never say anything against Hitchcock or Sean Connery or Tippi Hedren, well, yes, I have to about this mess of a movie. The casting of Connery with his incongruous British accent (how can he possibly hear her pronunciation over his?) and his wooden acting style (which is spot-on as 007) makes me wonder why he's in this movie at all. His interest in zoology, leading to his interest in Marnie, to the forced marriage, to his rape (yes, you can rape your wife and that is what he does) is unbelievable and really distasteful. Different time period? Still not ok. His amateur psychoanalysis and intervention are just cruel.Nevertheless, Hitchcock made a compelling movie that is worth watching. He is still Hitchcock, bad decisions and all.

Marnie is a Flawed Classic

What a polarizing picture! Even 52 years later. It still resonates to everyone who watches it. Everyone either loves it or absolutely hates it. What I find fascinating is Hitchcock is really trying to make the audience feel something, and I don't believe he cared which way it did! The score is excellent too, as are ALL the actors, including much maligned Tippi Hedren. I'm also sure that whatever rejection he got from Miss Hedren, he got his revenge in the Directors personal cutting of his film.Even after 52 years, this movie is still being watched and talked about .That is the best any director can hope for, and it certainly gave Miss Hedren decades of fame or infamy, however you choose to see it.

It Never Peaked My Interest

This is the kind of a film that is supposed to grab your interest in the beginning but in stead it causes one to continuously yawn. Great film, if you need a short nap.

True story?

I thought this was a very good film. For sure better than most movies today. I can see why Hitchcock was considered an excellent director. He took a very delicate subject, which was even more so during the era that it was filmed, and weaved it into the plot. He only vaguely suggested what had happened to the character Tippi played. I imagined that she was raped by a relative as a child but the plot kept in me in suspense and wanting to know more details. And this is one of the methods that makes an excellent story teller. Unlike today where showing any and everything without any modesty is considered intelligent and cool, Hitchcock knew how to talk about something with such skill to captivate audiences. Even the pastel colors of the homes' interiors and people's clothes of that era add to the film's interest and mood.Was this based on a true story?

Without Grace...

Aforementioned critiques for the most part true and justified. I think was starting to show his age, not realizing most of America had taken and passed Psych 101. But one must give him credit for trying to introduce a more sophisticated subject than the usual Hollywood horse hockey off the period. Thank God for Truffaut. Tippi really was no Grace.

Cream of the crop ... or bottom of the barrel?

How could this movie go from being critically skewered on its initial release, to having almost universal praise these days? Is it because today's movies are so god-awful in comparison? Must be. For me, this movie was, is, and always will be horribly bad on all levels. 1) Plot: Contrived, pretentious, and over the top. In light of Marnie's odd behavior, Mark starts reading books on insect behavior and undersea life for an explanation??? Why lead the viewer down a "Tales of the Unexpected" path like this? For crying out loud, she had a psychologically messed up moment in her childhood, she's not a freaking alien mutant monster in human form to expose! 2) Acting: Atrocious, stilted, and silly. Tippi Hedren is a terrible actress (and she passed those genes onto Melanie Griffith) and Sean Connery is about as suave as Frankenstein's monster with a firecracker lodged in his butt-crack. It's ridiculous to have him of all people deduce the intricacies of speech inflection with his "shtyle of shpeaking". 3) Directing: Yes directing. Hitchcock has his good films but its obvious he's a "technical director" through and through. His camera shots and FX gimmicks always look painfully artificial. He can never have his actors just walk down a real street; they have to hobble back and forth ridiculously in front of a rear-screen projection of a street. It's like Hitch was clinically afraid to leave the security of a soundstage or something; the George Lucas of his day. Case in point in this film: The horse jumping "accident" scene is disturbing only in its laughably awkward execution. 4) Characters: Just who are we supposed to root for in this film? Marnie--a woman who freaks out over the color red and yet can still wear bright lipstick and function in traffic lights? Mark--a man so misogynistic that he makes James Bond look like a suffragette? The "hero" who blackmails a mentally ill woman into marrying her and then rapes her catatonic? No, the critics of 1964 were right.

Good story, not so great film

Of all six of the Hitchcock blondes, I liked Hedren the very least. She had no gravitas and that is why she never received any Academy Awards in her career. She always had that "I'm better than you!" look on her face and never more than in this film. She can't even lie convincingly in real life and all her lies about Hitchcock have been debunked. This film would have been superb had Kim Novak been the lead. Sean Connery gives his usual very casual and very believable performance here. Too bad he didn't have a leading lady capable of making her role believable too!

What (Or Who) Is Marnie?

I was reading the reviews posted for Alfred Hitchcock's 1964 thriller "Marnie", and it inspired me to watch the DVD again last night 10/22/12. This, "Psycho" and "The Birds" are his best films of the 60's. Sean Connery plays wealthy CEO Mark Rutland who becomes intrigued with the strange behavior of Marnie Edgar, played by Tippi Hedren, whom he's hired to work for his company. She has frightening nightmares about her mother and somebody knocking on the window, a morbid fear of the color red, and just loves her horse named Forio. Mark marries Marnie and proceeds to do some amateur psychoanalysis on her. He soon finds out she's a thief who's ripped off her previous employers, has several aliases and goes into hysterics when he tries to be intimate with her. Ultimately he takes Marnie to see her mother to find out the reason for all this. He learns that her mother was a prostitute, and that when she struggled with one of her customers trying to keep him away from Marnie when she was a kid, he fell on her mother and injured her and Marnie took a fireplace poker and killed him. The knocks on the window in her nightmares were her mother's customers, her cries "Don't hurt my mama!" were from seeing her mother's "accident", and the blood from when she killed the sailor caused her fear of red. The same year as "Marnie" (1964), Sean Connery starred as 007 in the James Bond film "Goldfinger", and Bruce Dern (who played the sailor) also starred in an episode of "Alfred Hitchcock Presents". Also, Diane Baker (who played Lil) co-starred with Joan Crawford in "Strait Jacket". Tippi Hedren had starred the previous year in "The Birds".

Marnie

When this movie starts, you become spellbound watching Sean Connery and Tippie Hedren.The movie was one of Alfred Hitchcocks best of the era. I like that It holds up to the mystery movies of today. TCM should add this it's schedule regularly.

Marnie

An overlooked picture from Hitchcock's filmography. After her success in his film, "The Birds," Hedren plays a kleptomaniac whose forced into marriage by an unsympathetic Connery. The special effects are obvious, but the story carries dynamic power & Hitchcockian suspense. A good, entertaining film. I give it a 4/5.

Marnie

Hitchcock's worst films often leave you expecting far more than you get. This film is not understated, it's overblown.

RETITLE AS MARK?

The last of the golden era epics," Marnie" is a beautifully shot continuation of various strands left over from "Vertigo," "Psycho, and "The Birds"--this is to say, it continues the director's inquiry into the nature of selfhood when the very concept of self is on the brink of shattering. And here the shattering is completely emotional. But what some viewers may overlook here is the most curious relationship between the young woman(played wonderfully by Tippi Hedren) and Mark Rutland (played wonderfully by Sean Connery).Here's the point: Mark, who is both highly intelligent and seemingly humane, is acutely aware that his new romantic interest, Marnie, is a terribly disturbed young woman, and also that the source of her deep torment resides somewhere in the distant past--perhaps in the young girl's relationship with her mother. Yet this tragic awareness does not prevent Mark from forcing his own romantic needs upon another self which cannot possibly bear such tremendous pressure. And yet through all of this inner torment and outward strife there is a satisfactory degree of stillness reached by the end of the film, for both individuals undergo a kind of Hitchcockian "exorcism" or cleansing by the end--a cleansing not unlike that practiced by Jimmy Stewart in the final frames of "Vertigo."

Another Hit from Hitch!

Hitchcock directs yet another twisted and suspenseful terrific film! Marnie, an interesting psychological drama deserves an A- score and has has both great acting and wicked camera angles. Alfred casts Tippi Hendren and Sean Connery in the leads and both of their performances are terrific. Jay Presson Alley writes the nail-biting script following the mystery of Marnie Edgar, (Hendren, excellent performance) both a thief and liar who has a dark and hidden past which caused her to be who she is today. Sean Connery plays Mark, a rich man who forcefully marries her and tries to find out her past. The horrifying childhood that effects her today. Like the trailer states, what is Marnie? A sex story, a mystery, a detective story, a romance, a story of a thief. Marnie is all that and more. If you want to find out you just have to watch it, and I strongly recommend it to fans of Hitchcock/suspense and mystery movie goers. The directing is excellent and the script is very well written. Hendren is terrific and Connery is very good as well. It may not be Hitchcock's absolute best but is worth watching and is very entertaining!

Genius Psychodrama

Even 007 can not mess up more perfection from Hitch.

When Ladies Meet 1933

I just love this film - the 1933 version. The acting is wonderful as is the dialogue/writing. It's my favorite of Myrna Loy/Robert Montgomery combo. I wish that it was more popular - despite the old-fashioned aspect of the women's lib/marriage storyline - it has some intriguing takes on these issues. I do wish that the closing scene with Myrna & Bob was extended. It is simply charming and underplayed.

Superb Subjectivity

I adore this film beyond all reason. Certainly the filmic elements --the color, the camera work, the music, the Hitchcock tricks and gambits-- all make this film one of his greatest achievements. But for me, it's the helpless compulsions of the heroine who claims to "know WHAT she is" and the psychological violence caused precisely by her ignorance of who she is which make me love this movie. No viewer can help from feeling intense compassion for the tortured woman who is forced to come to terms with her own "nature" in this stunning metaphor for the psychoanalytic process. Sublime.

Love Tippi. i could see her as a female James Bond

i love Tippi Hedron. she was like the epitamy of utter coolness and sophistication. hair coiffed perfectly. in Marnie, she had that "Hitchcock Hair" shiny, perfect, very well styled. a look that went with her caracter perfectly. she was a lovely actress. if there was ever a female version that could have been made for James Bond, i think Tippi could have fit the bill. And i truly agree with her when she asked Hitchock, how can you be frigid when doing a love scene with Sean Connery? I COULDN'T! LOL!

beautiful mess

I love this movie. While there are parts that I find laughably cringe-worthy (Marnies spastic, silent-scream, stiff-armed FREAK OUT while groping for the light switch during the rain storm- Jesus!), it is also touching, compelling, dark. What makes Marnie so fascinating? I believe she represents the least cardboard of the "icy blonde" characters - she acts as opposed to just reactive window dressing for the male character. She's fully fleshed out as a flawed, thinking person. I like that a woman is the main character, that we are privy to her thoughts, moods, that the majority of the movie is screened through Marnie. blah blah blah Love it!

Decades ahead of its time - never equaled

I like all of Hitchcock's periods, but the 3 films Psycho, The Birds, and Marnie are intellectually ambitious beyond all the others. Nothing like them has been made since."Marnie" was and is a sleeper. It dealt with a subject that was hardly acknowledged by mainstream culture at the time it was released, while today we take it for granted. Or do we? I notice women seem to like it more than men...but this is not a chick flick. However, if this movie doesn't make you cry at any point, then you're not paying attention...! (This means guys, too. Marnie is a very very unhappy little girl.)Sure, the psychology is somewhat off, but not so bad for its time, or even today, especially when compared with Dr Phil (just kidding). Hitchcock never was a stickler for technical accuracy, but he was able to put things in a way that everyone could understand!Tippi was and is fresh and she always will be. Score by Bernard Herrmann. Bruce Dern as a creepy guy for the 1st time. Sean Connery plays himself, a real tough SOB. Don't expose kids to this movie - screwed-up grownups are for adults only.

Play it again

I never get tired of watching this movie and the story line is great. It is not about psychiatry as much as it is about falling in love and what happens when she stops running. Great Story

Hitchcok's Cinematic Funeral

This film arguably was the beginning of the end for Hitchcock, for he would never make consistently great movies. The only one great film he made afterwards would be "Frenzy"(1972). "Marnie" isn't his worst film within the last period of his life(my choice for that distinction would be "Torn Curtain"). If nothing else, it is noteworthy for an early lead role for Sean Connery(when he wasn't playing James Bond.) Then again, it was also the only juicy role which Tippi Hedren would ever receive in her career; it was too bad she wasn't quite good enough to distract the audience from Hitchcock's technique,obviously the star of the film.Before shooting began, two of Hitch's closest collaborators, cinematographer Robert Burks, and editor George Tomasini, died. Even more unfortunate would be that "Marnie" would be the last completed collaboration with composer Bernard Herrmann.This film is more interesting than thrilling. I wonder if it would've been better if Hitch waited for the Production Code to completely die before he attempted filming.

Can't wait to buy it!

I had never seen this movie, but when I noticed Sean Connery I knew it had to be good. I don't know why, but I just loved it!

One of Hitchcock's weakest films

A truly dreadful film (the critics justifiably savaged it upon its initial release)made almost unwatchable by Tippi Hedren's complete lack of acting ability. The script is laughably simplistic in its Freudian analysis. To compare this sad effort to "Vertigo" is preposterous.

EXCELLENT!!

This movie is one of the best movies I have seen in a long time. From the acting to the story line. Well written, well done. Play this movie at least four times a year. Bravo!

Great movie

I had never seen this movie b4 tonight but really enjoyed it. Nice to see Sean in such a diffrent role.

Emotionally moving story

I had not seen this movie in 20 years. I saw it today. Even my Mom enjoyed it. Great movie. It still made me tear up.

One of Hitch's Greatest Films

One of the greatest Hitchcock films - completely moving and beautiful. The oft-cited use of process photography, matte pintings and painted backdrops are completely consistent with hitch's use of such techniques in his previous films, particularly THE BIRDS (where Melanie's driving and boat ride sequences and the painted landscape backdrop during the birthday party dialogue correspond with MARNIE's horse riding sequences and Baltimore shipyard backdrops). I've never understood why MARNIE is singled out for techniques Hitch used throuhout his entire career and which intensify the hallucinatory texture of a film about severe psychological disturbance. The film remains one of Hitchcock's finest accomplishments and Bernard Herrmann's score, as always, is an indispensable part of that greatness. Highly recommended.
*We protect your personal infortmation and will not provide it to anyone without your consent. For a complete explanation, please refer to TCM's Privacy Policy. By submitting your contribution, you agree to TCM's Terms of Use.