DVDs from TCM Shop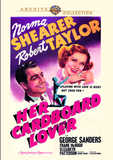 Her Cardboard Lover A flirt tries to make her... MORE&nbsp> $16.95 Regularly $19.99 Buy Now
NOTES
DVDs from TCM Shop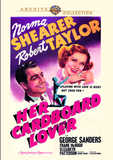 Her Cardboard Lover A flirt tries to make her... MORE&nbsp> $16.95
Regularly $19.99 buy now
Working titles of the film included Love Me Not and Slightly Platonic. The onscreen writing credit reads: "Screen Play by Jacques Deval, John Collier, Anthony Veiller and William H. Wright, based upon a play by Jacques Deval, first English Dramatization and Title by Valerie Wyngate, Later Revisions by P. G. Wodehouse." According to news items in Hollywood Reporter, in December 1934 and January 1935, M-G-M's production chief Irving Thalberg had intended to turn Deval's play into a musical starring Maurice Chevalier and Grace Moore. Initially S. N. Behrman was to adapt the script with Ernst Vadja. In February and March 1935, first S. J. and Laura Perelman, then Jack Kirkland were said to be adapting the play following the departure of Chevalier from the project.
Modern sources indicate that Chevalier was angry with Thalberg because he was asked to take second billing to Moore. Aside from providing an English-language prologue and narration to the French-American co-production Man About Town in 1947 (see below), Chevalier did not make another American film until Love in the Afternoon in 1957, and did not make another film in the U.S. until Can-Can in 1960. It is doubtful that the work of Behrman, Vajda, Kirkland, S. J. or Laura Perelman is reflected in the 1942 adaptation of Deval's play.
According to a November 6, 1941 Hollywood Reporter news item, Joan Crawford and Hedy Lamarr each were offered the role of "Consuelo" but turned it down. A March 10, 1942 news item noted that Robert Taylor was making his motion picture singing debut with two songs written by Burton Lane and Ralph Freed. Only one song, "I Dare You," was included in the film, however, and Taylor had sung very briefly in earlier films. According to Irving Hoffman's "Tales of Hoffman" column in Hollywood Reporter, the New York critics were extremely critical of the film, calling it "wasted celluloid." Bosley Crowther of the New York Times cited the film as one of the ten worst of the year. Her Cardboard Lover was the last film of long-time M-G-M star Norma Shearer (1900-1983), the widow of Irving and sister of M-G-M's recording director, Douglas Shearer.
An earlier adaptation of Deval's play (as adapted into English by Valerie Wyngate and P. G. Wodehouse) was released by the studio in 1932 under the title The Passionate Plumber, directed by Edward Sedgwick and starring Buster Keaton, Jimmie Durante and Irene Purcell (see AFI Catalog of Feature Films, 1931-40; F3.3395). A French-language version of that film was also made in 1932 under the title Le plombier amoureux, also starring Keaton, Durante and Purcell, but directed by Claude Autant-Lara.