DVDs from TCM Shop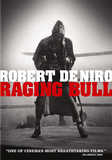 Raging Bull Hard-hitting biography of... MORE&nbsp> $11.21 Regularly $14.98 Buy Now blu-ray
NOTES
DVDs from TCM Shop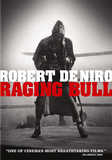 Raging Bull Hard-hitting biography of... MORE&nbsp> $11.21
Regularly $14.98 buy now
Although some modern sources list a working title of The Life of Jake La Motta, and a 1976 Los Angeles Times news item referred to the film as The Prizefighter, all other sources from 1975 onward used the title Raging Bull or, occasionally, The Raging Bull. The opening credits are presented in black-and-white, except for the film's title, which appears in bold red letters. The credits roll over shots of "Jake La Motta" (Robert De Niro) as he shadowboxes in the ring before La Motta's 1949 middleweight championship victory against Marcel Cerdan.
In the opening cast credits, Floyd Anderson, Johnny Barnes, Eddie Mustafa Muhammad, Kevin Mahon, Louis Raftis and Johnny Turner are all listed under the heading "Fighters," with their respective character names. In the end credits, each name is listed alongside its respective character name, grouped, along with other actors, under headings for specific fights.
Just before the end credits, a quotation from The New English Bible John IX, 24-26 is presented, with each line illuminated as it appears onscreen: "So, for the second time, [the Pharisees] summoned the man who had been blind and said: 'Speak the truth before God. We know this fellow is a sinner.' 'Whether or not he is a sinner, I do not know,' the man replied. 'All I know is this: once I was blind and now I can see.'" The quotation is followed by a written remembrance to Haig P. Manoogian, "with love and resolution, Marty." Manoogian, who died on May 26, 1980, was director Martin Scorsese's film professor at New York University. The credit for The Big Fights, Inc. was an acknowledgment for providing "Jake La Motta screening material and the voice of Ted Husing announcing the actual La Motta-Robinson fight (February 14, 1951)." The end credits also acknowledge the use of excerpts from the soundtrack of the 1939 Hal Roach production of Of Mice and Men, directed by Lewis Milestone, with music by Aaron Copland and excerpts from the screenplay for On the Waterfront (1954, ) written by Budd Schulberg.
Following the opening credits, a title card reads "New York City 1964," during which a visibly overweight De Niro, as La Motta, is rehearsing for a performance at the Barbizon Plaza Hotel in New York City. After the words "Jake La Motta, 1964" are superimposed over a freeze frame of De Niro's face, the frame dissolves into a thinner, younger looking De Niro, with a superimposed title reading "Jake La Motta, 1941." The action then proceeds in chronological order, with frequent inter-titles announcing the year and place. Throughout the film, the various boxing matches are preceded by title cards announcing the respective fights, as well as the city and year in which they took place.
For the years between 1943 and 1947, the passage of time is presented through a montage of title cards, still photographs of various boxing matches and grainy color "home movies" of La Motta, his brother "Joey" (Joe Pesci), Jake's second wife "Vickie" (Cathy Moriarty) and their respective families. The home movies are the only color sequences in the otherwise black-and-white film. At the end of the film, the action returns to 1964, when La Motta is once again in his dressing room, rehearsing for his Barbizon Plaza act, which is advertised as dramatic readings from "Paddy Chayefsky, Rod Serling, Shakespeare, Budd Schulberg and Tennessee Williams." Sitting at his dressing table, he looks at himself in the mirror and begins to recite the "I could've been a contender" speech from Schulberg's screenplay for On the Waterfront. The scene ends with La Motta shadowboxing in front of the mirror before going onstage.
New York boxer Jake La Motta (1921-), a tough, former juvenile delinquent known as the "Bronx Bull," fought over 100 professional fights and was the Middleweight Champion of the World from June 16, 1949 to February 14, 1951. As shown in the film, La Motta took the title from Marcel Cerdan when the French champion was unable to start the 10th round of their match. La Motta lost the title to famed boxer and frequent opponent Sugar Ray Robinson in the 13th round of their 1951 bout. Although technically knocked out, La Motta never fell to the mat, a feat he often bragged about and which was recreated in the film.
After La Motta quit the ring in 1954, he had several unsuccessful business ventures, including a Florida nightclub, and eventually became a stand-up comedian and nightclub performer. As depicted in the film, he had a violent marriage to his second wife, Vickie Thailer La Motta (1930-2005), which was characterized by jealousy and physical abuse that eventually led to their divorce. In his 1970 autobiography, written by Joseph Carter and Peter Savage (who also served as the film's associate producer), La Motta publicly admitted what he often had denied over the years, that he threw his 1947 match against Billy Fox. As in the film, La Motta stated that the reason he threw the fight was to have a chance to go against reigning champion Cerdan.
According to several contemporary sources, the idea for a film based on La Motta's life began in 1973 while De Niro was filming The Godfather, Part II (1974, ) in Sicily. When the actor read La Motta's autobiography, he thought that it would make an engrossing movie and brought the book to Scorsese, with whom he had worked on Mean Streets (, 1973), and suggested that he direct it. According to a May 1, 1975 Daily Variety news item, Dino De Laurentiis initially planned to produce the film, but by 1976, Robert Chartoff and Irwin Winkler were the producers. In an interview for a November 15, 1996 Los Angeles Times article on the 20th anniversary of another successful Chartoff-Winkler production, Rocky (see below), Winkler stated that he and his partner agreed to produce Rocky II (1979) for United Artists only if UA also agreed to finance Raging Bull.
Various news items from 1976 through 1978 referred to several announced production dates, with shooting initially scheduled for late 1976, after Scorsese completed New York, New York (1977), then November 1978 and finally, spring 1979. A April 19, 1978 Daily Variety news item reported that the film's budget was to be in the "$6,000,000 range" and that screenwriter Paul Schrader was at that time in the process of rewriting the script prepared by Mardik Martin. Numerous contemporary and modern sources confirm that Schrader extensively re-wrote the script submitted to Scorsese by Martin, who shared screenwriting credit with Schrader. According to modern sources and interviews with the filmmakers, the production was nearly dropped by Scorsese, who had initially expressed disinterest in doing a boxing movie. However, when De Niro visited Scorsese while he was hospitalized in 1978, he convinced his friend to re-start the project, and the two spent three weeks together working on the script's dialogue and characterizations, according to modern interviews.
Prior to the start of filming, as reported in a November 23, 1980 New York Times feature article, De Niro trained for over twelve months [other sources reported six or eight months] with La Motta at the Gramercy Gym in New York City. In various interviews, La Motta complimented De Niro for his tenacity and mastery of boxing techniques. According to many sources, because he had trained so well, De Niro did not need a boxing double for any of the picture's fight scenes.
Principal photography began on the MGM lot in Culver City on April 16, 1979, where interiors were shot. According to trade publication news items, the production moved to New York City in Jun, where the exteriors and some additional interiors were shot. The production went on hiatus in early August to allow De Niro to gain weight for the later portions of the film in which he portrayed La Motta as older and much heavier. Contemporary and modern sources variously report De Niro's weight gain as 40, 50, 55 and 60 pounds, with most reporting it as 55. Virtually all reviews of Raging Bull commented on De Niro's weight gain, which through the years has remained a touchstone for an actor's dedication to realism.
Production resumed on December 3, 1979 in Los Angeles, where both interior and exterior scenes set in Florida were shot, as were the dressing room and some additional interiors. The company then moved back to New York City, where some interiors and the night scenes of the older La Motta were shot. Filming wrapped in New York in late December 1979, more than eight months after principal photography began.
Although news items reported that the picture was to be released in time for Memorial Day weekend 1980, according to a January 9, 1980 Hollywood Reporter news item, editing and post-production delays caused it to be pulled from UA's summer releasing schedule. A November 4, 1980 Hollywood Reporter article reported that the picture was to have been the closing night event for the November 1980 London Film Festival, and had already been included in the festival's printed program, but was withdrawn at the last minute. The picture eventually opened in three cities, New York, Los Angeles and Toronto, on November 14, 1980. Several trade paper news items in January 1981 reported that the J. Arthur Rank Organisation circuit refused to book playdates for Raging Bull in its London cinemas so that, when the picture was finally released in Britain, it played in only a few independent houses in London. The picture was, however, the opening night feature for the Berlin Film Festival on 13 February 1981.
Music and sound are prominent aspects of the film, as acknowledged by Scorsese and many contemporary and modern critics. The only sound during the credits is the film's primary thematic music, the "Intermezzo" from the 1890 opera Cavalleria Rusticana by Pietro Mascagni, played by the Orchestra of Bologna Municop Thetra, conducted by Arturo Basile. The film's score did not include any original music, but consisted of various musical passages from the works of Mascagni, interwoven with popular songs and melodies that represented the passage of time, as well as the picture's various moods.
Many of the songs included in the screen credits are barely audible within the film, with some numbers heard in the background as if being played on radios or in clubs as the characters pass in and out of a scene. Many critics commented on the effectiveness of the score, which film historians have pointed to as a pioneering work in the effective mix of classical and contemporary music. As noted in a feature article in Hollywood Reporter in January 2005, the Raging Bull soundtrack was not released until 2005. According to Robbie Robertson, who was the music producer for the score, the soundtrack release was delayed because of rights and clearances issues complicated by the large number of songs and performers.
In addition to the music track, various tracks of sound enhanced the film's overall impact. In many scenes background noises almost overpower the dialogue spoken by the main characters. In other scenes, especially the fight scenes, there is no sound, followed by intermittent bursts of sound. During some more intimate scenes, the dialogue is low, with additional, ambient sounds reflecting outside noises or, in one scene, the hum of static on a television set.
Michael Westmore, a member of the famous Westmore of Hollywood family of cosmeticians, created the makeup for the film. Reviews and feature articles praised Westmore's work, which transformed De Niro's face to resemble La Motta's, including the characteristic broken fighter's nose, and aged him from the fit young man of the early 1940s to the haggard, overweight man of the mid-1960s. Westmore also created the prosthetic nose for actor Kevin Mahon, who portrayed Tony Janiro, a boxer whose face was mercilessly battered by La Motta in one of the film's most brutal scenes, the result of La Motta's unwarranted fit of jealousy over a casual remark made by Vickie about Janiro's good looks.
Critical praise was also high for editor Thelma Schoonmaker, as well as for cinematographer Michael Chapman, a frequent Scorsese collaborator. In an article in Millimeter, Chapman described the various techniques he used to give the film both its period feel and realism, particularly in the boxing scenes which are central to the story but encompass little more than ten minutes of screen time. Among other things, Chapman described building a device that could be used to hold numerous old-fashioned flashbulbs that would give the distinctive "pop" and flash of light needed for the scenes in the ring.
In interviews, Scorsese stated that the original idea to film in black-and-white was actually the result of a discussion Scorsese had with famed British director Michael Powell, who watched 8mm rehearsal shots of a fight scene and suggested that the color of the boxing gloves looked wrong. According to Scorsese, it was then that he decided to have the film shot in black-and-white.
Raging Bull marked the motion picture debut of Moriarty, who was only twenty at the time of the film's production and had never acted before. Some feature articles reported that she was selected after Pesci, who had worked in New York's garment district, where she was a model, brought her to Scorsese's attention. Her selection followed a pre-production publicity campaign to fill the role of Vickie that included, according to a August 21, 1978 Hollywood Reporter ad, an open casting call for "Young woman to play 15-30 years old. Must be blonde and have excellent figure. No regional accents except New York." Raging Bull was only the second film role for Pesci, who had been a theatrical child actor, but had quit acting after appearing in the 1976 film The Death Collector. Raging Bull also marked the screen debut of actor John Turturro, who had a bit role as one of the young men sitting with Jake and Joey at the dance when the priest comes to their table. Modern sources add Joseph Bergmann, Bruno DiGiorgi, Marty Farrell, Tony Lip, Dennis O'Neill, McKenzie Westmore and Jimmy Williams to the cast.
Reviews were mostly laudatory, with critics lavishing praise on De Niro's performance and the film's startlingly realistic and violent fight scenes. The Variety critics wrote that "Not since The Harder They Fall in 1956 have boxing scenes been filmed with such terrific intensity," a sentiment that was echoed in many contemporary reviews, which frequently wrote about the numerous slow motion shots that added to the brutality of the fight sequences. Contemporary critics had mixed opinions of the overall effectiveness of Scorsese's direction, although Los Angeles Times critic Charles Champlin, one of the film's principal supporters, called it "Scorsese's most perfectly shaped film."
The film was one of the top box-office films of 1981, having gradually opened in a greater numbers of cities in North America in early 1981. News items reported that, following the picture's eight Academy Award nominations, UA released it in many additional venues.
Raging Bull received two Academy Awards, one for De Niro as Best Actor and the other for Schoonmaker for Film Editing. The film also received the following six nominations: Best Picture, Directing, Supporting Actor (Pesci), Supporting Actress (Moriarty), Cinematography (Chapman) and Sound (Donald O. Mitchell, Bill Nicholson, David J. Kimball and Les Lazarowitz). In addition, De Niro won the Golden Globe for Best Actor in a Dramatic role, as well as being named Best Actor by many major critics. Scorsese was nominated for the Golden Globe for Best Director and for the Best Director award by the Directors Guild of America, but failed to win either award, which, like the Oscar for Best Director, eluded him until 2007, when he won for The Departed.
In the wake of the popularity of Raging Bull, La Motta and ex-wife Vickie became celebrities, often appearing at New York social gatherings, occasionally together. According to contemporary articles about the film, they went to one screening of the film together and when La Motta asked his former wife if he was as bad as he appeared in the movie, she replied that he was worse. According to a January 6, 1981 Hollywood Reporter news item, Stephanie La Motta, one of Jake and Vickie's three children, disliked the film's violent portrayal of her father, whom she was quoted as calling "a very meek and mild-mannered man."
In December 1981, Vickie, who was then fifty-one, appeared in a nude centerfold spread in Playboy, and in 1986, another La Motta autobiography, Raging Bull II, was ghostwritten by Chris Anderson and Sharon McGhee. A New York magazine article on December 8, 1980 reported that La Motta's brother Joey was planning a multi-million dollar lawsuit against Scorsese, De Niro and United Artists, charging defamation of character, but no additional information about such a suit has been located. July 1981 news items in Los Angeles Times and Daily Variety reported that Joseph Carter, who co-authored La Motta's autobiography, was suing him for nonpayment of revenues based on La Motta's profits from the movie rights to the book, but the disposition of that dispute is undetermined.
Over the years since its release, the critical reputation of Raging Bull has increased. It was re-released in 1990 on the heels of several polls of national film critics, including Roger Ebert and Gene Siskel, and the staffs of Premiere and American Film magazines, who named it the best film of the decade. On the film's 25th anniversary, it had a gala anniversary screening at New York's Ziegfeld Theatre that was attended by Scorsese, De Niro, La Motta and many of the film's principals. A two-disc 25th anniversary DVD was also released a few weeks later. In 2007, Raging Bull was ranked 4th on AFI's 100 Years...100 Movies-10th Anniversary Edition list of the greatest American films, moving up from the 24th position it occupied on AFI's 1997 list.