DVDs from TCM Shop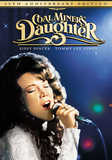 Coal Miner's Daughter Musical autobiography of... MORE&nbsp> $11.21 Regularly $14.98 Buy Now blu-ray
Articles
SEE ALL ARTICLES
Coal Miner's Daughter (1980)
SYNOPSIS

The life of Loretta Lynn is told in this acclaimed biography featuring some of the country superstar's best and most popular songs, among them "I'm a Honky Tonk Girl," "One's on the Way," "You Ain't Woman Enough (To Take My Man)," and the title tune. The story follows Loretta's life from her adolescence in a dirt-poor coal-mining village in the Appalachians through her marriage to Doolittle Lynn and the birth of their children and her early rise to stardom. The latter part of the movie details the pressures and difficulties of her years as the reigning queen of country music.

Director: Michael Apted
Producer: Bernard Schwartz
Screenplay: Tom Rickman, based on the autobiography by Loretta Lynn with George Vecsey
Cinematography: Ralf D. Bode
Editing: Arthur Schmidt
Production Design: John W. Corso
Music Supervisor: Owen Bradley
Cast: Sissy Spacek (Loretta Lynn), Tommy Lee Jones (Doolittle "Mooney" Lynn), Levon Helm (Ted Webb), Phyllis Boyens (Clara Webb), Beverly D'Angelo (Patsy Cline), William Sanderson (Lee Dollarhide)

Why COAL MINER'S DAUGHTER is Essential

Films achieve "essential" status for a variety of reasons: They advance the art of cinema and how we view movies; they define their times or characterize particular aspects of a culture at any given historical moment; they are the prime representatives of an important and familiar genre or style; or they simply stand above the crowd for their emotional, narrative, or aesthetic power. Then there are those immortalized primarily on the strength of the performances that drive them. Coal Miner's Daughter, for all its other virtues, fits most squarely into that category.

It's always thrilling, although too often rare, to watch an actor and a character merge as perfectly as they do in this film. When the character is a real person, not only still alive but well-known to an audience, a popular entertainer to boot, the thrill comes in the way the actor embodies the role not through simple impersonation (which provides little depth or insight) and beyond mere evocation (which tends to privilege the actor's interpretation over what we know of and expect from the real person being portrayed). Instead, we're in on the creation of a third persona, neither performer nor character but a vibrant life unfolding for us in a way that's both familiar and surprising. Sissy Spacek, in her Academy Award-winning performance as country music superstar Loretta Lynn, gives us that exhilarating experience.

Of course, Spacek studied Lynn hard over many months to perfect her vocal and physical mannerisms; the singer's fans wouldn't have looked kindly on anything less. But what about the non-fans? There's the measure of how satisfying this film is and why it became such a big hit. Loretta Lynn's followers were likely always going to see the picture, but Coal Miner's Daughter also captured the attention and admiration of those for whom Lynn was only a name they heard or a song snippet passing by on the radio dial. The movie did more than boost Spacek's career; it also brought even greater fame to Loretta Lynn, opening her music to new audiences and keeping the spotlight on her long after many of her country contemporaries had faded from the view of all but the most devoted fans of their music.

For all the attention focused on Spacek's work here, her performance did not exist in a vacuum. Although he portrays a character little known to the public (Lynn's husband Doolittle, aka Mooney), Tommy Lee Jones is as strong, multi-dimensional, and thoroughly believable as his co-star. Just as Doo supported and encouraged his wife's talents and career, Jones bolsters and helps shape Spacek's performance, perhaps too well--come awards season, his work was far overshadowed by hers. But the way the two play off each other, the spark between them, denies that this is a one-woman show.

The supporting performances are equally affecting, most notably that of the musician (and at the time acting novice) Levon Helm, so dead-on right as Loretta Lynn's father that the singer nearly fainted when she saw him in full costume.

As for those other virtues, director Michael Apted didn't try to jettison all the clichs and expectations of the typical rags-to-riches showbiz biography; they already existed in Lynn's story, at least as she told it in her autobiography of the same name. Apted made the world in which they exist so real and textured that it was easy for audiences to buy into them as reality, and he and his cast did it without distancing themselves from or condescending to the people who create country music and those who idolize them. This may well be due, as many have suggested, to Apted's Englishness. As a foreigner, he didn't have preconceived notions or prejudices about the poor, white, rural American South. It's an approach that made for an alive and engaging take on the Hollywood biopic genre and that keeps it so well liked and fresh more than three decades after its release.

By Rob Nixon
back to top
---
Coal Miner's Daughter (1980)
Loretta Lynn's song "Coal Miner's Daughter" has been ranked 185 on the Recording Industry Association of America's list of Songs of the Century and No. 13 on the TV special CMT's 100 Greatest Songs in Country Music.

In 2010 the Library of Congress put "Coal Miner's Daughter" on the National Recording Registry.

The soundtrack reached No. 2 on Billboard's country album chart and 40 on the overall Top 200 chart. The single of Sissy Spacek singing the title tune from the soundtrack reached No. 23 on the Billboard country singles chart.

Sissy Spacek was nominated for a Grammy Award for Best Female Country Vocal Performance for her recording of the title song. She was up against Loretta Lynn's sister Crystal Gayle. They lost to Anne Murray.

On the 2010 album "Coal Miner's Daughter: A Tribute To Loretta Lynn," Lynn re-recorded the song with guest vocalists Miranda Lambert and Sheryl Crow. It was also released as a single, reaching No. 55 on the Hot Country Songs chart. The music video of the song was a Country Music Television top ten hit. The trio was nominated for Country Music Association, Academy of Country Music, and CMT Video awards.

Lynn collected many of the props, costumes, and set pieces from the movie and created a museum and tourist attraction called the Loretta Lynn Ranch at her home, Hurricane Mills, Tennessee. The site contains a rebuilt version of the Butcher Hollow house from the movie, the Cadillac where she wrote many of her songs, and all the dresses. The white-columned mansion featured in the movie, where Lynn and her husband lived until his death in 1996, has been opened to tourists, who complain if anything is different from the way they remember it on screen. Lynn now lives in a separate house on the property for more privacy.

A fictionalized character based on Loretta Lynn was featured in Robert Altman's film Nashville (1975), played by Ronee Blakley as a fragile woman recovering from a nervous breakdown.

During the Opry Country Classics show in May 2012, Lynn announced there would be a Broadway version of her story, then introduced the actress who would play her, Zooey Deschanel. The two sang together, but since then not much has been heard about the project.

There was talk for a few years that a movie biography of Patsy Cline would be made with Beverly D'Angelo, who made such an impression as the late country singer in this film. When it was eventually made, as Sweet Dreams (1985), Jessica Lange had the lead, lip-synching to Cline's recordings, as opposed to D'Angelo's own much-praised performance of Cline's music in this picture.

Country greats Minnie Pearl, Roy Acuff, and Ernest Tubb made cameo appearances in the film.

By Rob Nixon
back to top
---
Coal Miner's Daughter (1980)
Loretta Lynn was named after movie star Loretta Young.

Spacek's parents visited the set while the production was filming at the Grand Ole Opry in Nashville and ended up becoming fast friends with musician Ernest Tubb, who played himself in the movie. Tubb went to visit the Spaceks in Quitman, Texas, parking his gigantic tour bus outside their home and getting a lot of attention from the locals.

Due to the picture's success, Sissy Spacek's home town, Quitman, Texas, declared May 31, 1980, Sissy Spacek Day with entertainment, presentations, and competitions. Spacek and her husband flew in for the celebration.

Shortly after the picture opened, Spacek got a telegram from Dolly Parton that read "Dear Sissy, I hope you make millions of dollars from Coal Miner's Daughter so that you can get a boob job and do the Dolly Parton story."

In 2012 a story broke that Loretta Lynn was not the age she said she was, not so significant for people in show business but important to the facts of her story. Lynn claimed to have been married at 13, but her birth certificate showed she was actually on the verge of 16 when she and Doolittle wed. When asked to confirm or deny, Lynn's representatives said she had emphatically told them before, "If anyone asks how old I am, tell them it's none of their business!"

German-born cinematographer Ralf D. Bode (1941-2001) was later hired by Sissy Spacek's husband Jack Fisk to shoot two films Fisk directed starring Spacek, Raggedy Man (1981) and Violets Are Blue... (1986). Bode received Emmy nominations for shooting two made-for-television adaptations of Broadway musicals, Gypsy (1993) and Annie (1999).

Sissy Spacek and Tommy Lee Jones also appeared together in the TV movie The Good Old Boys (1995) and Oliver Stone's feature JFK (1991).

Although he was snubbed by the Academy Awards for his work in this picture, Tommy Lee Jones has been nominated four times. He won Best Supporting Actor for The Fugitive (1993).

Levon Helm (1940-2012) was a professional musician making his acting debut in this movie. He appeared 16 more times in movies, shorts, and television shows, not counting his appearances as himself in numerous documentaries and concert footage. He and Tommy lee Jones worked together again in The Three Burials of Melquiades Estrada (2005).

Loretta Lynn's twin daughters, Patsy (named for Patsy Cline) and Peggy, were very young when they met Sissy Spacek while she was studying Loretta Lynn's speech and singing patterns for the movie. They asked their mother why she kept trying to talk like Sissy Spacek.

In her autobiography, Sissy Spacek wrote: "[Loretta] had missed watching her children grow up, missed out on her own life while she was stuck on the spinning merry-go-round of fame and obligations. The lessons weren't lost on me. I saw how easily it could happen. And I didn't want to give up all that she did for my own career. I wanted to keep some privacy. It's been important to me to live a regular life, around regular people, because these are the characters I portray in films: regular people, like me."

Back-up vocals are credited to the Jordanaires, who backed Elvis Presley on most of his big hits and movies.

The night Sissy Spacek won an Academy Award for Best Actress Loretta Lynn was in the audience. Making the event unique, Robert De Niro won for Raging Bull (1980) as the man he played, Jake La Motta, also watched from the audience.

By Rob Nixon

Memorable Quotes from COAL MINER'S DAUGHTER

DOLLARHIDE (William Sanderson): If you're born in Kentucky you've got three choices; coal mine, moonshine or move it on down the line.

LORETTA (Sissy Spacek): I'm goin' to have a baby.
DOOLITTLE (Tommy Lee Jones): You know, Loretta, we may have found something you know how to do.

DOOLITTLE: Loretta, I'm leavin' Kentucky. Goin' out west somewhere, find me another job. That damn coal mine about to kill me. There ain't nothin' in Kentucky for me except a chest full of coal dust and being an old man before I'm forty; ask your daddy, he'll tell you.
LORETTA: Were you goin' without me?
DOOLITTLE: Just long enough to get the money to send for you.
LORETTA: You promised my daddy you wouldn't take me far off.
DOOLITTLE: Darlin' you're goin' to have to decide if you're my wife or his daughter. Besides, you got to go; I love you.
LORETTA: You better come up with a better reason than that.

TED (Levon Helm): I ain't ever gonna see you again.
LORETTA: Yes you will, daddy.
TED: Maybe, but I ain't never gonna see my little girl again.

LORETTA: I'm getting' so sick of baloney.
DOOLITTLE: You are? Well, you know what they say about eatin' baloney, don't you?
LORETTA: No, what?
DOOLITTLE: Makes you horny.
LORETTA: What does that mean?
DOOLITTLE: Are you so dadburn ignorant you don't know what horny means?
LORETTA: No, what does it mean?
DOOLITTLE: I ain't gonna tell you.

LORETTA: Shoot, we've been driving so much, I don't know where I am half the time. But it's fun. We sing, and talk, and Doo--that's my husband--he'll get to acting horny.
SPEEDY WEST (Billy Strange): What!?
LORETTA: And the more I laugh, the hornier he gets, and then he'll say, "Loretta, spread me up another one of them baloney sandwiches!"

STATION MANAGER (Gary Parker): And come off that dumb hillbilly act!
DOOLITTLE: If you knew Loretta, you'd know that ain't no act.
LORETTA: Thank you, honey.

LORETTA: Woman, if you want to keep that arm, you better get it off my husband.

DOOLITTLE: What we got to do next is; figure out what to do next.

PATSY CLINE (Beverly D'Angelo): People are wantin' to know who you've been sleepin' with to get on the Opry so quick.
LORETTA: Well, I never... who would say such a thing?
PATSY: All those girl singers who've been sleepin' with everybody and still ain't got on the Opry.

LORETTA: Dadgum it, Doo! You never ask me nothing! You just say, "Hey baby, here's the deal, take it or leave it." Well, it's drivin' me crazy, Doo!
DOOLITTLE: Well, hell, then let's go up to the house, call a lawyer and get a divorce. I'm tired of this bullshit.
LORETTA: I don't want no divorce! I just want the dadgum bedroom in the back of the house!
back to top
---
Coal Miner's Daughter (1980)
Country music superstar Loretta Lynn was born Loretta Webb, the second child of a Kentucky coal miner, and raised in the little mining village of Butcher Hollow. She married while still a teenager (age disputed, see TRIVIA AND FUN FACTS) to Oliver Lynn, aka Doolittle, Doo, or Mooney (because he ran moonshine). When she was pregnant with the first of their six children, the couple moved to Washington state. Although as a child she had sung around the house as well as at church and small local shows, Loretta put family over pursuing her talent until her husband began to help and encourage her to perform publicly in the late 1950s. Her winning performance on a televised Tacoma talent contest in 1959 was seen by the owner of a Canadian record company who had her record four of her own compositions, the best-known of which was "I'm a Honky Tonk Girl." She signed a recording contract with the company in 1960, and she and her husband began touring the country to promote the single. By the time they reached Nashville, it was 14 on Billboard's country-western charts. By the end of the year, she was listed as the Number 4 Most Promising Female Country Artist. She began an association with the famous Grand Ole Opry in 1960 and shortly after became friends with Patsy Cline, whose crossover success made her one of the first country stars with mainstream hits. Despite marital difficulties, the demands of touring, problems with drugs and her health, personal tragedies, and a nervous breakdown, Loretta Lynn has remained at the top of her profession for decades. Her often controversial songs, tinged with feminism and touching on subjects foreign to country music, such as birth control and war, are seen as landmarks, winning her legions of fans and numerous awards and accolades.

In 1970, Lynn released the autobiographical song "Coal Miner's Daughter" about her childhood in Kentucky. It reached No. 1 on the Billboard country charts by the end of the year and was her first single to chart on the Billboard Hot 100, putting her in the same league as her good friend, crossover country artist Patsy Cline. An album of the same name also released in 1970 became a big hit.

In 1976, Lynn published her autobiography (with George Vecsey) named for her famous song.

Universal Pictures purchased the film rights to Lynn's book shortly after it was published, with the intention of producing it on a modest ($6 million) budget. The studio wasn't very convinced the movie would be much of a draw; instead they hoped to profit on Lynn's huge draw as a recording artist through the sale of a soundtrack album.

The studio presented Lynn with a stack of photos of young actresses asking her who she would pick to play her. She was struck by one woman's freckled face and insisted she was the one. It was Sissy Spacek, a 30-year-old Texan who had appeared several times on television and made a name for herself in several acclaimed movies, including Prime Cut (1972), Badlands (1973), Three Women (1977), and the hit supernatural thriller Carrie (1976), for which she received her first Academy Award nomination.

After deciding on Spacek, Lynn began to tell people quite publicly that the actress would play her on screen. In her autobiography, Spacek said she was "slightly dumbfounded because I'd never even met Loretta, and I'd certainly never agreed to be in her film." She had, in fact, been approached by Universal, but she knew very little about the project, and had serious doubts about getting involved. Still bearing traces of her Texas twang, Spacek was eager to shed any "country" image she had and open herself up to different kinds of roles. She was also afraid the studio would make something "clichd and corny" out of Lynn's life story. Spacek also noted in her book that she had already committed to do a film with Nicholas Roeg, director of Don't Look Now (1973) and The Man Who Fell to Earth (1976), so she had high hopes of appearing in a "more artistic film" than a typical Hollywood biopic. (Spacek does not say what the film was; perhaps it was Roeg's 1980 release Bad Timing: A Sensual Obsession, which starred his future wife Theresa Russell.)

Spacek decided she would have to confront Lynn directly and tell her she wasn't doing the movie and ask her to stop telling people that. Spacek and her husband, director-production designer Jack Fisk, were in Texas visiting her parents when she found out Lynn was performing only a few hours away in Shreveport. Dressing as un-country as she could, she and Fisk drove toward the auditorium where Lynn was performing and turned on to Fisk Street, which she thought was a weird coincidence but decided to ignore it. They were approaching Lynn's tour bus when suddenly the door flew open and a tiny woman in a flowery dress stormed out, band members tagging sheepishly behind, while she exclaimed loudly, "BAM BAM BAM! I couldn't hear nothin' but them dat-gum drums a'beatin' in my ear!" At that moment, Spacek thought "Oh my God, I have to play this woman!"

Even though her impression of Loretta Lynn was favorable, Sissy Spacek continued to have misgivings about the project. She read the book and found it inspiring, but she was worried about playing a real person who was still alive, working, and very well known. She agreed to meet with the director attached to the production at that point. (Spacek and Lynn have often referred to the original director, but he has not been identified by any source we could find.) The meeting was brief and unproductive. She said later he simply pointed to Lynn's picture on Time magazine and said, "You don't look like her." Spacek was ready to quit at that point, but Lynn, producer Sean Daniel, and casting director Michael Chinich persisted.

Fisk Street wasn't the only sign Spacek would get about the project. While visiting Jack's mother Gerri in Washington, D.C., Spacek spoke about her confusion and reluctance to do the part, even though her manager and others were telling her she was crazy not to. Gerri Fisk suggested she ask God for a sign, which Spacek did jokingly. That night, she nearly screamed when she saw Lynn on TV again talking about how Sissy Spacek was going to play her. Her husband suggested they go for a ride in his mother's Cadillac, which was always tuned to a classical music station. As she flipped on the radio, Spacek heard Loretta singing the refrain to "Coal Miner's Daughter" and figured she had the sign she needed.

The original director's contract was bought out after Lynn expressed her feeling that he didn't really understand her life. She said she thought his films were good but that he would do her story "at her expense," fearing he might make fun of her. When Spacek signed on, the producers were already looking for another director. They screened as many pictures about musicians as they could find, including Daryl Duke's Payday (1973), about a fictional country star played by Spacek's cousin, Rip Torn. They were most taken with Stardust (1974), by the British Director Michael Apted.

In addition to having come from a coal mining area in England and directed documentaries that showed some feel for working class people, Apted also had the advantage of being a foreigner without a lot of preconceived notions and prejudices about Appalachian people. "Your mind wasn't already clogged up with stories," Lynn would tell him years later reflecting back on his work on the picture. As Spacek put it, "After meeting him, we were convinced he would see Loretta and her family and fans as real people, not cartoonish hillbillies."

"I got it by chance," Apted later recalled. "The studio never saw it as a big commercial film. I didn't have any baggage. I didn't know anything about country music or Loretta Lynn. Never heard of Appalachian white trash."

The adaptation of Lynn's book to screenplay was entrusted to Kentucky-born Tom Rickman, who had written the country music comedy W.W. and the Dixie Dancekings (1975) and two other Southern-set stories, the TV movies Home Cookin' (1975) and Delta County, U.S.A. (1977). Lynn later said, "We made Tom Rickman do it a few times, but he got it right."

Lynn, Spacek, and Rickman weren't the only Southerners involved with the project. For the part of Loretta's husband Doo, the producers' first choice was reportedly Texan Joe Don Baker, who bore a strong resemblance to the real-life Mr. Lynn, but they hired instead yet another Texan, Harvard-educated stage and screen actor Tommy Lee Jones, a supporting player for several years before drawing attention with his title role in the TV movie The Amazing Howard Hughes (1977) and as leading man to Faye Dunaway in Eyes of Laura Mars (1978).

Two other Southerners rounded out the principal cast. Tommy Lee Jones recommended Levon Helm, drummer for The Band, a folk-flavored rock group made up mostly of Canadians who learned about Southern culture and American roots music from Arkansas-born Helm. Although he had never acted before, Lynn approved of his background and also his uncanny resemblance to her father, the part he was cast to play; in fact, reportedly she nearly fainted when she first saw Helm in full costume and make-up. For the part of Loretta's mother, Helm suggested Phyllis Boyens, the daughter of West Virginia coal miner, folk singer, and trade unionist Nimrod Workman. Boyens often performed with her father; she can be seen singing with him in Harlan County, USA (1976), Barbara Kopple's Oscar®-winning documentary about a bitterly violent 1973 coal miner's strike in Kentucky in 1973.

By Rob Nixon
back to top
---
Coal Miner's Daughter (1980)
The first part of the film was shot fairly close to where the story actually took place, in the mountains at the convergence of Kentucky, West Virginia, and Virginia.

The production was based in Wise, Virginia, about 70 miles south of the real Butcher Hollow. Cast and crew stayed in a historic hotel called the Wise Inn.

Levon Helm took over the bar in the hotel's basement practically every night, gathering musicians and singers to play the music of the area.

The concert scenes were filmed in Nashville's Ryman Auditorium.

Sissy Spacek and Beverly D'Angelo did all their own singing as Loretta Lynn and Patsy Cline. Spacek had insisted on singing the songs herself, and Lynn agreed. Director Michael Apted wanted her to sing all her songs live to capture the realism of concert performance.

Spacek was with Loretta Lynn on and off for a year, joining her on tour and staying at her home in order to study Lynn thoroughly, mostly for her speech patterns and singing style. Lynn said Spacek picked up her singing very fast, and when the two sang together on the Grand Ole Opry stage, people couldn't easily tell which one was singing at any given time.

Once Spacek got Lynn down pat, she stayed in character throughout the shoot, even off camera. People visiting the set thought she actually talked that way in real life.

Spacek studied with the legendary producer Owen Bradley, who had cut records for Loretta Lynn, Patsy Cline, Kitty Wells, and other country greats. Bradley also supervised the songs in the movie and produced the soundtrack album.

Loretta Lynn said Tommy Lee Jones went to meet her husband with his hair dyed red to match Doolittle's youthful color, but Mr. Lynn did not warm to him or help him out. "He was jealous of him," she said, noting that it wasn't until Doo had to teach Tommy Lee to drive a tractor that he began to thaw. Eventually, as Loretta put it, "Doo ended up falling in love with Tommy Lee." Doo also showed Jones how to get the most speed out of the old World War II jeep he drove in the film.

Spacek expected fellow Texan Tommy Lee Jones to be a good old boy but soon learned he was a sophisticated Harvard graduate. "I can honestly say he's always the smartest person in the room," she wrote in her autobiography. "Tommy Lee had great instincts about the film. ... He elevated my performance in every way."

Spacek also had high praise for Levon Helm, a musician acting for the first time on film. "He knew that character in his bones, and his portrayal has such dignity and grace that it literally anchors the film."

During the filming of Loretta's father's funeral, Levon Helm did not want to lie in the coffin as directed by Michael Apted. To ease Helm's anxiety, Apted got into the casket himself and did a few run-throughs.

In the funeral scene, everybody was supposed to be singing "Amazing Grace" around the body of Loretta's father. In the middle of the take, Levon Helm sat bolt upright in the coffin insisting they were singing it wrong. He told them it had to be done in the old call-and-response style. Luckily, Phyllis Boyens, who played Loretta's mother, had her father on set. Nimrod Workman was a well-known singer, coal miner, and activist, and it is he who we hear calling out the lines while the others sing them after him.br>
Spacek said Michael Apted and cinematographer Ralf Bode would watch the actors rehearse a scene and design the shot around them, rather than having the shots planned out in advance and directing the actors to conform to the visual plan. "Michael Apted trusted his actors," she said. "It felt extraordinary--even revolutionary."

Spacek also praised Apted and his design team for the high degree of authenticity they lent to the story without falling into the clich of portraying "hillbillies" living in squalor. "The costumes were perfect, and the sets were exquisitely accurate, from the corn cribs in the back of Loretta's home to the newspapers used for wallpaper inside the cabin to keep out the drafts," she later wrote.

By Rob Nixon
back to top
---
Coal Miner's Daughter (1980)
What could be a more authentically American subject for a movie than Coal Miner's Daughter (1980), the movie biography that chronicles the life and times of Loretta Lynn, one of country music's most beloved singers? Ironically enough, the film was directed by a Brit - Michael Apted - yet it offers an insider's point of view that feels honest and true to the country music scene and Lynn's career.

Sissy Spacek received an Academy Award for her performance as the legendary Nashville superstar, who rises from the poverty of rural Kentucky to become the reigning queen of country music. The film begins with Lynn's adolescent years when she was living with five siblings in a small shack in rural Kentucky while her father struggled to support them through his work in the coal mines. When Lynn is just fourteen, she meets her future husband, Doolittle Lynn (played by Tommy Lee Jones), who is substantially older and more experienced than Loretta, having left their community, Butcher Hollow, to serve in the army.

The two fall in love and soon marry, leaving their humble beginnings in search of less life-threatening work. Recognizing his wife's musical talent, "Doo" gives Loretta her first guitar and encourages her to write and perform her own songs. Soon the couple begins pedaling Loretta's tunes to any radio station that will play her music, often performing live in the studio. Eventually Lynn scores a hit record which effectively launches her career and brings her into contact with country star Patsy Cline, who becomes a close friend and mentor to the naive young singer.

While Coal Miner's Daughter is saddled with some of the expected cliches of the musical biopic, it also refuses to sugarcoat the more painful aspects of Lynn's private life and how fame and fortune can wreak havoc on ordinary relationships. Though not entirely factual - the film does take liberties by glossing over Lynn's drug abuse and mental breakdowns - the movie is based on the autobiography of Loretta Lynn. And the singer herself was involved in the shooting, often conferring with cast members and offering her perspective on her life in between scenes.

The one element that consistently holds the film together is the music of Loretta Lynn, which, surprisingly enough, is performed by Sissy Spacek. Among the songs performed in the film are "You Ain't Woman Enough to Take My Man," "You're Looking at Country," "I'm a Honky Tonk Girl," and the title tune. Unlike other female musical bios where the lead actress lip-syncs to the original recordings (Ann Blyth in The Helen Morgan Story, 1957), Spacek skillfully interprets all of Lynn's songs in the movie, proving that she could have had an alternate career in music. For that matter, so could Beverly D'Angelo as Lynn's friend, Patsy Cline, who also does her own singing in the film and does a memorable rendition of "Sweet Dreams." Still, Spacek is most humbly grateful to Lynn, who attended the Oscar ceremony in 1980. After thanking her as "the woman who gave me all that hair," Spacek told the press: "Just to be nominated makes me feel like a real actress. I used to watch the Oscars growing up, so all this is like a dream come true, like living out a fantasy."

Producer: Bernard Schwartz
Director: Michael Apted
Screenplay: Tom Rickman (based on the autobiography by Loretta Lynn with George Vescey)
Cinematography: Ralf D. Bode
Music: Owen Bradley
Cast: Sissy Spacek (Loretta Lynn), Tommy Lee Jones (Doolittle "Mooney" Lynn), Levon Helm (Ted Webb), Phyllis Boyens (Clara Webb), Beverly D'Angelo (Patsy Cline), William Sanderson (Lee Dollarhide), Robert Elkins (Bobby Day), Bob Hannah (Charlie Dick).
C-125m. Letterboxed. Closed Captioning.

by Mary Anne Melear
back to top
---
Coal Miner's Daughter (1980)
Against the studio's modest expectations, the film became a big hit and the sixth biggest moneymaker of the year.

Sissy Spacek won a Best Actress Academy Award for her work. The film received five other nominations: Best Picture, Best Adapted Screenplay (Thomas Rickman), Best Cinematography (Ralf T. Bode), Best Art Direction-Set Decoration, Best Sound, and Best Film editing.

The movie won Golden Globe Awards for Best Motion Picture Musical or Comedy and Best Actress in a Musical or Comedy. Tommy Lee Jones and Beverly D'Angelo were also nominated for their performances.

Although the British film academy failed to recognize its native son, Michael Apted, for directing, it did give nominations for Best Actress and Best Sound.

Spacek's performance also won her awards from the Kansas City, Los Angeles, and New York film critics associations and the National Society of Film Critics.

The National Board of Review named Coal Miner's Daughter one of its Top Ten films of the year and Sissy Spacek as Best Actress.

Thomas Rickman's screenplay was nominated by the Writers Guild of America.

"Tommy Lee should've been recognized in that movie. He wasn't nominated, and that was wrong." - Loretta Lynn

"There was only one song on the [soundtrack] album that I didn't think sounded as much like me. That song was 'Coal Miner's Daughter,' and it wasn't quite as good as the rest of them, even though [Sissy Spacek] tried real hard on it. But as far as I'm concerned, she done a great job." - Loretta Lynn

Director Michael Apted: "We were lucky with Coal Miner's Daughter because it was the right time. It was a good film, but it also hit the marketplace just at the time when country music was entering the culture, with Willie Nelson, Crystal Gayle, and Dolly Parton coming into the mainstream. It also hit perfectly for Sissy Spacek's career. Now if it had come out two years earlier or two years later, it might not have had the same heat."

"Coal Miner's Daughter is a thoughtful, endearing film charting the life of singer Loretta Lynn from the depths of poverty in rural Kentucky to her eventual rise to the title of 'queen of country music.' Thanks in large part to superb performances by Sissy Spacek and Tommy Lee Jones, film mostly avoids the sudsy atmosphere common to many showbiz tales and emerges as both a wonderful love story and a convincing portrayal of one woman's life. ... There is seldom a slow moment in the picture, although towards the end short shrift is given to Spacek's bout with drugs, nervous breakdown, marriage troubles and death of her best friend, Beverly D'Angelo, who turns in a stellar if abbreviated performance as country singer Patsy Cline. ... Both Spacek and D'Angelo deserve a special nod of credit for doing all of their own singing with style and accuracy." - Variety, February 1980

"I think it's one of those films people like so much while they're watching it that they're inclined to think it's better than it is. It's warm, entertaining, funny, and centered around that great Sissy Spacek performance, but it's essentially pretty familiar material (not that Loretta Lynn can be blamed that Horatio Alger wrote her life before she lived it). The movie isn't great art, but it has been made with great taste and style; it's more intelligent and observant than movie biographies of singing stars used to be. That makes it a treasure to watch, even if we sometimes have the feeling we've seen it before." - Roger Ebert, Chicago Sun-Times, 1980

Coal Miner's Daughter risks understating its story to make Loretta Lynn's biography part of a larger fabric, and the gamble pays off. ... Miss Spacek is luminous and lovely, easily outshining her previous work, good as it has been. ... Tommy Lee Jones, as her husband, Doolittle, has a strength and humor that brings the film's love story to life, and he, too, quite outdoes his past performances. Beverly D'Angelo...makes a brief but astonishingly sharp impression. And Levon Helm, playing Loretta's father, embodies all the quiet decency that gives this film its foothold." - Janet Maslin, New York Times, March 7, 1980

"You don't have to know anything much about Loretta Lynn in order to have a good time at Coal Miner's Daughter." - New Yorker, 1980

"Some of us keep asking for American movies that speak of the variedness of America. Much of the time, this picture does part of that job. It means a lot more to me than the bloated Nashville [1975], with its strain to be an All-American metaphor." - Stanley Kauffmann, New Republic, 1980

"For all the modern gloss, what with poverty and nervous breakdowns it's still highly conventional stuff, but lovingly constructed to produce unremarkable but heart-warming entertainment." - Geoff Andrew, Time Out

Loretta Lynn has said she can't watch the movie anymore because "there's too much real in it," as in the scene of Doolittle trying to get permission to marry her from her parents. She also said she had to turn away during her breakdown scene because it hurt too much to watch it.

By Rob Nixon
back to top
---