DVDs from TCM Shop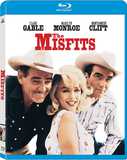 The Misfits A sensitive divorcee gets mixed up with modern cowboys... MORE&nbsp> $12.95 Regularly $19.99 Buy Now
USER REVIEWS
See Detailed Ratings
Acting of Lead Performers

Acting of Supporting Cast

Director

Music Score

Title Sequence

Screenplay

Cinematography

Historical Importance

Would You Recommend?

0 Member Ratings
Rate the acting of the Lead Performers

Rate the acting of the Supporting Cast

Rate the Director

Rating of the Music Score

Rating of the Title Sequence

Screenplay

Creatively uses the camera to tell the story

Importance in Cinema history

Would you recommend for fans of this genre
Submit Ratings
Cancel
Write a Review
Read Reviews
NO REVIEWS AVAILABLE
The title has not been reviewed. Be the first to write a review by clicking here to start.
Decent motion picture craft, but painful to watch

Goldenage of Hollywood said this film is a bit depressing. I would agree and then some. This was post-accident Montgomery Clift. He was a great actor but just not the same persona after the crash in my opinion. Clark Gable was dead less than 2 weeks after filming ended and in my opinion he did look like he was on his last legs. Marilyn Monroe also brought some baggage as noted. Perhaps this all boiled down to perfect casting given the nature of the story. But personally I did not find this film entertaining, which is my top criterion. I found it just too painful to watch at times.

One of my favorites

Goldenage of Hollywood

5/30/17

The casting alone is amazing. None disappoint. The film itself is a bit depressing about the dying western culture in 1960's America and how a changing world affects the lives of the characters. Gable tells Monroe's character that the mustangs are considered "misfits" (but they just want to run free) see where we're going here? Gable was excited about this film he said it was the best thing he's done since Wind, I happen to agree. Monroe was fabulous and though you can see she is struggling with some real life personal demons she pulls off the bravest, most memorable and beautiful performance. Clift what can I say, is there anything this man can't do? The phonebooth scene done in one take. Him dragging on a cigarette in the background of a Gable scene just about made Gable blow a gasket. Clark thought he was trying to upstage him but nope, that's just Clift doing his thing. Clift is Perce, Perce is Clift. He shines no matter how damage you may think he is or isn't. They don't do talent like that anymore. As Perce declares, "not me boy, I don't fake nothin'" you know he speaks truth.

Monty

I loved it but I loved everything Montgomery Clift did. He was my favorite actor of all time. I do feel sorry for his tragic life.

Gable & Monroe With Soul !

I think this is a love story in the same way MARTY is a love story. Marilyn Monroe has a couple of weak choices in scenes but overall this is brilliant, she is exceptional. I personally have never seen her anywhere, close to this good, never before was she this "real". Clark Gable is also memorable, who shows several moments of sheer "joy". This is a highly sexual film. The Mustangs are as wild as Marilyn and the Cowboy chooses the flesh and blood woman. He then succumbs to her womanhood, her caring. I don't believe this is a film that predicts the future, its solely for the moment. And in the moment Gable chooses Monroe and they ride toward the stars. I believe the film is more thematic, these people are "Misfits". The story telling editing the flow of the film is not the best, it just does not move properly the way a well told film/story does, for that I'll say four stars.

misfits

Too long, too talky, and occasionally pretentious, it's also quite moving at times and the best piece of acting Gable has done this side of Rhett, and the best acting Monroe's done period. Maybe because of the two stars' impending deaths the film has a pall of bleakness over it that both gives it its power and makes it tough to watch. I think all can agree that it is one one of Huston's most visually stunning films, especially once we get to the alkali plains of northeastern Nevada. Give it a B plus.

Too bad!

This movie is shown so often on TCM. Each time it is shown, I go through the same dilemma: Can I stand the utter brutality of the way the horses are treated, in order to watch Clark Gable and Marilyn Monroe work together in this film. I do understand there is some brutality in the way some "cowboys" treat animals in the rodeo world. It still does not make it right. Plus, it hurts me with the tender heart I have for animals as God's creatures, which He blessed. Therefore, after having suffered through the film one time, I will pass each time it is shown; nothing against the stars of the film, though. I also understand the popularity of the film because of the strength of its many other pluses.

The Misfits (1961)

Strange, hard to watch, and depressing film.

Great performances all around!

Provocative script, almost as provocative as Monroe's performance! And Gable's was probably his best performance. Miller once said he wrote the script only with Monroe in mind....so the words Gable speaks to Monroe are directly want Miller thought of his soon to be ex wife. Especially when Gable's character tells Monroe's character that she is the saddest girl he's ever seen. And in real life Miller certainly provided Monroe with her well earned sorrow by cheating on her plenty times. Of course one only reads about Monroe's affair but this was only after she learned about Miller's! Funny how sexism still prevades Monroe after all these decades. You rarely read about how Miller would verbally abuse Monroe throughtout their marriage.....ANYWAY it's a great movie that was way ahead of its time with insightful dialog that doesn't get carried away.....just deep enough to show real human conditions.

Sad That It's Last Movie For Gable,Marilyn

Arthur Miller prob pocketed a real fortune for his miserable treatment of MM.Maybe it wasn't that way,but I hate that sleaze.Sad seeing the big 3:Clark,MM and Monty with so little time left in their lifetimes.Best actors are Wallach and Thelma.The MM "murderers" scene grated on my nerves,but was effective,esp as DougieB noted the coming Counterculture movement,I never thought of that.A truly tragic movie set.Gable looked quite old and pooped to my estimation.Let himself get fat,smoked too much and drank.But MM and Monty were so much younger and more tragic are their losses,to me.Gable at least had a long career,acclaim for his acting,lost Lombard,and if you ask me,himself along the way,but he remarried,had a family nd much fame.MM,well,she was so fragile,too much so to deal with the sleazes of H'weird.Monty,what a tortured soul,maybe he would/ve been left alone to be himself by today's standards.His face looked like it was almost as battered in this film as after his car accident that changed him forever.

The Misfits

Hard to believe this was Gable's final film, more harder to think of it as Monroe's final film too. She's a tender divorcee who joins Gable, with Clift and Wallach, at a rodeo and later roping horses. Huston's direction and Miller's character-study deconstructs the mythos of the West and confronts the American Dream, resulting in an occasionally- clunky story. A haunting, solid film. I give it a 4/5.

Superb Acting but Hard to Watch

It had been years since I watched this film so I watched it again recently. Maybe now that I am older, I much more appreciate the quality of the film and the superb acting. As a lifelong fan of Clark Gable, this was by far one of his best performances, if not his best. Monroe and Monty Cliff also delivered strong performances. So much has been written about the making of this movie - difficulty with Monroe because of what was going on in her personal life, among other difficulties. Take the time to see this film. It is sad because it was both Gable's and Monroe's last film (and it deals with the killing of animals), but you will see some of the best acting by these performers in their careers.

Misfits, Underappreciated

Beautifully written, acted, and directed. Gable, Wallach, and Clift give perfect performances in a movie in which people say really significant things to each other throughout. The writing is a high point though it has been denigrated and inexplicably overlooked. That makes no sense as Miller has crafted a lyrical yet earthbound, wonderfully American script, a revelation of what Americans were thinking in the cold war, seen through the cowboys lense, which the actors must have literally drooled at the opportunities. Ritter is great incidentally as she and Wallach unselfishly feed the main three--Monroe, Gable, and Clift. Monroe whether pruposley or not is perfect as a simplistic critic of the modern world; her idealism is so obviously born of her own suffering which Monroie is able to get in touich with because it so much mirrors her own early life. She is feeling sorry for herself as she condemns the needless destruction of a few ferral horses. She recognizes and the men come to recognize that the horses are only themselves. Monroe and Gable get together at the end but you know it won't last--they are both too wounded and like their liquor way too much to have a chance. It is Gable's best perfromance by far. The scence where he imagines seeing his kids and wails out his suffering as he slides down off the car's hood is unique and truthful and something Gable could not have done earlier. It is clear he acted with the knowledge that his own death was coming on. Infact, it may cliche`but they all are playing themselves and they know it--and that makes it great. With the On the Waterfront, Place in the Sun, The Searchers, and Sunset Boulevard one of the great movies of the fiftees.

Marilyn as tree-hugger.

There's a mesmerizing scene of Marilyn dancing tipsily in the moonlight and coming to rest by embracing a tree. The image captures the spirit of the character and may even offer an insight into why the movie was met initially with such incomprehension and indifference. What Arthur Miller seems to have been attuned to, to which audiences and critics may not have been, was the beginnings of the cultural shift which was to define the coming decade of the 1960's and the emergence of a "counterculture" founded on many of the ideas and attitudes by which Miller defined the character of Roslyn. Roslyn's instinctive process of self-discovery leads her "back to nature", yet her naivete leaves her open to being wounded by what she discovers, that nature can be harsh and unforgiving, so that Miller actually forshadows the dilemma of the counterculture itself, and its eventual collapse. Miller understood that he was writing a "new" western, yet the audience's collective expectations may have proved to be too much of a barrier to his message getting across. My sense from reading the postings here is that fans of this film are frustrated that it doesn't seem to have its rightful stature, but I think we're all finding out that time is this movie's friend. Now, out of the context of the time of its creation, it no longer seems as anarchic as it might once have, so Miller's questions about what makes a human being and how human beings must make their lives can now resonate more fully. My favorite scene is when Roslyn and Gay are planting a garden and Roslyn looks at a seed and wonders how it knows it's supposed to be a lettuce. A simple question, yet pointed and profound, and a question that's at the very heart of this timeless film.

The Misfits

Poignant, a must see just to watch the three screen leading legends actors, Marilyn, Clark and Montgomery. A double must see for the performances of two supporting actor legends, Thelma Ritter and Eli Wallach. It's doubly moving for the Arthur Miller script, I get it now that I've read and watched My Week With Marilyn by Colin Clark.

fascinating film

the final swan song of the two great icon's gable and monroe a fascinating film which gets better as the years pass. a masterpiece.

The Misfits

I am embarrassed to say it was the first time I saw the film, and it blew me away. I thought it was a great match up of stars,, and the directing was fantastic.

Caution! handle with care

This film is almost too powerful (read: painful) to watch. Monroe and Clift were two of the most appealing, but vulnerable humans to step in front of cameras. Gable -- a less demon-pursued human being -- was close to death and somehow shows it in this film. Finally, the ostensible topic of pursuing gloriously free mustangs only to send them to glue factories seethes with man's inhumanity to man (and beasts). The whole film is soaked in sadness except the moments when it is more sharply painful. My oh my, these people suffer. They want so much from each other and each has so little left to give. I can scarcely watch this film; instead I pass by and sneak small glimpses of riveting characters and the humans who play them. If memory serves, this film is totally devoid of humor (despite Monroe and Thelma Ritter) or charm (despite Gable and Clift.)

MM Soul

For me it was a sad movie to watch as I hate cruelty of animals, but aside from that fact, this movie was not given the respect it should have gotten. You fall in love with MM's soul in this movie. I loved the interaction of Montgomery Cliff with Marilyn Monroe.

one of the best

If I was on a deserted island and could take one movie, this would be the one. There are so many different levels. One of my favorite facts is that Marilyn was married to Arthur at the time. He took her real life backround and brilliantly captured her complicated yet beautiful soul with poetry. Every line is a keeper.

A wonderful character study

I've seen this gem of a movie at least 10 times now and come away with something different with every viewing. Montgomery Clift and Clark Gable are sheer magic in their portrayals of cowboys. Marilyn is poignant and fragile, but this role. supposedly written as a "gift" seems much more of a mockery and, in retrospect, rather demeaning. See it to see Monroe and Gable share the same screen. Holds up strong after over 40 years.

So much more than a movie..

Incredible film but hard to watch at times because it mirrors so well what was going on in the stars lives. Do read up on it!;)

The word Great is overused but:

This movie is one of the Greats. If you wanted someone to watch 50 movies that gave them a knowledge & feel of the history of American cinema, this is on the list. This is a different Clark Gable than that in, say, It Happened One Night or Gone With The Wind, where his mission was to be the alpha male taming Claudette Colbert or Vivien Leigh. His character here has depth and layers; his acting was extraordinary. Marilyn Monroe gives us a peek into the maturing actress she was on the cusp of being - as is well known, this is her last movie, and it was Gable's last too. Arthur Miller's screenplay is a little "stagey" - after all, he was a playwright - but all the dialogue is meaningful & gives insight into character & motive; you don't dare miss a line. I last saw this movie in the mid 1970's - I had forgotten most of the plot, but what I remembered is how compelling it was. And still is - my highest recommendation: 5 stars.

interesting but....

Tonight is the first time I'm watching this almost in its entirety. but my biggest thing is Why take MM along when you know she wasn't with the whole deal to begin with? leave her at the house!! these guys knew they had a job to do but she sat there and had these men appealing to her for approval and love. Man, leave her at the house. in the end, they go home with NO money, some saved horses, and pissed off Eli Wallach. interesting movie. and the way it ended on a dime, no The End, nothing, was eerie. It does have this aura of sadness around it too.

5 stars*****

I love this movie. MM is yuMMy. Clark is the KING. Monty is fresh and moving. And what about Eli Wallach; he is superb! Estelle is essential and classic. Love this movie! Kai,

Powerful Contemporary Western

"The Misfits" is an excellent drama set against the backdrop of the modern American west. All of the actors are perfectly suited to play their roles (Clark Gable, Marilyn Monroe, Eli Wallach and Montgomery Clift) as complicated people dealing with the tragedy and disillusionment in their lives. Thelma Ritter is also very good as Monroe's friend. John Huston's usual masterful job as director, Arthur Miller's very literate script, and Alex North's moody music score all add to the overall look and feel of "The Misfits". The scene toward the end where Gable's character is struggling with the wild horse is no doubt the most strenuous one he ever played, and probably contributed to his fatal heart attack (he died shortly after production ended and it was his last film). "The Misfits" was also Monroe's last complete film. She appeared in "Something's Gotta Give", with Dean Martin and Cyd Charisse and directed by George Cukor, but it was never completed (she died August 5, 1962 just after production began). It was essentially a variation on "My Favorite Wife" and "Move Over Darling", but it would have been interesting to see what kind of film "Something's Gotta Give" would have been had Monroe lived and it had been completed. Although by this time, she had psychological and substance abuse issues and her career was just about finished, so I don't guess it would have been very good after all.

Misfits Signals End of Eras

This film is a masterpiece and signals the death of the Studio System, american innocence, the great stars of the 50s and 40s and the Old West. It is MM's finest performance outside her wonderful comedic work. The casting is superb. It is tragic that this film remains so underrated.

MM, Gable, Huston and Miller create a Masterpiece

Arthur Miller wrote the Screenplay for this great UA film. Marilyn Monroe was a 20th star but could do outside films and after her romp in "Some Like It Hot" she returned to 20th for George Cukor's lame "Lets Make Love"-which is most famous for MM's affair with Yves Montant-and then returned to UA for this great film.John Huston handles his cast: Gable, Monroe, Clift, Ritter, Wallach so well he allows them to reach inside and find things few others could. A maestro!MM's on set troubles, her flailing marriage, Gable's death, etc and coupled with the fact some critics were just not capable of seeing this film for its greatness meant this film failed on its initial distribution. Those who have seen the uncut film since realize what a truly fine film it is. Gable before his death saw a rough cut and pronounced it one of his very favorites. Marilyn Monroe with all the problems she had does not look her best in the film but somehow even that adds to the aura of her Character. A very fine film.

A Masterpiece

This is one of the great films of all time. The cast was not short of excellent, the location was wonderful and the writing is timeless. At was a sad story but in the end they made it. It should of got at least Oscar nominations for all the cast.

Allegorical classic that has aged beautifully.

Hard to believe the reviews and box office were barely tepid for "MISFITS". I think it's better than say, "HUD" not that I don't enjoy watching that film either. There's so much for the senses to absorb here, besides the steady, encroachment of the gloomy lives of these characters, you find that in the end, they are all survivors, (so to speak). Life = B&W by CHECKER BOARD SQUARE.

Beautiful poetic film!

This is a beautiful film. Such a masterpiece. And I love that Clark, Monty and Marilyn were in this together!

The Misfits

Miller, Huston and cast explore the freedom and constraints of the moments where life and death are up close.
*We protect your personal infortmation and will not provide it to anyone without your consent. For a complete explanation, please refer to TCM's Privacy Policy. By submitting your contribution, you agree to TCM's Terms of Use.