DVDs from TCM Shop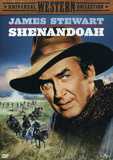 Shenandoah A Virginia farmer fights to... MORE&nbsp> $7.46 Regularly $9.99 Buy Now
Quotes
DVDs from TCM Shop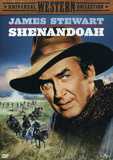 Shenandoah A Virginia farmer fights to... MORE&nbsp> $7.46
Regularly $9.99 buy now
Lieutenant Johnson


When are you going to take this war seriously, Anderson?

Charlie Anderson


Now let me tell you something Johnson, before you get on my wrong side. My corn I take seriously, because it's mine. And my potatoes and tomatoes and my fence I take note of because they're mine. But this war is not mine and I don't take note of it.

Charlie Anderson


I don't even know what to say to you any more, Martha. There's not much I can tell you about this war. It's like all wars, I guess. The undertakers are winning. And the politicians who talk about the glory of it. And the old men who talk about the need of it. And the soldiers, well, they just wanna go home. I guess you're not so lonely any more, with Ann and James and Jacob. And maybe the boy. You didn't know Ann, did you? Well, you'd like her. You'd like her, Martha. Why, she and James are so much alike, they're just like...no...no...we were never that much alike, were we Martha? We just sorta grew alike through the years. But I wish, I wish I could just know what you're thinking about it all, Martha. And maybe it wouldn't seem so bad to me if I knew what you thought about it.

Charlie Anderson


You never give up, do you?

Jacob Anderson


They come closer every day, Pa.

Charlie Anderson


They on our land?

Jacob Anderson


No, sir.

Charlie Anderson


Then it doesn't concern us. Does it?

Charlie Anderson


Lord, we cleared this land. We plowed it, sowed it, and harvest it. We cook the harvest. It wouldn't be here and we wouldn't be eating it if we hadn't done it all ourselves. We worked dog-bone hard for every crumb and morsel, but we thank you Lord just the same for the foos we're about to eat, amen.

Charlie Anderson


Where'd you get the hat, boy?

Boy Anderson


Down by the creek, sir.

Charlie Anderson


Some fella down there handing out hats?