DVDs from TCM Shop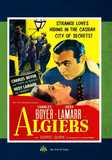 Algiers A thief on the run from the... MORE&nbsp> $11.95 Regularly $14.99 Buy Now
NOTES
DVDs from TCM Shop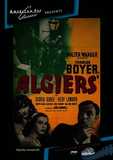 Algiers A thief on the run from the... MORE&nbsp> $11.95
Regularly $10.99 buy now
Although a large ad in Motion Picture Daily announced that the "World premiere" of Algiers would be held in the Radio City Music Hall in New York on July 14, 1938, a news item in Motion Picture Daily noted that the 4-Star Theatre in Los Angeles would also have a "World premiere," on July 13, 1938. According to reviews, when producer Walter Wanger decided to remake French director Julien Duvivier's 1937 Pp le Moko, Wanger bought the rights and all prints to that film to prevent it from being shown in the United States in competition with his own version. Much of the music for the original French film was incorporated into Wanger's production.
According to press materials in the copyright file on the film, and a 1938 article in American Cinematographer written by photographer James Wong Howe, Knechtel was a London-based cameraman who was sent to Algiers specifically to do backgrounds and exteriors for the picture, which Howe later incorporated into his own, studio-shot footage. Some modern sources state that Knechtel's work was actually done for Pepe le Moko, but contemporary information indicates that Knechtel shot exteriors and backgrounds especially for Algiers. A Hollywood Reporter news item on April 16, 1938 notes that Wanger had recently hired Rosita Royce, a "strip dancer" who had replaced Gypsy Rose Lee in New York, to perform a bubble dance and take on a dramatic role in the film. No bubble dance appears in the viewed print, and Royce's participation as a dancer or actress in the film is unconfirmed.
Although the film earned no Academy Awards, it was nominated in three categories: Best Actor for Charles Boyer; Best Supporting Actor for Gene Lockhart; and Best Cinematography for James Wong Howe. Boyer and Hedy Lamarr recreated their roles on July 7, 1941 on a Lux Radio Theatre broadcast, and Boyer repeated the performance on December 14, 1941, co-starring Loretta Young. Algiers marked the American motion picture debut of Austrian actress Hedy Lamarr, already known to United States audiences for her appearance in the Gustav Machaty-directed, Czech film Ecstasy, which encountered highly-publicized censorship problems in the United States in 1937 and 1938. The Variety review of Algiers referred to Lamarr (who was previously known as Hedy Kessler) as the "natatorial star" of Ecstasy because she appeared nude in that film.
According to information in the file on Algiers contained in the MPAA/PCA Collection at the AMPAS Library, the first script submitted to the Hays Office was deemed "not acceptable," in part, because of the suggestion that the "two leading female characters are both kept women." Several other minor points in the script were suggested for alteration or deletion. A memo from PCA Director Joseph I. Breen to Wanger, dated February 18, 1938, requested changes pertaining to references to prostitution, "Sex appeal," Pepe's promiscuity, and Pepe's suicide at the end to escape punishment. Other memos in the file indicate that Wanger and screenwriter John Howard Lawson were instructed to change the ending so that "Slimane's" men would shoot Pepe, rather than having him actually commit suicide. Additional information in the file indicates that a number of "women's clubs" and other groups had objected to Lamarr appearing in the film because of her appearance in Ecstasy. Because of potential problems anticipated by Wanger and M-G-M (to whom Lamarr went under contract), no publicity generated by either company made reference to her appearance in Ecstasy.
Since the release of Algiers, many comic impressionists have imitated Boyer by using a line purportedly in the picture, "Come wees me to the Casbah." No such line was ever spoken by Boyer in the film. In addition to the 1937 and 1938 films based on Detective Ashelbe's novel, another version was made in 1948 by Universal Pictures. Entitled Casbah, that film was a musical, directed by John Berry, and starring Tony Martin and Yvonne De Carlo. In 1949, Italian comedian Tot appeared in a satirical version of the story, directed by D. Barraglia, entitled Tot Le Moko.