DVDs from TCM Shop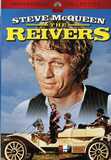 The Reivers A young man comes of age when... MORE&nbsp> $8.15 Regularly $14.98 Buy Now blu-ray
Home Video Reviews
The recent deluge of Steve McQueen discs has included enhanced reissues of the actor's hits (
Bullitt
,
The Getaway
) and DVD debuts of standouts ripe for rediscovery (
The Cincinnati Kid
,
Tom Horn
). But it's even extended to one of McQueen's more uncharacteristic movies,
The Reivers
, just out in a no-frills disc. Based on William Faulkner's novel, it's a coming-of-age comedy-drama set in 1905 Mississippi, with McQueen playing one of the adults in 11-year-old protagonist Lucius's life.
Not having seen this since I was younger than its hero, and remembering little of it, I wasn't sure what to expect. After 20 minutes I was convinced the movie was nothing more than a well-meaning failure, what with the overripe Burgess-Meredith-read narration, John Williams' typically hyperactive score, a sometimes irritating performance from freckle-faced redheaded lead Mitch Vogel (who, in 1969 child-acting terms, is a sort of milquetoast Bonaduce) and a gregarious style that isn't just different from McQueen's customary minimalism, it's also at odds with it. I was ready to rationalize
The Reivers
with a simple explanation: no doubt, McQueen made this piece of fluff so that his kids, who were about Lucius's age, could enjoy one of his movies.
That probably really is the reason McQueen made the picture. But it need not be a rationalization. Because once the more jarring elements of
The Reivers
sink in (there's also clumsy character introduction by director Mark Rydell and the screenwriting team of Irving Ravetch and Harriet Frank, Jr.) and the story gets going, this turns into a fine coming-of-age road movie. (The title refers to an old slang term for "thieves.")
Lucius is the grandson of "Boss" (Will Geer), the imperious landowner who seems to run, if not own, all of little Jefferson, Mississippi. The 11-year-old leads a sheltered life in this quaint backwater, but that starts to change once "Boss" takes delivery on the town's first automobile, a plush yellow Winton Flyer. The car becomes an obsession for the two, as one character calls them, "unwashed and unrepentant" foundlings the family long-ago took in: Boon (McQueen) who, apparently, is some sort of family handyman and Ned (Rupert Crosse), a black man who is always anxious to remind Lucius's dad (Lonny Chapman) that they have a great-grandfather in common. When Lucius's parents and "Boss" have to go out of town for a funeral, Boon not only doesn't garage the car as "Boss" instructs, he also convinces Lucius to tell the housekeepers he's supposed to stay at a relative's and join him on a road trip to Memphis. Neither realizes that Ned is hiding under a blanket in the back seat, until they're all out of Jefferson.
The trio's misadventures en route to Memphis and in the city make up the bulk of the tale, and the movie hits its stride here, for a number of reasons. Its corny streak - this is the sort of movie where people regularly toss their hats to the ground in disgust - thins. After the gesticulating and slapstick of the early scenes, Boon becomes a more comfortable fit for McQueen (though McQueen as a carefree fellow is a stretch). And the impression that
The Reivers
is an egregiously misguided, whitewashed portrait of the Jim Crow south subsides, because that early impression occurs for one valid reason: we're looking at the world through the eyes of the boy. He doesn't notice anything unseemly in his hometown, but in Memphis and beyond, Lucius starts to see the way of the world, just as Boon had told him.
Boon wasn't embellishing, because he knows their destination in Memphis is a whorehouse, where he wants to visit Corrie (Sharon Farrell of
It's Alive
, who bears a striking resemblance to Kelly Preston). Lucius gets a big crush on Corrie, only to be heartbroken to learn what goes on in the house where she works. Similarly, the boy sees the racism Ned suffers when a swaggering sheriff (Clifton James) preys upon the interracial traveling party. Later, when Corrie has to sleep with the sheriff to get Boon, Ned and the prostitutes out of jail, and Boon slugs her for doing so, Lucius gets to see the hurt of sexism.
But the boy's coming of age is not dished out only in big, issue-oriented doses. Some of the more memorable scenes in
The Reivers
are its quiet moments, like when Lucius spends the night at the farm of Ned's uncle (Juano Hernandez, in one of his last roles) and becomes spooked by the country sounds of birds and animals that the old-timer has to identify to calm him. Other similar moments come when Boon gingerly explains what goes on in the brothel to the boy, and when "Boss" talks to Lucius about the trip out of town after his lying has been exposed and it's time for punishment. It's scenes like that that make
The Reivers
a good coming-of-age movie, because, even if the action can seem harsh for a 10- or 12-year-old viewer, the characters in the movie
talk
about the injustices and school Lucius about the challenges of adult life.
And in between all that there's a horse race in which Lucius gets to mount up, and carry the hopes of Boon and Ned with him. The sheer adventure of the race will please kids, while the lessons will probably seep in later. Although
The Reivers
is hardly top-shelf material as a McQueen movie, it is an excellent way to introduce younger viewers to this star from the past, before moving on to more iconic vehicles like
The Magnificent Seven
or
Bullitt
.
The Reivers
is also memorable for featuring an endearing comic performance from Crosse (John Cassevetes's
Shadows
). Like his memorable guest shot on
The Monkees
, Crosse's performance here is a chance to see the underutilized actor at his best.
For more information about
The Reivers
, visit
Paramount Home Entertainment
. To order
The Reivers
, go to
TCM Shopping
.
by Paul Sherman