DVDs from TCM Shop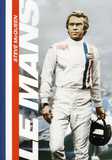 Le Mans During a deadly endurance... MORE&nbsp> $11.21 Regularly $14.98 Buy Now blu-ray
NOTES
The working title of the film was 24 Hours of Le Mans. The closing credits include the following statement: "And special appreciation to David Piper for his sacrifice during the filming of this picture." Piper, a stunt driver, lost his leg during filming after his car lost control while he was driving at 150 miles-an-hour. The closing titles list Steve McQueen, Erich Glavitza, Peter Huber and Jonathan Williams both in the cast credits and as car drivers. Although Filmfacts stated that the film included a song with music by Michel LeGrand and lyrics by Alan and Marilyn Bergman, no song was heard in the viewed print.
Le Mans, known as the 24 hueres du Mans, is the best known sports car endurance contest in the world, featuring forty-six cars racing simultaneously in a number of different categories. The overall winner is the car that covers the greatest distance in twenty-four hours. Organized by the Automobile Club de L'Ouest, the competition is held every summer at the Circuit de la Sarthe near Le Mans, France. The first race occurred in May 1923 and subsequently has been held every Jun. As depicted in the film, the race traditionally begins at 4 p.m. local time on Saturday and ends twenty-four hours later. The race is held on a non-permanent track that is thirteen kilometers (or 8.1 miles) long that has been modified several times over the years to make the course safer. Beginning in 1971, three drivers were allowed per car. As shown in the movie, two drivers per car were required until then, with four-hour time limits on each uninterrupted drive. None of the drivers May drive longer than fourteen hours during the twenty-four hour race.
The film's development begin in the mid-1960s, according to a biography of McQueen. An August 1968 Hollywood Reporter item announced that McQueen's company, Solar Productions, Inc., had joined with Cinema Center Films (CCF) to produce two features, one of which would be Le Mans, in which McQueen would also star. The script was to be written by Denne Bart Petitclerc. According to a May 1968 Hollywood Reporter article, principal photography was set to begin in January 1969. A March 1970 Daily Variety item stated that John Sturges had been assigned as director and the production would begin shooting on location in June 1970 to coincide with the actual Le Mans race. The article also noted that McQueen, an avid car racing aficionado, recently had placed second with partner and Revlon heir Peter Revson in the twelve-hour race at Sebring, FL. According to the Variety review of Le Mans, a deal to release the picture was struck between McQueen, Sturges and Warner Bros., provided the film would be released before M-G-M's 1966 production Grand Prix.
Although May and June 1970 news items list Walter Lassally as the cinematographer, he is not listed in the onscreen credits and his contribution to the final film is has not been confirmed. A July 29, 1970 Daily Variety news item indicated that after nearly seven weeks of shooting, Sturges quit the production and was replaced by Lee H. Katzin. The production then went on hiatus for two weeks for maintenance of the twenty-five racing cars used in the film. The hiatus was extended when John T. Kelley was summoned to France to re-write the script, according to a August 4, 1970 Daily Variety piece. However, the extent of Kelley's contribution, if any, to the final production has not been determined.
On August 21, 1970 Daily Variety announced that Solar Productions was parting with CCF over the production of Le Mans due to "creative difficulties." CCF retained credit on the released film because of its substantial financial investment. A September 1970 Hollywood Reporter item incorrectly stated that German actress Elga Andersen would make her American feature film debut in Le Mans. Andersen had appeared in the 1966 M-G-M production A Global Affair with Bob Hope. Le Mans was shot entirely at the actual Sarthe race circuit near Le Mans, France and used footage from the June 1969 and 1970 competitions.
The following information on the production of Le Mans was taken from a biography on McQueen: As early as 1965, the actor was filming footage at Le Mans with the intention of incorporating it into a feature. During the 1970 filming of Le Mans, some twenty-six of the world's most famous race drivers were brought in to drive for the film. Their race cars were valued together at more than a million dollars. Six were to be crashed intentionally during the film, at the cost of $45,000 a piece. McQueen's contract specifically stipulated that he would do all his own driving, although the professional racers refused to drive with McQueen during particularly dangerous shots. McQueen insisted that the racing footage be photographed at full speed, but slow motion was utilized during both accident sequences. A special racing camera car, a Porsche 908 Spider, was rigged with a camera to capture the experience and actually came in second place during the filmed competition. The racing footage took more than six months to photograph.
Outlines and scripts proved to be numerous during the entire production due to McQueen's determination to portray the reality of racing unencumbered by the artifice of an imposed storyline. Sturges and producers Jack N. Reddish and Robert L. Rosen urged McQueen to reconsider, but the lack of a completed script remained the core of the production's problematic, long shoot. Sturges' frustration with McQueen's resistance ultimately prompted his departure from Le Mans. Alarmed by the lengthening production, CCF briefly considered replacing McQueen. A new deal was finally struck in which McQueen agreed to forfeit his salary and creative control of the picture. Maud Adams was considered for the role of "Lisa Belgetti," but when the actress proved to be taller than McQueen, she was hastily dropped. Le Mans took more than a year and a half to complete at a cost of about ten million dollars. McQueen had no involvement in post-production, but was pleased with the finished film and purportedly agreed that the storyline was necessary and appropriate. A modern source adds Nathalie Verner to the cast.
After Le Mans McQueen's Solar Productions never produced another film. Reviews of Le Mans were generally negative, with most alluding to the meager plotline in which there was only 145 lines of spoken dialogue. Time magazine referred to its racing dramatics disparagingly as "petite prix," alluding to the more financially successful Grand Prix. Since the film's release, though, racing fans have praised it as an accurate depiction of the great racing competition.