DVDs from TCM Shop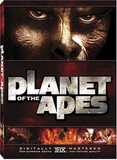 Planet of the Apes An astronaut crew crash lands... MORE&nbsp> $8.05 Regularly $14.98 Buy Now blu-ray
Trivia
Edward G. Robinson was the original choice for the role of Dr. Zaius, and actually filmed a test scene with Charlton Heston to prove to the executives at Fox that make-up could be used to create believable simians. However, Robinson suffered from a weak heart and didn't think he could endure the day-to-day rigors of performing in the ape make-up. He and Heston had previously teamed up in The Ten Commandments (1956) and would do so again in Soylent Green (1973).
During breaks in filming, actors made up as different ape species tended to hang out together--- gorillas with gorillas, orangutans with orangutans, chimps with chimps. It wasn't required, it just naturally happened.
There is a resort in Cabo San Lucas, Mexico that claims that final scene ("Damn you!") was filmed on their beach. This is not true. According to a recent documentary, the scene was filmed on Zuma Beach in Southern California.
In the novel, the apes are technologically very advanced. However, the budget could not accommodate the visual scope and magnitude of such a futuristic society, so a more primitive depiction of ape society was used.
Although Charlton Heston's character is listed in the credits as 'George Taylor', the name 'George' is never seen or heard in the film. He is referred to only as 'Taylor'.
Contributions
Holz (2008-06-18)

Source: not available

While "Bright Eyes" (Taylor) is on trial, he mentions "it appears some apes are more equal than others". This is a quote modified from George Orwell's book, "Animal Farm".