DVDs from TCM Shop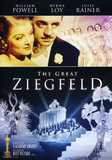 The Great Ziegfeld Lavish biography of Flo... MORE&nbsp> $11.21 Regularly $14.98 Buy Now
Home Video Reviews
Flo Ziegfeld and MGM were a match made in Hollywood heaven. The master showman of the Broadway stage, who glorified the American girl in a series of lavish musical revues, would have been right at home at Hollywood's most glamorous studio. Unfortunately, he died without having the chance to work there. But when the studio decided to film his life story in 1936, they came up with one of their biggest hits, and their third Oscar®-winner for Best Picture.
The Great Ziegfeld
(now on DVD from Warner Video) started out at Universal Studios in 1933. When studio executives decided the production would be too expensive, writer William Anthony McGuire sold his script to MGM, thus making
The Great Ziegfeld
one of the first projects transferred from one studio to another.
From the beginning,
The Great Ziegfeld
was envisioned on a lavish scale. When producer Hunt Stromberg told studio head Louis B. Mayer that the film's centerpiece, a production number based on Irving Berlin'a "A Pretty Girl Is Like a Melody" would cost $250,000, the mogul's only response was "Shoot it!" The film finally came in for a cost of $2 million, MGM's biggest budget to that time. And it ran two hours and 50 minutes, which
Variety
claimed to be the longest running time ever for a U.S. commercial film.
For all the money, the glue that held the picture together was the performances, particularly the leading trio. Publicists claimed that William Powell had been chosen for the role by Ziegfeld's widow, actress Billie Burke, though nothing in her memoirs corroborates that. In fact, many critics pointed out that Powell looked nothing like Ziegfeld and didn't attempt to capture his mannerisms. Stromberg countered that he was more interested in capturing the great man's spirit.
The same held for Myrna Loy's performance as Burke. She was a natural choice to co-star; she and Powell were already a top box-office team and had teamed for two other films that year. But with Burke still alive and prominently featured as a supporting actress in films, Loy decided not to even attempt an imitation. Instead, she played the role as herself, a choice Burke heartily supported. In fact, throughout filming, Burke brought friends to the set to meet Loy.
To play Ziegfeld's first wife, musical star Anna Held, MGM cast a rising young star from Austria, Luise Rainer. Although the part was relatively short, she had the film's biggest dramatic scene, a tearful telephone call to her ex-husband congratulating him on his marriage to Burke. According to publicists, the scene was regularly screened for the studio's young contract players as an example of screen acting at its best.
To flesh things out, the studio recruited some of Ziegfeld's top stars to play themselves. Most notable was Fannie Brice, who was famous for her signature song "My Man," which, curiously enough, is not presented here - Brice only performs the intro to it. But the picture also featured Ray Bolger, later the scarecrow in
The Wizard of Oz
(1939), Ann Pennington, Harriet Hoctor, Gilda Gray and Leon Errol. The one star they couldn't get was Marilyn Miller, who refused to do the film unless she had a leading role and a massive paycheck.
The Great Ziegfeld
was a big hit, earning a 100 percent profit. Mayer was so thrilled, particularly when it won Best Picture, that he threw a massive party for it at the Ambassador Hotel and gave the film's Oscar® to producer Stromberg. Burke always felt that she came out the big winner. She had served as a technical advisor on the film, for which Mayer rewarded her with a seven-year contract at MGM. There she would play her most famous film roles, including the dizzy society hostess in
Topper
(1937) and Glinda the Good in
The Wizard of Oz
.
The Warner Video DVD of
The Great Ziegfeld
is another top notch release from this company and an excellent example of the big budget, revue-styled musical that was so popular in the mid-thirties. Not only has WV included the original Overture, Entr'acte and exit music on their DVD release of
The Great Ziegfeld
, but they've also tossed in a few notable extras - a 1936 newsreel of the film's New York City premiere and "Ziegfeld on Film," a newly-created featurette featuring interviews with Luise Rainer and others.
For more information about
The Great Ziegfeld
, visit
Warner Video
. To order
The Great Ziegfeld
, go to
TCM Shopping
.
by Frank Miller