DVDs from TCM Shop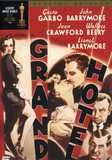 Grand Hotel Guests at a posh Berlin hotel... MORE&nbsp> $15.79 Regularly $19.98 Buy Now blu-ray
Home Video Reviews
Greta Garbo's status as a screen legend became official when MGM billed her solely by her last name in
Grand Hotel
, the Oscar®-winning Best Picture of 1932 that's just been released on DVD by Warner Video. It was a distinction previously earned by such stage greats as Sarah Bernhardt and Eleonora Duse. Beyond her impressive billing, the film also cemented her image as the most reclusive star of all time, even giving her the line that would forever be associated with her, "I want to be alone."
Garbo's billing was one of the tools MGM used to induce her to take part in the screen's first all-star epic. At 27, she thought she was already too old to convincingly play a prima ballerina. Nor was she pleased when studio chief Louis B. Mayer decided not to cast her former co-star and one-time fianc¿John Gilbert, as the jewel thief who breaks into Garbo's hotel suite to rob her and ends up falling in love. Instead, the role went to John Barrymore, who was so pleased to be working with the Swedish star and his brother Lionel that he gladly signed a three-picture contract with MGM.
Production chief Irving Thalberg had planned
Grand Hotel
as Hollywood's first all-star feature from the moment he read Vicki Baum's novel about the intertwining fates of five desperate people staying at a posh Berlin hotel. Plans were already underway for a Broadway version, so Thalberg got the studio to invest $15,000 in the show in return for film rights. When it ran for over a year on Broadway,
Grand Hotel
posted a profit before the cameras even started rolling.
Garbo wasn't the only member of the all-star cast to express reservations about the film. Cast as a romantic secretary tempted to sleep her way to the top, Joan Crawford was afraid she would be lost among the film's high-powered stars and also worried that her character's best scenes would be cut by the censors. Thalberg assured her that the scenes would be filmed in good taste (they were later cut in several states) then ordered her to take the role.
Wallace Beery objected too, noting that the role of a villainous businessman was too far from the jovial roughnecks he'd played in films like
The Champ
(1931) and
Min and Bill
(1930): "He doesn't murder women, but he's lower than anybody I've ever played!" Thalberg finally won him over by agreeing to let him use a German accent to distance the character from the roles he normally played.
Most Hollywood insiders predicted the high-powered cast would spend most of their time upstaging each other. That was expected when John and Lionel Barrymore got together. Their upstaging contest in
Arsene Lupin
(1932), another film about a glamorous jewel thief, had inspired Thalberg to cast them together in
Grand Hotel
. But Crawford was having none of it. After watching them pull their tricks in a few scenes, she laid down the law: "All right, boys, but don't forget that the American public would rather have one look at my back than watch both of your faces for an hour." Beery tried to steal scenes, too, mainly by ad-libbing in an effort to throw Crawford off. When she complained to director Edmund Goulding, a painstaking craftsman with a strong reputation as a woman's director, he ordered Beery to play the role as written.
The all-star casting paid off when
Grand Hotel
opened to glorious reviews and strong box office, bringing back almost five times its cost in its first year of release. It also became the only film to win the Best Picture Oscar® without earning any other nominations. Many historians have suggested that feat as a sign of the picture's greatest strength. Thalberg and his cast had created such a seamless piece of entertainment that no one element stood out more than any other. MGM tried to make lightning strike twice with a 1945 remake,
Weekend at the Waldorf
, with Ginger Rogers in the Garbo role, but the film came nowhere near the magic of the original. Decades later, there were two stage musical versions: a flop called
At the Grand
in 1958 with musical diva Joan Deiner as the ballerina and the Broadway hit
Grand Hotel: The Musical
, starring Liliane Montevecchi, in 1989.
The Warner Video of
Grand Hotel
is a top notch job considering the age of the film. Because this is an early sound feature, there is a noticable but slight hiss on the audio but it really makes you realize the important role film scores would soon play in films of that era;
Grand Hotel
has no real musical score besides isolated moments (a waltz scene, etc.) so the sheer starkness of the mono track stands out. As for extras, there are some great ones here: "Checking Out: Grand Hotel" is a new behind the scenes featurette that includes some rarely seen archival footage, scenes from the Hollywood premiere of the film where you can spot Jean Harlow, Clark Gable and others, a teaser trailer entitled "Just a Word of Warning," and a newly discovered 1933 Vitaphone short - a musical spoof of the film. All in all, a fun package for the true movie buff.
For more information about
Grand Hotel
, visit
Warner Video
. To order
Grand Hotel
, go to
TCM Shopping
.
by Frank Miller