DVDs from TCM Shop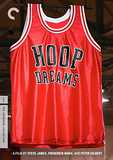 Hoop Dreams Two black teenagers struggle... MORE&nbsp> $22.95 Regularly $29.95 Buy Now blu-ray
Articles
SEE ALL ARTICLES
Hoop Dreams (1994)
Documentary films rarely get the audience or the attention they deserve but often they are more compelling and interesting than any fantasy Hollywood could concoct. A brilliant case in point is Hoop Dreams, the true story of two inner-city youths, their love of basketball, and their dreams of NBA glory. William Gates and Arthur Agee were two talented athletes who were plucked from their poor Chicago neighborhood and given an opportunity to compete with other NBA hopefuls on the courts. As we soon see their struggle for success is no fairy tale with a Hollywood happy ending but an unpredictable journey with numerous detours: troubled family life, financial instability, academic difficulties, health problems, and the pressures of athletic competition. You don't have to be a basketball fan to be riveted by this candid look at two American dreamers and what happens to them during their quest.

Originally, filmmakers Steve James, Frederick Marx, and Peter Gilbert approached Gordon Quinn of Kartemquin Films in 1986 about making a short film on the culture of "street basketball" with the playground courts of Chicago as the focus. After starting the project, the filmmakers decided to narrow the scope of their film, concentrating on William Gates and Arthur Agee. Eventually, what started out as a short film became an epic five year chronicle with the filmmakers collecting over 250 hours of film. They captured birthday parties, practice sessions, and interviews with friends and family members. Producer Peter Gilbert said "At its center, we wanted the film to be warm and emotional. We want people to see these families as going through some very rough times, overcoming a lot of obstacles, and rising above some of the typical media stereotypes that people have about inner-city families." But in addition to documenting the human drama at the heart of the story, Hoop Dreams offers a complex and revealing look at "the American Dream." Director Steve James reminds us that "the dream is about far more than the fantasy of playing in the NBA. It provides kids like William and Arthur with an identity and real opportunities. It can be a daily escape from the hard realities of the inner city and even help hold their families together. If they risk tragedy by caring too much about basketball, it's because the game is one of the precious few ways they know of to achieve a better life."

Although overlooked by the Academy Awards for Best Documentary, Hoop Dreams has received more than its share of critical accolades, receiving rave reviews from such publications as The New York Times, Newsweek, and The New Yorker. The latter wrote "what makes Hoop Dreams such a rich, clear-eyed vision of inner-city life is that it celebrates, and evokes in the audience, the ambiguous thrill of not knowing how things are going to turn out, the joy of pure potential."

Producer: Peter Gilbert, Steve James, Frederick Marx
Director: Steve James
Writing credits: Steve James, Frederick Marx
Music: Ben Sidran
Cinematography: Peter Gilbert
Film Editing: William Haugse, Steve James, Frederick Marx
Cast: William Gates, Arthur Agee, Emma Gates, Arthur 'Bo' Agree, Earl Smith, Isiah Thomas, Curtis Gates.
C-174m.


back to top
---