DVDs from TCM Shop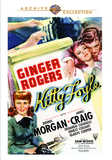 Kitty Foyle A girl from the wrong side of... MORE&nbsp> $17.56 Regularly $21.99 Buy Now
USER REVIEWS
See Detailed Ratings
Acting of Lead Performers

Acting of Supporting Cast

Director

Music Score

Title Sequence

Screenplay

Cinematography

Historical Importance

Would You Recommend?

0 Member Ratings
Rate the acting of the Lead Performers

Rate the acting of the Supporting Cast

Rate the Director

Rating of the Music Score

Rating of the Title Sequence

Screenplay

Creatively uses the camera to tell the story

Importance in Cinema history

Would you recommend for fans of this genre
Submit Ratings
Cancel
Write a Review
Read Reviews
NO REVIEWS AVAILABLE
The title has not been reviewed. Be the first to write a review by clicking here to start.
One of the Best

This is just my opinion. But as I watch Kitty Foyle it occurs to me that Ginger Roger's portrayal of Kitty Foyle is one of the best performances I have seen of an every woman. Rogers brings so much warmth and sincerity to her role of Kitty. There is intelligence and a down to earth quality to Roger's performance. We observe Kitty's strength, vulnerability, and her heart breaks. In my opinion its a moving experience and due to Ginger Rogers.

Kitty Foyle

Kitty Foyle is my all-time favorite movie! So many layers of societal and class rules from that period in history.Excellent cast. Dennis Morgan's and Ginger Rogers' onscreen chemistry was captivating. I even named my son Wynn!

WOMAN ON A PEDESTAL?!

Beautifully done, but quite the antique. Kitty Foyle was probably meant to be "a heroine". But her character comes across as an extremely flawed individual. Her worst decision: walking out on a man who loved her, because she wouldn't deal with his wealth and privilege. Her second worst decision: having that man's baby without ever telling him. Thus, Kitty Foyle becomes a martyr to her cause of making her own decisons. The ending, from what we have seen, is a totally unconvincing one. She wraps her martyr mantle tightly around her and runs off with a man whom she does not love. From what we heard in the introduction, the first screenplay was rejected due to its' unvarnished look at the working girl. This second screenplay by Dalton Trumbo is obviously a "forced compromise". For a far grittier look at the working girl, read Rone Jaffe's "The Best Of Everything" in all its' in-your-face messiness.

Spare me the valor

Seems Ginger Rogers and Rosalind Russell shared the same myopia when it came to portraying valliant women. They became arch and superior. Possibly because they both excelled at comedy, they wanted to convey to the dumb audience that they were playing SERIOUS people. A major flaw in the ointment. Catch Russell in MOURNING BECOMES ELECTRA; when your jaws begin to ache, you'll see what I mean. Ditto for Kitty Foyle. Even in 1940, did she really think robbing her son of his father, gandparents and all the opportunities he could have enjoyed, was doing him a favor? Or did she even think of him atall? Her insistance on avoiding wealth and privelege guaranteed the kid a good chance at mediocrity. This film is just that...mediocre...script, acting, directing...one exceppption: Kitty's wardrobe. She wore very fashion-forward styles (read expensive). Another contradiction to the character she was playing. What a mess. Sorry Joan, Katherine, Bette and Martha; you all did more rewardable work that year.

Enjoy it for what it is

I always love when people view a movie through the lens of present day. Hello? Different world, different choices. Enjoy the movie for what it is, a depiction of class and gender politics during the era preceding World War II in America. Fine performances, particularly the ever-luminous Ginger Rogers. And I do have to ask, RedRain, what happened?

Kitty Foyle

I'd heard good things about this movie but I finally saw it the other day and I'm disappointed to say that I agree with the reviews here that say it's a hackneyed and cliched soaper. It's one of those movies that isdressed up in the trappings of strong-willed feminism but still presents the female lead as weak and flawed because of it. Her very "strength" (though I see it as an uncompromising insensitivity to Wyn based on childhood brainwashing) robs her of the true happiness of her life. Be truthful girls ... does the ending really makes you feel cheered and empowered? Seems like she seems kind of resigned to her choice if you ask me. Also, the acting is not all that great either. Ginger has quite a few good films to her credit but this isn't one of them. Everyone's entitled to their own take on any movie, however. If you got a kick out of the story and character, good for you! I don't expect everyone to like the films I like, either.

Really watch the movie!

Your situation is not a rare one, RedRain. I, too, have been on the receiving end of class prejudice. It's an arrogance that is not always money-related, but can be religious in nature, too. That said, I totally agree with the reviewer below (Mr. Blanding) who said that this movie's prespective is seriously flawed. Obviously you can root for Kitty in her choice to walk away from such an environment. No one's disputing that. Any half-decent, one-dimensional character would do the same. The trouble is (and I think that's what the poster below is trying to make clear) Kitty does not extend the same courtesy of free will to Wyn. HE's weak? Why? Because HE's the one who comes from the rich family? Did you miss the part where he is perfectly willing to give all that up for her? He tells her that right in his own family's home. But in return, she tells him that she doesn't want him to throw away all that money and privilege just for her (obviously she has self-esteem issues and is still brainwashed by all her fairytales that money and privilige are things to be valued at all costs). Then she RUNS AWAY from him. Later she finds out she's pregnant with his child and STILL doesn't want to tell him because she still has a mental block on letting other people decide things for themselves. He goes in search of her and expresses his love and she STILL turns him down. No, Kitty Foyle is guilty of being as weak and shallow as you say she isn't. She wears blinders to other people's feelings and choices and has a distinct martyr complex.

Think!

I am always amazed at reviewers who don't have a clue how a story like this unfolds. Twenty years after this film was made, I was a small town girl who married a wealthy boy without his family being told beforehand. His family still dressed for dinner, the women even wearing long gowns each night! You know when you aren't wanted and that you do not fit in. The snide comments, the raised eyebrows, etc! They wear on you, just as the "plans" the family had for Kitty Foyle did. Life isn't what we expect and it can hold some really sad surprises and even sadder compromises. Wyn was weak and wouldn't stand up to his family. Kitty was strong and walked away. Ginger Rogers richly deserved the Academy Award for her performance here. The dialogue may be trite at times but the story is timeless!

Kitty Foyle

A touching love story for fans of Rogers. The woman long-associated as Fred's partner proves that she can act on her own as the title character, winning an Oscar as a working-class girl who falls in love with Morgan's rich man. While the story is romantic the film drags along at times & has it's share of stereotypes. A good romance film nonetheless. I give it a 4/5.

Kitty Foyle

One of my all time favorite movies.

Kitty Unfoiled,Love Giono

Eduordo Ciannelli

8/17/12

She sure got the bad end with Wyn.If he'd been half the man he thought,he would've stood by Kitty,no matter what.At least true love won out in the end.

Kitty Unfoiled

Love Eduordo Ciannelli

8/17/12

She sure got the bad end with Wyn.If he'd been half the man he thought,he would've stood by Kitty,no matter what.At least true love won out in the end.

Kitty Foyle (1940)

I found this movie to be an unsatisfying, choppy, and muddled affair. I didn't find any of the main characters to be likeable or believable, Kitty Foyle in particular. While Ginger Rogers does a decent job of acting (though certainly not her best work, despite the Oscar), the character she plays doesn't seem to react in a way most people can relate to or view as normal. Was her father right in that all the fairytale stories she read made her so morose about the real world? So why does the wanna-be princess act as though she is more hung up on differences of class than Wyn is? She goes out of her way to express the fact that she isn't marrying Wyn for his money or status, but a second later she doesn't give Wyn the same freedom to make his own choice on the matter. She makes the one-sided judgement call for him that he shouldn't be allowed to turn his back on all that money. And to back up her ignorant attitude she runs out on him like a little girl. (Hypocritically, she said to her inlaws a minute earlier that she was all grown up and didn't need to go back to school. The truth is, ironically, this girl needed a lot of educating on how to treat others). Later (it seems like a year goes by!), she finds out she's pregnant and then doesn't tell the father. Doesn't she think he has a right to know and be allowed to make his own decisions? Ginger's worst roles are always when she plays flighty, stupid characters like this one. What's wrong in the case of this film is I think producers somehow meant Kitty Foyle to be some kind of role model(?!) Either that or she's supposed to be a poster girl for how NOT to live your life--or rather, how not to try to live other people's lives. In any case, this film is frustratingly idiotic with no clear message. It also has some of the worst dialogue around. Kitty: "How did you find me?" Wyn: "I just followed my heart." No, really, how did you find her? One sappy, clichd, overly long soap opera.

Kitty Foyle

It was a good movie except for she never told him she was pregnant. I'm still wondering what Wyn thought when and if his son gave him the ring that Kitty gave to him as a secret. Maybe another movie should be made depicting Kitty Foyle again and have Wyn find out from his fiance' that his x wife was pregnant somehow. Then have Kitty give her the ring to give to him. Just aeems like we're waiting for the other shoe to drop.

Impressionante

O filme excelente e a Gingers atuou muito bem. O filme uns dos melhores que eu j vi dela. Ela provou que alm de tima danarina era tambm um excelente atriz.

Kitty Foyle - It's a Boy

This movie was really good but one thing I was disappointed about was the fact that Wyn never found out that she had had a baby by him. It was okay when she was pregnant and he was about to marry another woman, that she decided to keep it to herself, that was understandable, but in the long run I would have liked to have seen his reaction about finding out that she had had his baby. Truthfully, Mark was a wonderful guy and I'm glad she chose him but he deserved to know as well that she had had a baby before. It was great how it indicated that one day Kitty and Mark would love to have a baby together. Overall, it's a wonderful movie!

Kitty Foyle - A Rollercoaster of Emotions

This is an absolute must-see and such a powerful performance by Ginger Rodgers (living close to the Phila area and attending college near the city also made the setting feel personal). I found myself feeling every emotion that Ginger so expertly conveys in her body language and facial expressions. I mostly felt overwhelmingly frustrated at points in the film but still enjoyed the range of anger, sadness and romance throughout the film. I must say that the ending was a bit disappointing to me (I'd like to imagine a continuation of the story after the final credits) but I still understood this perspective. Ultimately this movie stirred up many emotions and comes highly reccomended in my book!

kitty foyle

this chick needs to be slapped around and set straight. See could have had it all if she could just learn her place. A great teaching movie of what not to do to survive.

Kitty Foyle

Ginger did a EXCELLENT job in this film. She deserved her academy-award, and I am glad Ginger got it. This movie is a must see for every fan of Ginger or even if you're not!!!

A girl can learn a lot from Kitty Foyle!

I especially loved the way Kitty (finally) picked herself up and moved on. In a number of situations, while trying hard to start a new life and forget, Kitty faced tough reminders of her hopes and dreams of the past. The movie depicted that "jolt" to reality in a very realistic, yet sympathetic way.

she`s the bravest truest girl there is

A MUST SEE!!! YOU`LL LOVE IT!!!

FAVORITE MOVIE OF ALL-TIME

KITTY FOYLE IS MY FAVORITE MOVIE. I AM A PHILLY GIRL, TOO, AND THINK THIS IS GINGER'S FINEST DRAMATIC PERFORMANCE EVER. I LOVE THE CHEMISTRY SHE HAS WITH THE GORGEOUS DENNIS MORGAN.BY THE WAY, ODETTE MYRTIL WHO PLAYS DELPHINE IN THE MOVIE, OWNED ODETTE'S, A CABARET IN BUCKS COUNTY -- ANOTHER PHILADELPHIA TIE!

GINGER RODGERS, FANTASTIC

AN AMAZING TRANSITION FOR GINGER RODGERS FROM A SONG AND DANCE STAR. I WOULD RECOMMEND THIS MOVIE HIGHLY.
*We protect your personal infortmation and will not provide it to anyone without your consent. For a complete explanation, please refer to TCM's Privacy Policy. By submitting your contribution, you agree to TCM's Terms of Use.