DVDs from TCM Shop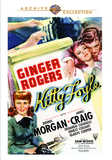 Kitty Foyle A girl from the wrong side of... MORE&nbsp> $17.56 Regularly $21.99 Buy Now
Home Video Reviews
Although the number of comedies and dramas that Ginger Rogers made would far outweigh the handful of musicals in which she co-starred with Fred Astaire, it is for those musicals that she would earn her reputation – one that she would work hard to try to change. Her break came with the 1940 film
Kitty Foyle
, a drama about a working class girl who ends up romantically torn between a member of Philadelphia's elite, and a humble doctor who may never make a lot of money
The film starts out with a dilemma that would be shocking when the film was made: Dr. Mark Eisen (James Craig), bringing her home from dinner, says that he knows what a strong attraction there was between Kitty and Wyn Staford (Dennis Morgan), and asks if she's sure that that chapter of her life is over. She assures her that it is, and her presents her with a wedding ring. She accepts it and agrees to marry him, and they make plans to meet at midnight outside St. Timothy's hospital ( where Mark is on staff). Both are extremely happy, and Mark drops Kitty off at her apartment and goes back to work.
But when she goes into her apartment she finds wealthy Wyn waiting for her. He has decided to make a total break from his suffocating family and is on his way to Brazil, and he wants to take Kitty with him. The trouble is that Wyn already married and has a child. With no hope of getting a divorce from his wife (and a family who wouldn't stand for it), the two would be forced to "live in sin." But Kitty's ongoing passion for Wyn takes her beyond the bonds of propriety, and she decides to go with him, despite her "previous engagement."
Once we're aware of her dilemma, the action flashes back to 1932, and we trace the events that brought Kitty to the present. It is the height of the depression, and Holly lives in Philadelphia with her father "Pop" Foyle, who worked on the "Main Line" and now some freelance writing. Kitty has just learned to type in an attempt to find a job, and is now pounding the pavement looking for work. She comes home from her job search one evening to find "Wynwood 'Wyn' Stafford the VI" seated in the living room talking to her Pop about writing a series of articles for a new magazine that he's launching. Pop mentions that Kitty is looking for a job, and Wyn hires her as his secretary. Kitty is like a breath of fresh air to the man who has lived a sheltered existence, and soon their relationship becomes more and more personal. So personal that he takes her on a jaunt to New York on election night, to listen to the returns of the election run between Franklin Delano Roosevelt and Herbert Hoover -- and to watch the sunrise. As the trip becomes more romantic, Wyn decideds that he is going to fly in the face of "propriety" and promises to take Kitty to The Assembly ball, something meant only for the elite, but he is so in love with her he is willing to brave it.
Several months after the excursion to New York, Wyn is forced to make the announcement that their magazine has become another victim of the Depression and will have to fold. Wyn will have to go back to relying on the family inheritance he was trying to avoid (by making it on his own). Kitty, on the other hand, decides to leave Philadelphia for New York where she has friends she can stay with while she looks for work. She goes home to tell Pop about her decision, only to find that he has died.
Kitty finds work quickly in New York, working at a very upscale cosmetics store. Although she hasn't been dating, she meets a likely candidate when handsome doctor Mark Eisen is called to the store on an emergency. Eisen has his own interesting ideas about dating: he is not wealthy and wants to do what he can for a date as long as he can be relatively sure that he's not with a gold digger who mistakenly believes that he's a wealthy doctor. And while Kitty may have enjoyed being swept off her feet by someone from "the other side of the Main Line," she can't shake her working class background and enjoys their rides on the subway to see a movie and have an inexpensive dinner.
Just when Kitty is starting to get comfortable with Eisen, Wyn shows up on the scene. It is the night of The Assembly ball in Philadelphia, and he intends to wine and dine her until the wee hours of the morning. The night culminates in Wyn proposing to her, and vowing to stay in New York and not return to Philadelphia. They get married so fast that Wyn doesn't have time to tell his family. Afterwards, Wyn decides that they must return to Philadelphia at least once in order to give the family the news. The family is led by Mrs. Stafford (the indomitable Gladys Cooper), and they are, of course, shocked, and immediately start making plans to send Kitty to finishing school. But Kitty will have none of it, and vows that she and Wyn will never return to Philadelphia. That's when the final blow falls: the family informs her that Wyn has no choice but to stay, because the provisos of his inheritance state that he must take up residence in one of the family's Philadelphia homes and fulfil his role in the family business..
Kitty flees back to New York and presumably gets a divorce (it's never mentioned, most likely due to the Production Code. She once again meets Dr. Eisner, and the two of them start dating again, albeit on a very tentative basis. Five years go by, bringing us back to the present and the dilemma Kitty was presented with at the outset. Dr. Eisner has proposed to her, and she accepted, and Wyn returned to the scene to ask her to go away with him – and she said yes to him, too. It isn't until she gives her instructions to the cab driver that we learn what her final decision is.
Kitty Foyle
is an enjoyable soap opera with a good script and the best performance of Roger's career, though I don't know whether or not it was Oscar® caliber (she beat out ). The rest of the cast is top-notch as well: Dennis Morgan is letter perfect as the guy from the right side of the tracks who seems unaware of crossing the line, or of the turmoil he's causing in Kitty's life, and Daniel Craig is delightfully goofy as Dr. Eisner, who tests potential dates by having them play double solitaire.
The source material used for the transfer is in splendid condition, free of debris, though there are a few very brief spots where there is noticeable wear. The audio is in great shape as well, with no deterioration and a full-bodied tone quality. Dialogue is clear throughout. Extras include 2 vintage cartoons ("Bad Luck Blackie," Tom and Jerry in "Kitty Foiled"); 2 radio productions with Ginger Rogers, 5/5/1941 Lux Radio Theater broadcast, 4/6/1946 Academy Award Theater broadcast.
For more information about
Kitty Foyle
, visit
Warner Video
.
by Fred Hunter