DVDs from TCM Shop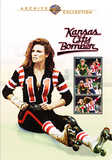 Kansas City Bomber A roller-derby queen fights... MORE&nbsp> $14.95 Regularly $17.99 Buy Now
NOTES
DVDs from TCM Shop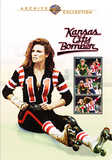 Kansas City Bomber A roller-derby queen fights... MORE&nbsp> $14.95
Regularly $17.99 buy now
In the credits, the filmmakers acknowledge the assistance of the National Skating Derby Inc. and its president, William J. Griffiths. According to a March 31, 1971 Daily Variety article, Curtwel Productions, a company owned by actress Raquel Welch and her then husband, Patrick Curtis, purchased the script for Kansas City Bomber from Barry Sandler, a college graduate student at the time, who had written it as his master's thesis, with Welch in mind as the star. A May 25, 1971 Daily Variety article stated that Warner Bros. had concluded negotiations to release the film, and Roger H. Lewis had been selected to be the producer. However, according to Daily Variety news items in December 1971 and January 1972, M-G-M recently had taken over the production from Warner Bros. Lewis was not listed onscreen, and no additional information about his involvement in the released film has been found. Although the company name Curtwell Productions was used for Welch's film Hannie Calder, which was shot in England in early 1971 but not released in the U.S. until June 1972, screen credits and other post-production sources for Kansas City Bomber list her company's name as Raquel Welch Productions, Inc. It is possible that the name Curtwell was dropped following Welch's and Curtis' divorce in 1972. According to Filmfacts, Vilmos Zsigmond was at one time set to be the film's cinematographer.
The March 31, 1971 Daily Variety article reported that San Francisco roller derby promoter Jerry Seltzer attempted to get a court order to block production on the film and sought fifteen million dollars in damages, alleging that the film violated the Roller Derby trademark and made unauthorized use of the "Bomber" name used in Seltzer's Roller Derby League. An March 8, 1972 Variety article stated that Seltzer was still involved in the fifteen million dollar suit against the producers of Kansas City Bomber, but the outcome of this suit remains undetermined. For more information about Seltzer and the Roller Derby League, see the entry above for the 1971 documentary Derby, a film that Seltzer commissioned.
According to a February 19, 1972 Los Angeles Times article, the production was postponed until April 1972 due to Welch breaking her wrist while skate training for the film. According to the Variety review, Welch did most the skating for her character. M-G-M publicity material noted that many of the other roller derby players in the film were portrayed by top skaters from the Los Angeles Thunderbirds, Philadelphia Warriors, Baltimore-Washington Cats, Cleveland Bucks, New York Bombers and Northern Hawks. In addition, Japanese and Australian skating stars also skated in the film. Character actor Dick Lane, who appeared as "Len," was also a well-known Los Angeles television personality who announced wrestling and roller derby in the 1950s and 1960s. His signature "Whooooaaaah Nellie," often used during Los Angeles Thunderbirds games, became a popular refrain in sports broadcasting. A modern source adds Joan Darling to the cast.
Kansas City Bomber was shot on location in Portland, OR and marked the feature film directorial debut for Jerrold Freedman. The film also marked the first feature of then child actress Jodie Foster, although her first released feature was another 1972 film, Napoleon and Samantha (see below). Several reviewers compared Kansas City Bomber to They Shoot Horses, Don't They? (see below), a 1969 film about a Depression-era dance competition that also revealed the fraudulent nature of an amateur spectator sport and the desperate personal circumstances of its participants.