DVDs from TCM Shop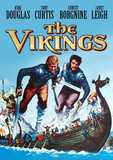 The Vikings Viking half-brothers fight... MORE&nbsp> $14.96 Regularly $19.95 Buy Now blu-ray
NOTES
The film opens with a title card followed by an offscreen prologue spoken by Orson Welles and accompanied by an animated sequence detailing a brief history of the Vikings. Welles did not receive screen credit. The full credits appear only at the end of the film. According to an October 1954 Hollywood Reporter news item, Milo Frank, a CBS talent executive, originally purchased the rights to Edison Marshall's novel The Viking and planned to film the production in Scandanavia through Distributors Corporation of America (DCA). A December 1955 Hollywood Reporter item reveals that Frank and DCA president Fred Schwartz sold the property to United Artists, after which it was then purchased by Kirk Douglas' Bryna Productions. Although the novel was entitled The Viking, the film used the plural title The Vikings.
The film was shot on location in Bergen, Norway, Brittany, France and Munich, West Germany. Although Michael Rennie was originally cast, Hollywood Reporter reported in May 1957 that he withdrew due to scheduling conflicts. Contemporary sources indicate that three Viking ships were constructed for the production, their designs based on displays in the Oslo Ship museum. An entire Norse village was also constructed in the middle of a fjord. According to Douglas' autobiography, when, after several months of production, the Norwegian crew unexpectedly went on strike and demanded a pay raise, Douglas was offended and moved the production to Geiselgasteig Studios outside Munich. Hollywood Reporter casting charts list Peter Capell, Patrick Crean and Ed Tracy as appearing in the film but their participation in the final film has not been confirmed.
A December 1957 Daily Variety item notes that the Writers Guild of America (WGA) awarded Calder Willingham joint writing credit with Dale Wasserman after a lengthy arbitration hearing. Wasserman wrote the original script for DCA. His script was then adapted by Willingham with Noel Langley for Bryna Productions, at the behest of Douglas. The WGA committee found that Langley was not entitled to screen credit for his contribution. The script changes included building up Douglas' role of "Einar," which was less significant in Marshall's novel.