DVDs from TCM Shop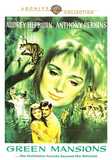 Green Mansions A young adventurer falls in... MORE&nbsp> $15.96 Regularly $19.99 Buy Now
NOTES
The following prologue and acknowledgment appear after the opening credits: "Nearly fifty years ago, a young naturalist, W. H. Hudson, penetrated the jungles of South America, lived there, and wrote a love story that has become a modern classic. We gratefully acknowledge the cooperation of the government officials of British Guana, Venezuela and Colombia, who made it possible to photograph scenes of this picture in the actual locale of the story." The film changes the famous novel's desolate ending, suggesting that "Rima" survives the jungle fire.
Prior to the 1959 production, there were several attempts to film Hudson's popular novel, which contained elements of fantasy and magical realism considered difficult to translate to the screen. According to April and May 1944 Los Angeles Times articles, in 1933, RKO production chief Marion Cooper bought the story rights, and a screenplay was written at that time for an adaptation to star Dolores Del Rio. The film was tentatively to be shot in a new three-strip Technicolor process. Modern sources indicate that Cooper also considered casting well-known Peruvian singer Yma Sumac for the role of "Rima." When Cooper left the studio after a change in administration, the project was shelved until 1943 when former press agent-turned-independent producer James B. Cassidy acquired the rights. A 1944 Hollywood Citizen-News item noted that Cassidy intended to shoot primarily in South America with an unknown playing the role of Rima and possibly Fredric March or Ronald Coleman as "Abel."
A June 1949 Los Angeles Times item disclosed that M-G-M had purchased the property two years earlier hoping to produce it with Elizabeth Taylor, but that she had since outgrown the part. The item mentioned John Hodiak as interested in a role. In 1953 an M-G-M bulletin announced that producer Arthur Freed, writer Alan Jay Lerner and director Vincente Minnelli would be making Green Mansions. A December 1953 Hollywood Reporter item confirmed the production and suggested Leslie Caron was under consideration for the starring role. In Minnelli's autobiography, the director states that he traveled to Venezuela with an M-G-M art director to scout for locations. When Minnelli discovered a Life magazine layout with actress Pier Angeli posing as Rima, he arranged a test with the actress. Minnelli described the test, which included actor Edmund Purdom, as an opportunity to explore how he might realize the mystical, fantasy aspects of the novel. In his autobiography, Minnelli acknowledged the continuing difficulties faced by Lerner in developing the script, but indicated that Brazilian composer Heitor Villa-Lobos proceeded with work on a symphonic piece for the picture. There is no information to determine whether the music composed at that time was the same special music Villa-Lobos provided for the released film. Script difficulties eventually forced the Freed-Minnelli-Lerner production to be shelved until actor-director Mel Ferrer expressed interest in reviving it.
An August 1957 Hollywood Reporter item stated that Theodore Reeves had been assigned as a writer for a production of Green Mansions headed by Pandro Berman for his Avon Productions, which released through M-G-M. In November 1957 Dorothy Kingsley was signed to write the screenplay, and Reeves's contribution to the final script, if any, has not been determined. In May 1958 James Costigan was reported to be working with Kingsley on the script, but his contribution to the final script, if any, has not been determined.
A November 1957 Hollywood Reporter item lists George Folsey as director of photography and a November 20, 1957 "Rambling Reporter" item in Hollywood Reporter noted that M-G-M was hoping to cast Rock Hudson opposite Audrey Hepburn in the film. As late as May 1958, Berman was associated with the production with Ferrer as director and Hepburn, then his wife, set to play Rima. In a May 1958 Los Angeles Times interview, Ferrer described a trip to South American jungles hoping to find an appropriate location for the film. Although Ferrer determined that the jungles were too dense to allow sufficient light for shooting, he and his crew did shoot several thousand feet of footage south of Orinoco, Venezuela and in the Parahauri mountains, parts of which were used in the film. Ferrer's team also imported several animals native to the area, including tropical birds and snakes. According to studio notes, some scenes were shot on location at Lone Pine, CA. A November 1958 Los Angeles Times piece revealed that Ferrer and Hepburn raised a very young fawn in their home for several months in order for the animal to bond with Hepburn for several vital scenes in the film. The Daily Variety review indicates that producer Edmund Grainger took over as producer once production was launched. Hollywood Reporter production charts list James Kessler, Rennie DeHaven, David Abdar, Bruce Hoy, Harvey Karals, Norman Dejoie and Reed Maxie to the cast, but their appearance in the released film has not been confirmed.