DVDs from TCM Shop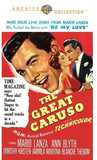 The Great Caruso The legendary opera singer... MORE&nbsp> $15.96 Regularly $19.99 Buy Now
NOTES
The working titles of this film were Caruso Sings Tonight and The Life of Caruso. Dorothy Caruso, who wrote the biography on which the film is based, was Enrico Caruso's wife. M-G-M purchased rights to the book from Jesse L. Lasky's company in 1949. As depicted in the film, Caruso was born in Naples in 1873 and sang in his church's choir as a young boy. After studying for three years with Guglielmo Vergine and Vincenzo Lombardi, Caruso made his debut as a tenor in Naples on November 16, 1894.
In 1898, he was engaged by the Teatro Lirico in Milan, and in 1901, he became a member of Milan's La Scala opera company. After triumphant appearances in Monte Carlo, Caruso was awarded contracts at Covent Garden in London and at the Metropolitan Opera in New York. On November 23, 1903, he made his American debut in the Met's production of Rigoletto, Although his initial performance received mixed reviews, he became the company's favorite singer by the end of the season. Caruso sang at the Met and other major opera houses for the next seventeen years, becoming the highest-paid and most beloved opera star in the world. At the Met, he sang in over 600 performances, in almost forty operas. According to various sources, he earned nearly two million dollars in royalties from his phonograph recordings.
Caruso appeared in two Famous Players-Lasky silent films, the 1918 My Cousin and the 1919 The Splendid Romance (see AFI Catalog of Feature Films, 1911-20). On December 11, 1920, during a performance of L'elisir d'amore at the Brooklyn Academy, Caruso coughed blood and was later diagnosed with "intercostal neuralgia." His final appearance in an opera occurred on December 24, 1920, when he sang his favorite role in La Juive. On August 2, 1921, while in Naples recuperating from surgery and its complications, he died.
According to a September 1950 New York Times article, screenwriters Sonya Levien and William Ludwig never intended The Great Caruso as an authentic biography of the opera singer. In particular, they eliminated any reference to Caruso's common-law wife and his two illegitimate children by her. The Variety reviewer noted that "there is nothing in the film to hint that Miss Benjamin was Caruso's second wife; that he had grown children and was middle-aged when he married her." According to a May 1955 New York Times article, in addition to the biography, the writers had at their disposal notes from Caruso's secretary's journal.
In 1946, when Lasky was considering making Caruso's film biography, he planned to transfer recordings of the singer's voice to the picture's soundtrack, replacing the old orchestral accompaniment with an updated one. While many reviewers complained about the range of questionable accents displayed by the actors in The Great Caruso, most commented favorably on Mario Lanza's performance. Actress Ann Blyth, who portrayed Caruso's wife Dorothy, was borrowed from Universal Pictures for the film.
Many of the singers in the opera montage were veteran performers of the Metropolitan Opera Company. Blanche Thebom of the company made her motion picture debut in The Great Caruso. The company's mezzo-soprano Jarmila Novotna, playing the diva "Maria Selka," did not sing in the picture. According to a May 1951 Los Angeles Examiner news item, much of Novotna's role was cut from the final film.
Arias recorded for the film's soundtrack album, but not included in the final film were "Questa o quella" and "Parmi veder le lagrime" from Rigoletto; "Reconditi armonia" from Tosca; and "Una furtiva lagrima" from L'Elisir d'amour. The Great Caruso was nominated for Academy Awards for Best Costume Design (color) and Best Scoring of a Musical Picture, and won the Oscar for Best Sound Recording. It was one of the four highest-grossing films of 1951 and, according to modern sources, earned ten million dollars in its first year of release.
In early 1952, Caruso's Italian heirs, who had previously sued the makers of the Italian screen biography Legend of Caruso without success, sued M-G-M for not getting their consent to do the film and for taking liberties with Caruso's life. In late May 1955, Los Angeles Times reported that the heirs had won an $8,000 suit against M-G-M, with the court ruling that the picture was "offensive to the honor and private and family life" of Caruso. M-G-M was ordered to pay all court expenses and withdraw all copies of the film from circulation in Italy. The heirs also protested the film's billboard advertising in Rome, which showed star Mario Lanza drinking Coca-Cola. The posters were ordered removed in April 1952. The Great Caruso was re-issued in 1963 and in 1970.