DVDs from TCM Shop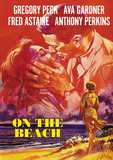 On the Beach After a nuclear war, U.S.... MORE&nbsp> $14.96 Regularly $19.95 Buy Now blu-ray
NOTES
DVDs from TCM Shop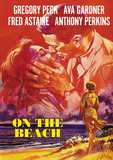 On the Beach After a nuclear war, U.S.... MORE&nbsp> $14.96
Regularly $19.95 buy now
The following written acknowledgment appears in the opening credits: "We acknowledge with appreciation the assistance given by the Royal Australian Navy and, in particular, by the officers and men of H.M.A.S. Melbourne and H.M.S. Andrew." The film's final scene depicts an empty square in front of a government building, with a banner hung by Salvation Army representatives stating "There is Still Time...Brother." Nevil Shute's novel On the Beach was serialized in Los Angeles Times (25 August-8 September 1957). Although a November 1958 Hollywood Reporter item stated that James Lee Bartlett was working on the script, his contribution to the released film has not been confirmed. The film was shot on location in Australia, with the racing sequence filmed at Riverside International Raceway, CA. On the Beach marked the feature film debut of Donna Anderson. A February 10, 1959 Hollywood Reporter item adds Lyn Peters to the cast, but her appearance in the film has not been confirmed.
As part of the publicity campaign to emphasize the serious nature of On the Beach, producer-director Stanley Kramer and United Artists arranged to stage a simultaneous world premiere on December 17, 1959 in more than twenty cities worldwide, including Moscow, according to the Filmfacts review. According to a December 18, 1959 Hollywood Reporter item, the event marked the first time an American film had had a premiere in the Soviet Union. The same item noted that the premieres were specially sponsored in each of the cities, with the Red Cross sponsoring six locations.
Reviews of the film, all acknowledging nuclear war as the greatest threat of the times, were mixed: the New York Times reviewer called it "deeply moving...it carries a passionate conviction that man is worth saving"; while Variety's review described it as "a solid theatrical film...as heavy as a leaden shroud. The spectator is left with the sick feeling that he's had a preview of Armageddon, in which all contestants lost"; Cue called it "an elaborate mixture of the tremendous and the trivial-salting a vast amount of superficial fictional vacuities with a minute dose of solid substance"; and Hollywood Reporter enthused that the film was "brilliantly executed," but wondered at length why none of the characters showed any interest in religion as the world ends. Many reviews praised the performance of dancer Fred Astaire as "Julian Osborn" in his first solely dramatic performance. Reviews also praised the artistic quality of the cinematography by Giuseppe Rotunno.
On the Beach received two Academy Award nominations, for Best Film Editing and Best Music (Score). In 2000 the Showtime cable network and an Australian company, Coote Hayes Productions, co-produced a three-part television miniseries of On the Beach starring Armand Assante, Rachel Ward and Bryan Brown, directed by Russell Mulcahy. Unlike the feature film, the television series emphasized the graphic nature of the panic, destruction and death caused by atomic radiation.