DVDs from TCM Shop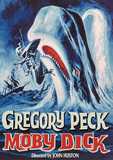 Moby Dick Epic adaptation of Herman... MORE&nbsp> $14.96 Regularly $19.95 Buy Now
Quotes
DVDs from TCM Shop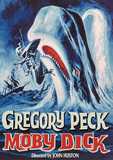 Moby Dick Epic adaptation of Herman... MORE&nbsp> $14.96
Regularly $19.95 buy now
Starbuck, first mate


To be enraged with a dumb brute that acted out of blind instinct is blasphemous.

Captain Ahab


Speak not to me of blasphemy, man; I'd strike the sun if it insulted me. Look ye, Starbuck, all visible objects are but as pasteboard masks. Some inscrutable yet reasoning thing puts forth the molding of their features. The white whale tasks me; he heaps me. Yet he is but a mask. 'Tis the thing behind the mask I chiefly hate; the malignant thing that has plagued mankind since time began; the thing that maws and mutilates our race, not killing us outright but letting us live on, with half a heart and half a lung.

Ishmael


Ehhhh, you can't fool us; it's the easiest thing in the world for a man to look as if he's got a great secret in him.

Elijah


I have, lad, I have. At sea one day, you'll smell land where there'll be no land, and on that day Ahab will go to his grave, but he'll rise again within the hour. He will rise and beckon. Then all--all save one shall follow. (Slinking away with a smile on his face) Mornin', lads... mornin'. May the heavens bless you.

Captain Ahab


By heavens man, we are turned round and round in this world, like yonder windlass, and fate is the handspike.

Starbuck, first mate


It's late; you should turn in.

Captain Ahab


Sleep? That bed is a coffin, and those are winding sheets. I do not sleep, I die.

Ishmael


He did not feel the wind, or smell the salt air. He only stood, staring at the horizon, with the marks of some inner crucifixion and woe deep in his face.