DVDs from TCM Shop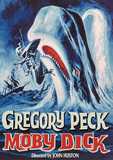 Moby Dick Epic adaptation of Herman... MORE&nbsp> $14.96 Regularly $19.95 Buy Now
NOTES
DVDs from TCM Shop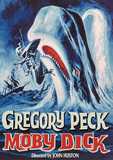 Moby Dick Epic adaptation of Herman... MORE&nbsp> $14.96
Regularly $19.95 buy now
The title card reads: "Herman Melville's Moby Dick." John Huston's onscreen director credit reads: "Produced and directed by John Huston who wishes to express his sincere thanks to The Mystic Seaport Marine Historical Association, The Old Dartmouth Historical Society, The British Institute of Oceanography and the Whalermen of Madeira for the great help they gave." The voice-over narration of Richard Basehart, who portrays "Ishmael," is heard intermittently throughout the film. After the opening credits, Basehart's narration begins with the famous opening words from Melville's novel: "Call me Ishmael."
Although modern editions of Melville's work, which is now considered a classic of American literature, are titled simply Moby Dick, the original 1851 edition was called Moby-Dick; or: The Whale. Warner Bros. had made three previous films based on the book, two starring John Barrymore as "Capt. Ahab." The 1926 silent film, The Sea Beast, was directed by Millard Webb, and a 1930 production, Moby Dick, was directed by Lloyd Bacon. The studio also made a German-language version of the 1930 film entitled Dmon des Meeres, which was directed by Michael Curtiz and starred Wilhelm Dieterle and Lissy Arna (see AFI Catalog of Feature Films, 1921-30). These films portrayed Ahab competing with a duplicitous brother for the hand of a minister's daughter and settling down happily with the woman after killing both the whale and his brother. Also, unlike the 1956 film, those films explored Ahab's first encounter with Moby Dick, when the whale "crippled him in mind and body."
In a November 1955 Los Angeles Times article, Huston stated that he tried to make the film "very faithful to the spirit of Melville's novel." In the 1956 version, Ahab has no romantic interest and women appear briefly only in the New Bedford sequences near the beginning of the film. Although Huston's intention, according to a September 1946 Los Angeles Times news item, was for the script to follow the book more closely, the story had to be telescoped and condensed into two hours, thus he eliminated the character "Fedallah," who was Ahab's servant in the book, and merged the character with that of "Queequeg." The film's sequence in which Ishmael convinces Queequeg not to commit suicide by reminding him of the promise he gave of lasting friendship is not in the book. As noted in the Saturday Review (of Literature) review, in the film, Queequeg's coffin was built at his request, because he had a sense of foreboding. In the book, however, it was built because Queequeg was near death from a fever. According to a modern source, Huston placed the final battle between Ahab and the whale at Bikini Atoll, where, in the 1950s, a century after the novel's setting, the atomic bomb was tested. According to the source, there is no evidence in the book that Melville's story was set at that location.
Huston's Moby Dick had a long production history: In September 1946, according to the Los Angeles Times news item, Warner Bros. announced that Henry Blanke would produce a new version of Moby Dick using Huston's screenplay. According to modern sources, Warner Bros. agreed to the film on the stipulation that a "big name" was cast in the lead role. A March 1949 Daily Variety news item announced that Errol Flynn was being considered as the "successor" to Barrymore for the role of Ahab, and also named Gary Cooper, Burt Lancaster, John Wayne and Gregory Peck as being under consideration. A February 1952 Hollywood Reporter news item reported that Marlon Brando would star, and a March 1954 New York Times news item reported that Montgomery Clift was interested in the role of Ishmael. According to September 1946 and November 1955 Los Angeles Times news items, Huston's personal choice for that role had been his father Walter, who died in 1950.
Warner Bros. failed to re-register the title and temporarily dropped plans to make the film upon learning that six other companies had priority over Warner Bros. for the property, a June 1953 Variety news item later reported. December 1952 news items announced that Warner Bros. would release the production being financed by Eliot Hyman, who also backed Huston's 1953 Moulin Rouge . According to modern sources, brothers Harold and Marvin Mirisch also put up money from Moulin Rouge profits and Warner Bros. agreed to provide money in return for worldwide distribution rights. News items announced at this time that Peck had been cast as Ahab and that shooting would begin in France in 1953. A July 1953 Hollywood Reporter news item reported that Marvin Mirisch, vice-president of Moulin Productions, announced that production on the film would begin in 1953 in England. In February 1954, the involvement in the film of Associated British Pictures was announced by Alfred Crown, Moulin's president, in a Hollywood Reporter news item.
A September 1953 Daily Variety news item announced that science fiction and fantasy writer Ray Bradbury would write the screenplay and that his family would sail to Europe where he would work on the script with Huston. According to a modern source, Bradbury and Huston met after Bradbury, an admirer of Huston's films, sent an inscribed copy of his book The Martian Chronicles to Huston, who then discussed the idea of filming that story. Huston and Bradbury continued to correspond, and Bradbury would send copies of his newly published works. When Huston offered Bradbury the opportunity to write the script for Moby Dick, the author had approximately twelve hours to decide whether to write what would be his first screenplay. The modern source adds that Bradbury, after consenting, read the book for the first time on the sea voyage-he had a fear of flying-during which he experienced a hurricane.
Both Bradbury and Huston are credited onscreen with the screenplay. A modern source adds that Roald Dahl and John Raymond Godley, Lord Kilbracken, did some reworking of the script. According to a modern source, Huston considered Kilbracken, who was his neighbor in Ireland and not an actor, for the role of Ishmael and a December 1953 Variety news item reported that Kilbracken was planning to come to Hollywood for a screen test. Modern sources report that Kilbracken played one of the sailors in the film and was Basehart's stand-in at one point during the production.
According to a November 1955 Daily Variety article, shooting of background material began in late spring 1954. A September 1956 American Cinematographer article reported that location shooting began in July 1954 in Youghal, Ireland, the town used to portray New Bedford, MA, where the harbor departure sequences were filmed. According to an August 1954 New York Times article, the town's "rundown" harbor had to be dredged to allow the ship used as the story's Pequod to be able to enter. Fishing sequences were shot off the coast of Fishguard, Wales, according to various contemporary sources. According to contemporary news items, English actors and Welsh and Madeira Island fishermen played the whalers.
The actor and Austrian count Frederich Ledebur, who, according to modern sources, was a fellow sportsman and friend of Huston, appeared in the film as "Queequeg." Modern sources state that Ledebur was not told beforehand that his head would be shaved for the role. A modern source adds that Ledebur's wife, Iris Tree, appeared in the film as the woman who gives Bibles to the sailors.
The Variety review misspells Ledebur's character name as "Queenqueg" and, in the cast, erroneously lists "Peter Coffin as Tavern Owner." The character "Peter Coffin" was the owner of the "Spouter Inn" tavern, and was played by actor Joseph Tomelty, whose name was omitted from the Variety cast list. Although a June 1954 Hollywood Reporter news item reported that Robert Morley was cast, he did not appear in the picture. A March 1954 New York Times article reported that James Hayter was cast as "Flask" and that Francis de Wolff would play Peter Coffin; however, de Wolff was cast in the film as "Capt. Gardiner," Dublin drama critic Seamus Kelly portrayed "Flask," and Hayter did not appear in the film.
A modern source adds Arthur Mullard and A. L. Bert Lloyd to the cast. Modern sources also add the following people to the crew: Alfred Kirschner (post-synchronization director), Ernst Haas (stills photographer); Bob Penn (stills and publicity photographer), Jean-Pierre Steimer (assistant editor), Jeanie Sims (Huston's production assistant), and Lorrie Sherwood (Huston's secretary).
In October 1954, Variety and New York Times articles announced that bad weather and cast injuries had caused shooting delays. To these problems, a modern source adds that damage to the ship serving as the Pequod also caused delays, and the schedule was set back by three months. Moulin Productions increased the budget by $1,000,000 to extend players' contracts and allow the troupe to move to a warmer area off the coast of Madeira, Spain, where background shots had already been filmed. A June 1956 Los Angeles Times article reported that whaling sequences and much of the storm sequences were shot there. A November 1954 Variety news item reported that, because scenes to be filmed called for several cast members to be immersed in the ocean for long periods, the company would instead film in waters off of South Africa. No other mention of this location has been found. According to several contemporary articles and news items, final winter shooting was completed in the waters around Las Palmas, Canary Islands. A March 1955 New York Times article reported that the filming of the sequences during which the whale was killed and Ishmael floats on the coffin were shot there.
Despite Huston's wish to film everything at sea, the company then moved to Elstree studios for its final few weeks shooting close-up action sequences. There, a replica of the Pequod's deck was built and, according to the American Cinematographer article, cameras were hung from the studio roof, where they were swung to get the motion of a ship in a storm. The sequence of Ahab lashed to the whale was shot in a tank in the studio and the interior of the whalemen's chapel, in which actor Orson Welles as "Father Mapple" appears, were also shot at Elstree.
For the ship Pequod, Huston found a one-hundred-year-old, three-masted, topsail schooner, the Rylands, at Scarborough, England. According to a December 1954 New York Times article, the ship, which was then being used as a tourist attraction, had served as the Hispaniola in the 1950 Disney film Treasure Island (see AFI Catalog of Feature Films, 1941-50). In the 1800s, the Rylands carried coal and other goods from Newcastle to other parts of the British Isles. In keeping with Melville's novel, Huston had the ship refitted with a tiller made from the skull of a killer whale and a jawbone of a sperm whale. While the actors and crew filmed topside, a crew of real sailors, captained by Allan Villiers, controlled the ship from below.
The whale "Moby Dick" was an 85-foot-long, steel-reinforced, rubberized construction, according to a March 1955 Los Angeles Times article, which added that a partial whale was constructed for the close-up scenes shot at Elstree. According to modern sources, even though two full models were made, costing approximately $30,000 each, both were lost at sea during shooting, necessitating a third to be built for the sequences shot in the Canary Islands. Modern sources add that another near-disaster happened when the towline of the third whale broke during filming and sailed into a fog with Peck on its back. According to the Los Angeles Times article, during filming Peck, who did not use a double, injured his kneecap, Basehart broke his ankle while jumping into a longboat and British actor Leo Genn, who portrayed "Starbuck" in the film, slipped a disk and caught pneumonia before shooting had finished.
According to the American Cinematographer article, Huston and director of photographer Oswald Morris agreed that "an orthodox modern [color] style would be at odds with the film's period mood and subject matter." Morris was quoted as saying that "what we wanted was something which suggested that this is how the film would have been shot if it could have been made in 1840-a classic color style to match a classic original." To accomplish their vision, according to Warner Bros. studio production notes, the film was shot in Technicolor from which two negatives were made, a color and a black-and-white. The final print was made from the two negatives superimposed over each other.
The article added that, according to Morris, the process had been done for books and magazines, but never before for film, and it "toned down" the Technicolor to achieve a 19th century look and a certain mood. Although a February 1954 Hollywood Reporter news item reported that there were plans to film in CinemaScope, and the Hollywood Reporter review and Colliers article listed the film as a CinemaScope production, the process was not credited onscreen. The Motion Picture Herald review stated that the film "was not photographed expressly for wide screen exhibition" and the distributor was recommending that "it be shown with an aspect ratio no greater than 1.75 to 1."
The New York Times review "devoutly recommended [Moby Dick] as one of the great motion pictures of our time" and the Motion Picture Herald review considered "Ahab" one of the best performances of Peck's career. Comparing Peck's Ahab with Barrymore's, the Hollywood Reporter review reported, "whereas Barrymore enacted the role with fiery hatred and a certain amount of swashbuckling, Peck plays it more in a brooding smoldering vein, but none the less intensely and dynamically." Peck, who appeared in the film bearded and wearing a tall hat, was often compared with Abraham Lincoln in reviews. The New York Times review described him as "towering, gaunt...markedly Lincolnesque," but the Variety review criticized that "the star not infrequently suggests a melancholy Abe Lincoln."
Other reviewers found Peck's performance lacking, such as a November 1956 Film and Filming, which criticized that "the handicap of being too young for Ahab undermines our belief [in Peck's performance]." Huston, in his autobiography, felt that contemporary audiences were expecting an Ahab like Barrymore's and predicted that "the next generation will appreciate it more than the last."
In his autobiography, Huston wrote that Moby Dick was "the most difficult picture I ever made." The film cost over $4.5 million and took three years to produce, which, as pointed out by a modern source, was longer than Ahab's quest for the whale. Although the New York Film Critics and the Motion Picture National Board of Review each cited Huston as Best Director for that year, the film was a box-office disappointment.
In 1954, NBC-TV broadcast a Hallmark Hall of Fame production, Moby Dick, which was produced and directed by Albert McCleery and starred Victor Jory and Hugh O'Brian. In 1998, Franc Roddam directed a television film, Moby Dick, starring Patrick Stewart and Henry Thomas, and featuring Peck as "Father Mapple." Although a 2001 Fox News online site reported that Brian Helgeland had written a screenplay of Moby Dick, in which he intended to cast actors from his 2001 film, A Knight's Tale, as of June 2005 that project had not come to fruition.