DVDs from TCM Shop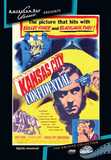 Kansas City Confidential To commit the perfect crime, a... MORE&nbsp> $11.95 Regularly $10.99 Buy Now blu-ray
FULL SYNOPSIS
DVDs from TCM Shop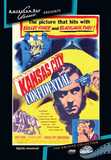 Kansas City Confidential To commit the perfect crime, a... MORE&nbsp> $11.95
Regularly $10.99 buy now
For over a week, retired Kansas City police captain Tim Foster watches the Southwest Bank and the flower shop next door to ascertain the timing of each business's delivery trucks. Satisfied that each truck leaves at exactly the same time every day, he then assembles a trio of criminals to help him rob the bank of its deposit: Pete Harris, a gambling addict; Tony Romano, a ladies' man; and Boyd Kane, a cold-blooded killer. Wearing a mask, Foster visits each separately and secures their services by threatening to turn them in to the police. On the day of the robbery, the four men, who also are masked to protect their identities, wait until the flower delivery truck pulls away from the curb, and then pull up in an identical truck. Pretending to be flower deliverers, they rob the armored bank truck of over one million dollars. They then drive the fake flower truck into an unmarked trailer, where Foster informs his crew that they will split the money at a later date, and gives each half of a playing card with which to identify themselves.

Meanwhile, the police track and arrest Joe Rolfe, the innocent deliveryman of the real flower truck. They detain Joe, who was briefly jailed years earlier for a gambling problem, and beat him for days to attain a confession. Although they finally find the duplicate flower truck and release Joe, he loses his job and is ostracized. Desperate to locate the thieves himself, Joe turns to Eddie, an old Army buddy whose life he saved in Iwo Jima. Eddie's shady brother Rick informs Joe that Harris, who recently fled to Tijuana, may be involved. Joe travels there and tracks Harris to a local casino and then to his hotel, where he finds a plane ticket and wire from Foster, instructing Harris to go to Borados. Joe beats up Harris, who admits he was involved in the robbery but has no other information, and then accompanies him to the airport. Just before they board the plane to Borados, however, the police arrive and try to arrest Harris for a gambling debt. When he pulls out a gun, they shoot him, and he dies before he can implicate Joe in the crimes.

Now traveling as Harris, Joe arrives at the Borados resort and meets Foster's lovely daughter Helen. While Joe identifies Romano and Kane as possible conspirators, Foster, who is also at the resort, tells his old friend, insurance inspector Scott Andrews, that Harris, Romano and Kane have gathered there and may be connected to the bank robbery. Hoping to remove his cohorts and receive a reward, he convinces Andrews that they can nab the thieves together. Joe, meanwhile, drops the ripped playing card in front of Romano, and later catches the thief in his bungalow. Joe beats up Romano, who agrees to act as his partner and wonders whether they can trust Kane. The next day, however, Romano interrupts Joe's talk with Helen and leads him to his bungalow, where Kane beats him up, revealing that he knows Joe is not Harris. Just before Kane can kill him, Helen enters and gives Joe the gun that he dropped earlier. Hoping to protect Helen, Joe then warns her to stay out of his business. That night, each man receives a note instructing him to meet at a boat, where Foster has arranged for Andrews and the police to arrest them.

As he leaves for the boat, Helen visits her father and asks him to help "Harris," whom she loves. Foster informs her that "Harris" is an ex-convict, but Helen remains devoted. Foster then follows the three men to the boat. Onboard, Joe persuades Romano, who is holding him at gunpoint, to kill Kane instead in order to get a larger share of the money. Romano does so but then turns his gun on Joe. Foster enters and saves Joe, and though Foster claims to be a policeman, Joe reasons that he must have set up the job because he knows that Joe is not Harris. Joe suddenly pushes Romano, who shoots Foster but then is killed when he and Joe struggle over his gun. Joe revives Foster, who asks him not to tell Helen about his involvement. Andrews then arrives and after Foster states that Joe merely tipped him off about Harris, Joe goes along with the lie in order to save both himself and Foster's reputation. Later, after Andrews informs Helen that her father gave his blessing to her romance, she embraces Joe.