DVDs from TCM Shop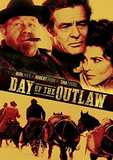 Day of the Outlaw Rival cattlemen join forces to... MORE&nbsp> $8.95 Regularly $9.99 Buy Now
Home Video Reviews
Has there ever been a western as snow-drenched as
Day of the Outlaw
(1959)? A few other snowy westerns come to mind -
Track of the Cat
(1954),
The Tall Men
(1955),
Will Penny
(1968),
McCabe and Mrs. Miller
(1971) - but really only
Track of the Cat
even approaches the snowbound feel of this film. And like
Track of the Cat
, which is really an abstract, metaphorical drama of a dysfunctional family set in the old west,
Day of the Outlaw
isn't exactly a traditional western. The snow, which isolates the characters from the outside world - and the movie from the "outside genre" - takes on a great deal of emotional weight, very much affecting the audience's experience of the story and characters.
"Emotional weight" seems to be the key difference between the two movies.
Track of the Cat
is fascinating but works a little better on an intellectual rather than emotional level;
Day of the Outlaw
is truly outstanding because it works so well on both. Its characters and story are intense, its atmosphere and setting are utterly believable, and its emotional effect is palpable and raw. Watching it, one feels one is up there in the screen, and it's a scary, riveting feeling.
The movie is smartly constructed. Rancher Robert Ryan lives on the outskirts of a tiny Wyoming town, and he is angry that his cattle drives are being impeded by a neighbor's new barbed-wire fence. He also has a romantic history with the neighbor's wife (Tina Louise), and his anger may in fact actually be an expression of the bitterness and loneliness he feels because he can't have her. In any event, he rides into town with his foreman (Nehemiah Persoff, excellent) one winter's day, and the few other townspeople immediately sense Ryan's anger about to explode. With the whole town on edge, things come to a head when Ryan challenges his neighbor and two other men to a gunfight in a saloon.
And right at that moment, Burl Ives makes one hell of an entrance! He and his band of outlaws storm into the saloon and immediately take the town hostage; for the rest of the film, the drama centers around whether the townspeople can survive the invasion. Ives is a renegade Union army captain who is on the run with his men, and a meaner, scarier, more psychotic bunch you couldn't imagine. These guys are just aching to rape all the women and loot the town, and it is only Ives' control of them that prevents this. But Ives has been wounded by a gunshot, and his survival is tenuous. The only doctor in town is a horse doctor, and he tries his best to keep Ives alive (which includes a terrifying operation) so that Ryan can buy time to figure out what to do.
Meanwhile, one of Ives' men, played by David Nelson, wants out of the gang but still feels loyalty to his boss. (The real-life son of Ozzie and Harriet Nelson, he bears a striking resemblance to his brother Ricky Nelson.) Nelson's character is at heart a decent guy, and he forms a mutual attraction with the innkeeper's daughter played by Venetia Stevenson (in real life a knockout British model and the daughter of Anna Lee). In the extraordinary, drawn-out ending to this film, the knee-deep snow seems to have the last word, and its blinding presence both stifles the fury of some characters and offers a clean slate for others.
The richness of the characters make the picture very rewarding. Everyone seems to be on edge in one way or another, but in the key players there is a deeper complexity. What has turned Burl Ives' captain into the leader of such a bunch of hooligans? What amount of loss does Robert Ryan feel every day? Moments in the film make us ponder these questions. At one point, Ryan tells Tina Louise about her husband, "I can't feel sorry for someone I hate." Coming from Ryan, that statement reveals an inner torment that perhaps this actor expressed better than any other. It's a complex line that seems to also say he wishes he
could
feel sorry for him, which in turn perhaps means that he actually
does
feel sorry for him a little bit, though he could never say so outright. Robert Ryan delivered this kind of complexity to role upon role, whenever the writing allowed it, and
Day of the Outlaw
does allow it: the screenplay is by Philip Yordan, veteran of many Anthony Mann westerns and epics.
The directing is by Andre De Toth, still one of the great underknown American film directors of the studio era. With De Toth at the helm, the visuals help create and reinforce the emotions of this film. De Toth puts across the feeling that any of these characters could snap, and explode into violence, at any moment. It's much like Clint Eastwood's later
Unforgiven
(1992), in fact, and there is one sequence here that surely influenced that later film: when Ives orders his men to brutally beat and kick Robert Ryan in the middle of the street as everyone watches in horror, one is reminded of Gene Hackman doing the same to Richard Harris in a very similarly-staged sequence.
Also like
Unforgiven
,
Day of the Outlaw
has an intricately constructed town. It feels spatially alive somehow. De Toth knew how important the town set would be, and he went to great pains to make it look right. He had the town built in Oregon several months before filming so that the structures would be naturally weathered by rain and snow, not artificially dressed by crewmen. When De Toth learned that the workers had neglected to follow his compass headings for the layouts of the streets, he had them rebuild it! "Shooting it as it was built would've added additional weeks to the shooting," De Toth reasoned, much to the consternation of his producers.
In a book-length interview with Anthony Slide, De Toth also recalled his attraction to this story: "Is it worse being the jailer instead of the prisoner? Is it worse being incarcerated by white snow in white silence, or by the blankness of black silence? With that frame of mind, I wanted to explore the bizarre situation of a group of outlaws on a getaway, terrorizing a small western village, and then, by a quirk of nature, becoming equally the prisoners of a white silence in the middle of nowhere."
Perhaps inevitably,
Day of the Outlaw
has been quietly slipped onto DVD without any fanfare from its distributor, Fox Home Entertainment, which now handles these MGM catalogue titles. There are no extras, no liner notes, no commentary - which is too bad, because Tina Louise, David Nelson and Nehemiah Persoff are still with us and could have provided some interesting backstory. But at least it's available, in a good-quality print (despite occasional minor wear) and at a reasonable price. Another western masterpiece of the era,
Man of the West
(1958), has also just been given a bare-bones release. That sophisticated film is one of Anthony Mann's finest, and both of these are essential viewing. I can't recommend them more strongly.
For more information about
The Day of the Outlaw
, visit
MGM Home Entertainment
. To order
The Day of the Outlaw
, go to
TCM Shopping
.
by Jeremy Arnold