DVDs from TCM Shop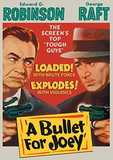 A Bullet for Joey A deported gangster sneaks... MORE&nbsp> $9.71 Regularly $11.99 Buy Now blu-ray
Home Video Reviews
Of the four MGM-owned films noirs recently released onto DVD by Fox Home Entertainment,
A Bullet For Joey
(1955) is the most minor of the bunch. It's not a bad picture, but it's not nearly as distinctive as the other three:
The Woman in the Window
(1944),
The Stranger
(1946) and
Kansas City Confidential
(1952). It's arguably not even really a "film noir."
What
A Bullet For Joey
does offer is an offbeat location (Montreal), some strikingly brutal scenes, and the chance to see Edward G. Robinson and George Raft together for the first and only time since
Manpower
(1941), a picture on which they famously fought behind the scenes.
Neither actor really
does
a whole lot here, but their star presence is enough to convince us quite easily that Raft is an aging mobster and Robinson is a seen-it-all police inspector. Raft has been deported to Portugal before the picture opens, where he is approached by a shady European to fly to Montreal, round up his former hoodlums and bring them to town to carry out a job. The job is to kidnap a nuclear scientist so that Communist spies can take him away and obtain his secrets. Robinson (working in the for-the-money, 'B' portion of his career) is the Montreal inspector who tries to piece it all together after people start getting murdered. Audrey Totter provides the biggest spark among the cast, playing Raft's former moll whom he calls to Montreal in order to pretend to seduce the nuclear scientist. She ends up falling for him for real. It's fun to watch Totter effortlessly switch from charm to sarcasm throughout the movie.
In comparing this movie to, say,
Pickup on South Street
(1953), another picture that deals with anti-Communism, one can see the difference between film noir and a simple "crime thriller." In
Pickup
, thanks to writer-director Sam Fuller's technique, we enter a world which oozes seedy corruption from every frame and keeps us off-balance throughout. Director Lewis Allen's
A Bullet For Joey
, despite some tough individual scenes which do emanate "noir," is much more traditional, and is a film that we watch from a feeling of relative safety. It even incorporates some semidocumentary techniques that were in vogue a few years earlier, in its scenes of the police tracking the criminals through the city.
Among those scenes which are tougher, there is one plot thread which finds henchman William Bryant seducing plain-Jane secretary Toni Gerry as a way to get some information about her boss, the scientist. This sequence of events - the most impressive in the film - culminates in a moment of brutality that remains quite shocking.
A Bullet For Joey
was written from a story by James Benson Nablo by two of the greatest screenwriters in all of film noir, A.I. Bezzerides and Geoffrey Homes, whose real name was Daniel Mainwaring. Bezzerides' credits featured
Thieves' Highway
(1949),
On Dangerous Ground
(1952) and
Kiss Me Deadly
(1955), while Mainwaring's work included
Out of the Past
(1947),
The Big Steal
(1949) and
Roadblock
(1951), not to mention the sci-fi classic
Invasion of the Body Snatchers
(1956). Nonetheless, while this script's plotting moves fairly well, and has some pretty good hard-boiled dialogue ("Doesn't that raise your pulse even slightly?" "I don't have any pulse."), it's not enough to lift the movie out of the realm of fair curiosity.
A Bullet For Joey
's price, especially without any extras to speak of, makes the DVD hard to recommend to any but the most hard-core fans of the cast or genre. It's not a movie that most will want to look at more than once. Picture and sound are very good.
For more information about
A Bullet for Joey
, visit
MGM Home Entertainment
. To order
A Bullet for Joey
, go to
TCM Shopping
.
by Jeremy Arnold