DVDs from TCM Shop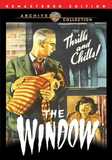 The Window A boy who always lies... MORE&nbsp> $15.96 Regularly $19.99 Buy Now
Articles
SEE ALL ARTICLES
The Window (1949)
Named best mystery film of the year by the Mystery Writers of America, The Window (1949) is often overlooked by modern audiences. The film, an urban variation on "The Boy Who Cried Wolf" theme, spins a tense, 73-minute tale about a young boy who witnesses a murder. He soon finds himself targeted by the killers but because of his past tall tales, no one believes that his life is in danger. If the story seems familiar, it's because it's been remade numerous times, the most recent version being Cloak and Dagger (1984) starring Henry Thomas.

Considering the talent behind The Window, it's no surprise that the film is highly regarded among B-movie connoisseurs. Director Ted Tetzlaff was a former cameraman who had photographed films like My Man Godfrey (1936) and The Enchanted Cottage (1945). Tetzlaff's last project as cinematographer before turning to directing was Notorious (1946) for Alfred Hitchcock. No doubt, at least some aspect of Tetzlaff's suspenseful direction was influenced by the master.

The story for The Window was based on a novelette by famed crime writer Cornell Woolrich. Often called "The Father of Noir", Woolrich began his career writing traditional novels which were heavily influenced by F. Scott Fitzgerald. But the market for novels during the depression was poor so he turned to pulp magazines for a steady paycheck. Through the 30s and 40s, Woolrich turned out over 100 short stories and suspense novels. Many of these stories have been adapted for the big screen, from Rear Window (1954) to Truffaut's The Bride Wore Black (1967) and Mississippi Mermaid (1969); the latter film has just been remade as Original Sin starring Angelina Jolie and Antonio Banderas.

The Window boasts a superb supporting cast of Barbara Hale, Arthur Kennedy and Ruth Roman. Child star Bobby Driscoll shines in the lead role for which he was named Outstanding Juvenile Actor and given a miniature Oscar statue. He was also the first actor Walt Disney ever put under contract, appearing in such Disney films as Song of the South (1946) and Treasure Island (1950). In addition, Driscoll was the model and voice for the animated Peter Pan (1953).

Unfortunately, the child actor was unable to make the transition to adult roles. He later said of his life, "I was carried on a satin cushion and then dropped into the garbage can." In the sixties, Driscoll turned to drugs and was later found dead in a New York tenement building in 1968. At first, the former child star was buried as a John Doe in a pauper's grave and his body wasn't identified until later that year when the FBI, at his family's request, finally matched up his fingerprints with the body. It was a sad end to a once promising career. Nevertheless, The Window is a testament to Driscoll's talent and may be his finest performance.


Producer: Dore Schary, Frederic Ullman Jr.
Director: Ted Tetzlaff
Screenplay: Mel Dinelli, Cornell Woolrich (story)
Cinematography: William O. Steiner
Film Editing: Frederic Knudtson
Original Music: Roy Webb
Principal Cast: Bobby Driscoll (Tommy Woodry), Arthur Kennedy (Mr. Woodry), Barbara Hale (Mrs. Woodry), Paul Stewart (Joe Kellerton), Ruth Roman (Mrs. Kellerton).
BW-74m. Closed captioning.

by Stephanie Thames
back to top
---