DVDs from TCM Shop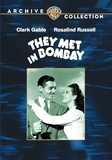 They Met in Bombay Rival jewel thieves on the run... MORE&nbsp> $15.95 Regularly $17.99 Buy Now
Articles
SEE ALL ARTICLES
They Met in Bombay (1941)
Set sail on an adventure to Hong Kong with Clark Gable and Rosalind Russell in They Met in Bombay (1941). As the title indicates, Gable and Russell first meet in India, where Gable is posing as a Lloyd's of London insurance agent and Russell is pretending to be a friend of the Royal Family. But their true identities are soon revealed; they're both jewel thieves after the same haul - a necklace called the Star of Asia that belongs to a duchess. At first, Gable and Russell plot against each other to get their hands on the jewels but simple necessity brings them together for the heist and soon they're planning their getaway on a boat to Hong Kong operated by Peter Lorre.


Despite the fact that They Met in Bombay is set in India and China, it was actually filmed in California, specifically in Calabasas, Malibu Hills and at the Alhambra airport. However, parts of the story do reflect the contemporary struggles of Hong Kong in the 1940s. For example, Gable dresses like a British soldier in one episode in the film and then, forced to continue the charade, must help evacuate British and Chinese citizens from a village invaded by the Japanese. During WWII, many Chinese mainlanders took refuge in Hong Kong as the Japanese advanced. And eventually, the Japanese attacked Hong Kong in 1941, forcing the British to surrender the island on Christmas Day.


They Met in Bombay was the third film Rosalind Russell and Clark Gable made together. In the first two, Forsaking All Others (1934) and China Seas (1935), Russell wasn't Gable's leading lady. Joan Crawford stole his heart in Forsaking All Others and in China Seas, Russell played Gable's former girlfriend, who faced some tough competition in Jean Harlow. But given the opportunity, Russell genuinely enjoyed working with Gable and unlike some of his co-stars, was at ease playing love scenes opposite him. Legend has it that Vivien Leigh, for example, in Gone With the Wind (1939), begged producer David O. Selznick for fewer kissing scenes, because Gable's dentures had an unpleasant smell. Russell encountered no such problems and praised her co-star's romantic abilities. "No director ever had to give him directions in a love scene. He was a very graceful person...much like a ballet dancer. He was beautiful to play a love scene with," Russell commented. She also recalled how much difficulty she normally had filming romantic scenes. "Love scenes...(were) murder for me," said Russell. "The only man who could make a love scene comfortable was Clark Gable."


Off screen, Gable's love affair with wife Carole Lombard continued throughout They Met in Bombay. Their second wedding anniversary coincided with the film's shooting schedule, and Lombard arranged a surprise party for Gable on the set - catered by the famed Brown Derby restaurant. Another interesting bit of trivia is the unbilled appearance of Alan Ladd in a tiny part as a British solder in They Met in Bombay. Blink and you'll miss him.


Producer: Hunt Stromberg
Director: Clarence Brown
Screenplay: John H. Kafka (story), Edwin Justus Mayer, Anita Loos, Leon Gordon
Cinematography: William H. Daniels
Editing: Blanche Sewell
Art Direction: Randall Duell, Cedric Gibbons
Music: Herbert Stothart
Cast: Clark Gable (Gerald Meldrick), Rosalind Russell (Anya Von Duren), Peter Lorre (Captain Chang), Jessie Ralph (Duchess of Beltravers), Reginald Owen (General Allen), Eduardo Ciannelli (Giovanni Riccio).
BW-92m. Closed captioning.

by Stephanie Thames
back to top
---