DVDs from TCM Shop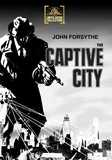 The Captive City A small-town newspaper editor... MORE&nbsp> $11.45 Regularly $19.95 Buy Now
NOTES
DVDs from TCM Shop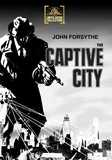 The Captive City A small-town newspaper editor... MORE&nbsp> $11.45
Regularly $19.95 buy now
The working title of this film was The Tightrope. A written foreword credited to Senator Estes Kefauver reads: "Ordinarily, Americans don't think much about the existence of organized crime. They know vaguely that it is there, and they let it go at that, unless prodded by some unusual circumstances." Kefauver also appears at the end of the film, stating that the real-life editor on whom the character of "Jim" was based was not killed, and as a result of his courage, the administration in his town became honest. Kefauver cautioned that local crime is never harmless and must be stamped out quickly by townspeople.
In a May 1952 Los Angeles Daily News article, written by Robert Wise, the director stated that after hearing about Senator Kefauver's committee against organized crime, he located a newspaper series by journalist Alvin Josephy, Jr. about a local syndicate and persuaded Josephy to work with Karl Kamb to turn the articles into the screenplay for The Captive City. Wise reported that, while shooting the film in Reno, NV, he was watched by "underworld hoods." For more information about the Kefauver hearings, please see the entry below for the 1951 Twentieth Century-Fox documentary The Kefauver Crime Investigation.
As noted by the onscreen credits, the film was photographed with the Hoge lenses, an invention by Ralph Hoge and Gregg Toland which, according to a March 1952 New York Times news item, enabled the director to shoot a clear, deep-focus shot with little light.
The Captive City was the first release of Aspen Productions, a company owned by Wise and Mark Robson. In March 1952, Daily Variety reported that the company had signed John Forsythe to a five-picture contract. Joan Camden made her feature film debut in the picture. According to an April 1952 Variety item, The Captive City was previewed by crime reporters, editors, public prosecutors and citizens' committees. Los Angeles Examiner stated in May 1952 that the film's Los Angeles opening coincided with the opening of the Hollywood Park Racetrack and the attendant visit by Kefauver. On November 18, 1954, Gig Young and Betsy Palmer starred in a Lux Video Theatre version of the story.