DVDs from TCM Shop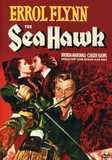 The Sea Hawk A British buccaneer holds the... MORE&nbsp> $14.96 Regularly $19.98 Buy Now
NOTES
Although Warner Bros. made a 1924 film entitled The Sea Hawk based on the Rafael Sabatini novel of the same name, that picture was directed by Frank Lloyd, starring Milton Sills and Enid Bennett (see AFI Catalog of Feature Films, 1921-30; F2.4862). The 1940 production was based entirely on materials by screenwriters Howard Kock and Seton I. Miller. Sabatini's name is not included in the onscreen credits, though many modern sources indicate that the film was based on his novel. News items in Hollywood Reporter note that Warner Bros. considered changing the title of the film to Beggars at Sea because the story differed so greatly from the Sabatini novel The Sea Hawk, which told the story of a Cornish gentleman who becomes a Barbary pirate.
"Beggars at Sea" was the title of a story originally submitted to Warner Bros. by Miller, which, according to news items and other contemporary information, was considerably revised by Koch. Pre-production news items in Hollywood Reporter note that Dennis Morgan was going to take over the male lead from Errol Flynn and Geraldine Fitzgerald was to play the female lead. A later pre-production news item noted that Flynn was to play the male lead and Fitzgerald was replaced by Olivia de Havilland because Warner Bros. wanted to keep the de Havilland-Flynn combo intact after their succss in The Adventures of Robin Hood and Dodge City.
Other news items in Hollywood Reporter state that Warner Bros. spent $1,750,000 in production costs. Due to the lack of a sound stage large enough to accommodate the full scale ships used in the production, the studio built a new sound stage that covered a specially constructed artificial lake-water tank. Modern sources add that the ships were 165' and 135' and surrounded by water twelve-feet deep. To economize, the studio used many of the sets and costumes from their 1939 film The Private Lives of Elizabeth and Essex. Other items in Hollywood Reporter add that some backgroud shots were filmed at Point Magu, CA.
The picture received Academy Award nominations in the following categories: Art Direction (Black-and-White); Music (Scoring); Sound Recording; and Special Effects (Photographic Effects, Byron Haskins, Sound Effects (Nathan Levinson). Flora Robson also played Queen Elizabeth in the 1937 film Fire Over England. In selected first-release prints, the Panamanian sequences were tinted sepia. For many years thereafter, the sequence only appeared in black-and-white, but the sepia was restored to those scenes when the picture was released on DVD in 2005. Modern sources also note that this was Erich Wolfgang Korngold's last score for the swashbuckler genre. They also add the following names to the cast: Frank Wilcox (Martin Barrett); Herbert Anderson (Eph Winters); Charles Irwin (Arnold Cross); Edgar Buchanan (Ben Rollins); and Frank Lackteen (Captain Oritz).