DVDs from TCM Shop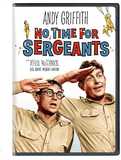 No Time for Sergeants A hillbilly draftee turns the... MORE&nbsp> $5.97 Regularly $14.98 Buy Now
Home Video Reviews
Every few years a hit movie puts a dent in the old adage that shows about rural bumpkins are box office poison. 1958's
No Time for Sergeants
follows the adventures of a hillbilly Air Force draftee whose slow-witted honesty makes life miserable for his barracks sergeant. Mervyn LeRoy's film was one of the most popular peacetime service comedies of the 1950s, taking its place beside
Mister Roberts
and
Operation Mad Ball
. It was also a breakout success for actor Andy Griffith, a folksy actor who had made his film debut the previous year in Elia Kazan and Budd Schulberg's
A Face in the Crowd
, a cynical and prophetic tale of a television entertainer with political ambitions. Although now considered an influential classic, Kazan's movie was a noted box office underperformer.
No Time for Sergeants
allows Griffith to reprise the role he originated in the famous 1955 live television show, which was immediately adapted as a Broadway play. All three versions of
No Time for Sergeants
celebrate Griffith's exuberant personality as channeled through the fresh-faced Private Will Stockdale. A Georgia country boy, Will has no experience with life outside the mountains. His ignorance of slick everyday chicanery causes him to be branded a hick and presumed to be stupid. But Stockdale has a kind heart and good moral judgment. Like Al Capp's
Li'l Abner,
he's honest to a fault.
Mac Hyman's original book placed Will's Army Air Corps service during WW2. The movie readjusts for the 1950s, opening the story up slightly. The television play bridged scenes by having Will deliver monologues to the audience, narrating his own story. Only one of these "third wall" monologues is used in the movie.
Arriving at camp, Will befriends fellow inductee Ben Whitledge (Nick Adams), a meek and excitable fellow who nevertheless wishes he could transfer to the infantry. But ROTC college boy Irv Blanchard (Murray Hamilton) targets Will for hillbilly jokes and general harassment, and barracks Sergeant Orville King misjudges Will as an idiot. Because Will cleans the barracks bathroom to a high polish, the opportunistic King unfairly assigns him the job of PLO: Permanent Latrine Orderly. Sgt. King and Private Blanchard's attempts to hoodwink Stockdale backfire when superior officers recognize that the honest soldier is being cheated; King is ordered to put Will through the normal placement process. Will's interest in women gets him a 'pass' from the psychiatrist. To King's surprise, Will passes the tests, although King must bribe a nervous officer (Don Knotts, repeating the role from Broadway) to get Will through a manual dexterity exam.
Most of the humor comes from Will's inability to understand military ways. Having been taught to salute a WAC (Jean Gilles) as a superior officer and ignore the fact that she is a woman, Will obediently takes the reference as literal. Sgt. King repeatedly gets into trouble by ordering Will to lie to cover up King's own deceit. The lie invariably bounces back, revealing King's trickery. King foolishly attempts to discredit Stockdale by getting him drunk, not realizing that the moonshine-raised mountain boy is all but impervious to the effects of alcohol. Seeing that the officers are impressed by his clean latrine, Will rigs all of the toilet seats to "stand to attention" during inspection. The inspecting officers can't understand that Will is just trying to get into the military spirit.
As befits the farcical mood, all the performances are broad. Alternately shy and panicked, Nick Adams' Whitledge seems totally unfit for duty. Don Knotts whines like a ninny when Will bends his dexterity test tools into a pretzel. The ranking officers mostly provide shocked expressions, while Myron McCormick steals the show as the owlish Sgt. King. The sergeant never learns that the irrepressible Will Stockdale won't be kept in line by his business-as-usual military schemes. King ends up being busted to Private for his trouble.
The story opens up for the last act, to put Will and Ben on a B-25 heading into an atomic test area. Parachuting from the stricken plane in the dark, the two airmen wander back to the Air Base just in time to hear themselves being eulogized as national heroes, like Tom Sawyer and Huckleberry Finn. The film's cost cutting really shows at the conclusion, when the big awards ceremony is glimpsed only as a rear projection from a storeroom. Director Mervyn LeRoy doesn't try to impose any particular visual scheme onto this character comedy, although he plays several dialogue scenes in very smooth trucking shots. Andy Griffith's bright personality is the whole show, a fact that the filmmakers clearly recognize.
Dub Taylor has a funny role as a Georgia Draft Board official, and future
M*A*S*H
star Jamie Farr has a bit as a sleepy pilot.
Andy Griffith returned almost immediately in the somewhat similar comedy
Onionhead
, as a cook aboard a Coast Guard vessel. A few years later, Griffith starred in the successful TV show
Mayberry RFD
, playing a folksy Southern sheriff without the exaggerated clowning; supporting actors like Don Knotts provided the big laughs. A bucolic garage mechanic played by singer-actor Jim Nabors became so popular that he was 'spun off' into a new series. The long running
Gomer Pyle, U.S.M.C.
was acknowledged as a carbon copy of Griffith's earlier success.
Warner's
DVD of
No Time for Sergeants
is an excellent transfer with an enhanced B&W image and very clear audio. Viewers who remember endless television broadcasts will be surprised to see the movie spread out in a widescreen image; older TV prints left acres of head and foot room on screen, marooning the actors in the center of the frame. The disc comes with subtitles in English, French and Spanish but carries no extras. Criterion's
The Golden Age of Television
DVD set from 2009 includes a Kinescope of the original 1955 live TV broadcast of
No Time for Sergeants
, on the
The United States Steel Hour
.
For more information about
No Time for Sergeants
, visit
Warner Video
. To order
No Time for Sergeants
, go to
TCM Shopping
.
by Glenn Erickson