DVDs from TCM Shop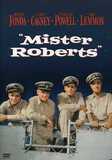 Mister Roberts A naval officer longing for... MORE&nbsp> $15.79 Regularly $19.98 Buy Now
Trivia
'Powell, William' 's last film.
Henry Fonda reprises the title role that he originated on Broadway (for which he won a Tony Award in 1948).
The ship used for filming is the fishing vessel "Ghost."
When the stunt man (hired to do the motorcycle going off the pier stunt) refused to do the stunt, John Ford hired a bystander who couldn't ride a motorcycle but had the nerve to try the stunt. The "bystander" was a young Marine named Jack Lewis, who wasn't even an experienced rider. However, being young and foolish, Lewis said, "Sure, I'll do it." The Marine Corp. wouldn't let John Ford pay Lewis the $700 he offered, so Ford went into the nearby Hilton hotel and told the management that Lewis could drink in the bar on Ford's tab for the next year. Lewis went on to become an author ("Chosen Tales of Chosin;" "The Sandtrap Marines") and publisher of magazines ("Gun World") and trade paperbacks ("Gun Digest Book of Guns," etc.), but one who maintained friendships with many in the movie business, including numerous cowboy film stars.
The part of Doc was originally offered to Spencer Tracy, who declined.
Contributions
Holz (2009-08-04)

Source: not available

Henry Fonda was not the original choice to star in the film version. Warner Bros. was considering William Holden or Marlon Brando for the lead role. Fonda was only hired because director John Ford insisted on it; the studio thought Fonda had been on stage and off the screen so long that he was no longer a movie box office draw.