DVDs from TCM Shop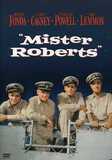 Mister Roberts A naval officer longing for... MORE&nbsp> $15.79 Regularly $19.98 Buy Now
Quotes
Doug Roberts


I looked down from our bridge and saw our captain's palm tree! Our trophy for superior achievement! The Admiral John J. Finchley award for delivering more toothpaste and toilet paper than any other Navy cargo ship in the safe area of the Pacific.

Ensign Pulver


Captain, it is I, Ensign Pulver, and I just threw your stinkin' palm tree overboard! Now what's all this crud about no movie tonight?

Doug Roberts


We've got nothing to do with the war. Maybe that's why we're on this ship, because we're not good enough to fight. Because our glands don't secrete enough adrenaline, or our great-great-grandmothers were afraid of the dark or something.

Doug Roberts


Captain, you told me...

Capt. Morton


Never mind what I told you. I'M TELLING YOU!

Doug Roberts


How did you get in the Navy? How did you get on our side? Oh you ignorant, arrogant, ambitious... keeping sixty-two men in prison 'cause you got a palm tree for the work they did. I don't know which I hate worse, you or that other malignant growth that stands outside the door

Capt. Morton


Why, you stinking little...!

Doug Roberts


How did you ever get command of a ship? I realize in wartime they have to scrape the bottom of the barrel, but where did they ever scrape you up?

Capt. Morton


There's just one thing left for you, Mister. A general court martial!

Doug Roberts


That suits me fine, court martial me!