DVDs from TCM Shop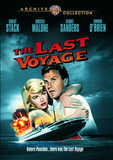 The Last Voyage Passengers and crew fight to... MORE&nbsp> $15.95 Regularly $17.99 Buy Now
NOTES
DVDs from TCM Shop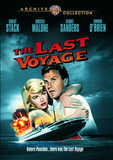 The Last Voyage Passengers and crew fight to... MORE&nbsp> $15.95
Regularly $17.99 buy now
Voice-over narration is heard at the beginning of the film describing the "last voyage" of the Claridon, an older vessel soon to be sent to the scrapyard. Andrew L. Stone's onscreen credit reads: "Written and Directed by Andrew L. Stone." Harrold A. Weinberger's onscreen credit reads: "Assistant Director & Production Manager...Harrold A. Weinberger."
According to a January 1959 Daily Variety news item, the film was originally to have been shot in CinemaScope, off the coast of England. Reviews and news items noted that the film was photographed almost entirely in the Sea of Japan, off Osaka, using the retired French luxury liner le de France. Fearing negative publicity, the French company that built the liner initially attempted to block Stone's purchase of the ship, but finally acquiesced when M-G-M agreed to change the name of the vessel and not publicize the sale. During filming, Stone blew up the interior of the ship piece by piece, flooded parts of it and toppled one smokestack.
The Variety review noted that in addition to the real setting, natural sound and natural lighting were used in the picture. According to a January 1960 Hollywood Reporter news item, the crew was forced to shoot the final lifeboat scene in Santa Monica, CA, because there were too many poisonous jellyfish in the Sea of Japan. The same item claimed that the film's story was based, in part, on the real-life experiences of a woman passenger on ocean liner Andrea Doria, which sank off the coast of Cape Cod in July 1956. The le de France had been one of the rescue ship for passengers of the ill-fated Andrea Doria.
The Last Voyage received an Academy Award nomination for Best Special Effects, but lost to The Time Machine. Child actress Tammy Marihugh, a regular on the television program The Bob Cummings Show, made her screen acting debut in the film. The Last Voyage marked the third pairing of stars Dorothy Malone and Robert Stack, whose previous pictures were Tarnished Angels and Written on the Wind (see below). Malone's mother, Esther Maloney, appears in the picture as a boat passenger, according to studio publicity material.