DVDs from TCM Shop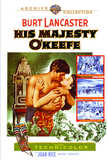 His Majesty O'Keefe A Yankee sea captain tries to... MORE&nbsp> $13.46 Regularly $17.99 Buy Now
NOTES
The title card reads: "Warner Bros. Pictures presents Burt Lancaster as His Majesty O'Keefe, Colour by Technicolor." After the opening credits, which list a primarily British crew, the following written statements appear onscreen: "This entire picture was photographed in the South Pacific...where for years the basic economy and wealth revolved around the dried meat of the coconut known as 'copra.' And on the island of Yap, the natives worshiped an exotic sacred stone they called 'fei.' We wish to acknowledge our gratitude to the Secretary for Fijian Affairs: to Ratu Penaia Lala Latianara Serua District Chief in Charge, and the wonderful people of the Fiji Islands." Voice-over narration, by Burt Lancaster as "David O'Keefe" and Joan Rice as "Dalabo" is heard intermittently throughout the film.
His Majesty O'Keefe was based on the life of nineteenth-century Irish-American adventurer David Dean O'Keefe, whose story was pieced together by authors Lawrence Klingman and Gerald Green in their semi-biographical novel of the same title. According to the authors, several characters in the book, who were also depicted in the film, were actual people: Bully Hayes, Bart Harris, Alfred Tetens, Friedlander, Weber, Fatumak, Kakofel, Boogulroo and Inifel. According to legend and some historical documents, O'Keefe, believing he killed a man, fled his home in Savannah, Georgia to join a pearl-diving expedition in the South Seas. In 1871, a typhoon shipwrecked the expedition and O'Keefe was the sole survivor. As depicted in the film, O'Keefe was nursed to health by Fatumak, medicine man on the island of Yap, where two years earlier, the Germans had established a trading post managed by Alfred Tetens and where the Spaniards also claimed interests. On Yap, the form of currency used was a stone disk, called "fei" or "rai," which the natives quarried from the island of Palau and hauled 280 miles to Yap in canoes. The value of each stone, which measured between approximately one and twelve feet wide, was determined by many factors, including the difficulty surmounted in obtaining it.
A German trading ship took O'Keefe to Hong Kong, but he returned the following year, commanding a Chinese junk named for his American wife, Catherine. In exchange for copra and betel nut, O'Keefe began using his junk to haul fei to Yap for the islanders. Although the fei transported by O'Keefe was valued lower than that brought over by canoe, the increase of fei on the island allowed less wealthy people to own money. So popular was O'Keefe with the natives of both Yap and Palau, that they refused to do business with anyone else, and for approximately thirty years, he held a monopoly on the copra trade. Nicknamed "His Majesty O'Keefe" because of his regal lifestyle, he amassed a great fortune, and Robert Louis Stevenson wrote about him. O'Keefe's Kanteen, filled with memorabilia, still stands on the site of the trading post and bar that O'Keefe established in 1874. Although U.S. currency has become the standard on Yap, fei is still sometimes used to pay dowries or purchase land.
An April 1951 Los Angeles Times news item announced that Fred Zinnemann would probably direct the film and a February 1952 Los Angeles Times news item reported that Frank Nugent was set to write the screenplay. However, Nugent's contribution to the film, if any, has not been determined. An August 1952 Daily Variety news item described how an elaborate facility, possibly the largest outside of Hollywood at that time, was constructed by Warner Bros. on the Fijian Island of Viti Levu, where the film was shot. In addition, portions of the film were shot in the village of Goloa, where additional huts were erected by the studio. A November 1952 Los Angeles Times article stated that Ratu Lala, the lineal descendant of Fijian kings, who is mentioned in the opening onscreen acknowledgments, assisted the production as liaison to the native Melanesians who served as extras and crew members.
According to an October 1952 New York Times article, before choreographing the dance sequences for the film, Daniel Nagrin lived in a Fijian village for a week while studying under Mokani, an old man who taught ceremonial dances to the children. September and October 1952 Hollywood Reporter news items add the following actors to the cast: Harry Hambleton, Eric Sterling and Jack O'Malley, but their appearance in the film has not been confirmed. According to a September 1953 Hollywood Reporter news item, Clark Dennis recorded music from the film on the Tiffany Records label. As reported in a June 1953 Hollywood Reporter news item, after producing His Majesty O'Keefe, Hecht and Lancaster severed Norma Productions' ties to Warner Bros., citing disagreements over budget and production concerns. In 1954, Hecht and Lancaster formed Hecht-Lancaster Company, which released films through United Artists.