DVDs from TCM Shop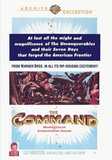 The Command A high-minded doctor suddenly... MORE&nbsp> $14.95 Regularly $17.99 Buy Now
NOTES
DVDs from TCM Shop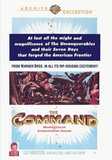 The Command A high-minded doctor suddenly... MORE&nbsp> $14.95
Regularly $17.99 buy now
The working title of the film was Rear Guard. According to a November 1949 Variety news item, Warner Bros. bought the novel Rear Guard, which originally appeared in Saturday Evening Post as a serial entitled The White Invader, and planned for it to star Gary Cooper and be produced by Anthony Veiller. However, neither Cooper nor Veiller were involved in the final film. Although a February 1951 Hollywood Reporter news item announced that Stanley Fleischer would serve as art director for the film, only Bertram Tuttle was listed onscreen and Fleischer's contribution to the final film is undetermined.
According to production charts, The Command was initially planned to be filmed in 3-D. Onscreen credits and reviews describe The Command as Warner Bros.' first CinemaScope venture, but the Variety review explains that the film was shot with a Vistarama anamorphic lens and later billed as CinemaScope by agreement with Twentieth Century-Fox. The Los Angeles Times review stated that Warner Bros. subsequently adopted the use of CinemaScope, a type of lens that had so far been used in the shooting of only a handful of films. The film was also the first Western to be billed as CinemaScope. The New York Times reviewer, although lukewarm to what he considered a "standard, bantam-weight" film, was effusive in his description of The Command's use of CinemaScope to depict the "towering magnificence of the natural setting."
The Command marked the final film appearance of cowboy and stunt man Charles Haefeli, who died in February 1955, according to a Hollywood Reporter news item. A modern source adds Kermit Maynard, Chubby Johnson and Iron Eyes Cody to the cast. According to February 1954 news items, the stars of The Command were brought to the Los Angeles premiere at the Paramount Theatre by stagecoach. Later, for a Heart Association fundraiser, lead actor Guy Madison rode the horse Penny, which also appeared in the film, up the steps of City Hall in the style of old Spanish dons at the end of a three-day celebration of the retracing of the El Camino Real.