DVDs from TCM Shop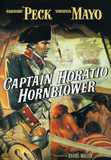 Captain Horatio Hornblower The famed 19th century hero... MORE&nbsp> $14.96 Regularly $19.98 Buy Now
NOTES
DVDs from TCM Shop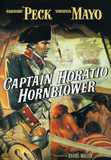 Captain Horatio Hornblower The famed 19th century hero... MORE&nbsp> $14.96
Regularly $19.98 buy now
Irish actor Denis O'Dea's first name is listed as "Dennis" in the onscreen credits. C. S. Forester's novel Captain Horatio Hornblower was comprised of the novels Beat to Quarters, Ship of the Line and Flying the Colours, all of which were published independently at earlier dates. According to Cue, a replica of the Lydia was built on a sound stage and forty members of the Jock Easton Stunt Team were hired to enact sailors. Contemporary sources add the following information about the film: Parts of the film, which was based in England so that Warner Bros. could use funds frozen by the British government, were shot on location in the South of France, in the Mediterranean and in Rye, England. A sequence was shot aboard Lord Nelson's flagship, H.M.S. Victory, in Portsmouth, England.
Virginia Mayo's casting was protested by British critics, who believed that the role of "Lady Barbara" should have been played by a British actress. According to modern sources, Gregory Peck's choice for "Lady Barbara" was English actress Margaret Leighton, but Jack Warner vetoed her in favor of the more voluptuous Mayo. Captain Horatio Hornblower marked the motion picture debut of Australian-born actress Diane Cilento, who was not seen in the film but provided the offscreen voice of Hornblower's wife. Cilento's first onscreen appearance was in the 1952 film Wings of Danger (see below).
Peck and Mayo reprised their roles in a Lux Radio Theatre production of Captain Horatio Hornblower on January 21, 1952. A television movie based on the Forester novels ran on British television in 1963, and Hornblower, a four-part series also based on the novels, was broadcast over British television network ITV in 1998. In 1998, a British television series, Horatio Hornblower, starring Ioan Gruffudd, was released and began airing on the United States cable network A&E in 1999. As of spring 2005, eight episodes have been produced.