DVDs from TCM Shop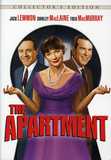 The Apartment An aspiring executive lets his... MORE&nbsp> $7.95 Regularly $14.98 Buy Now blu-ray
USER REVIEWS
See Detailed Ratings
Acting of Lead Performers

Acting of Supporting Cast

Director

Music Score

Title Sequence

Screenplay

Cinematography

Historical Importance

Would You Recommend?

0 Member Ratings
Rate the acting of the Lead Performers

Rate the acting of the Supporting Cast

Rate the Director

Rating of the Music Score

Rating of the Title Sequence

Screenplay

Creatively uses the camera to tell the story

Importance in Cinema history

Would you recommend for fans of this genre
Submit Ratings
Cancel
Write a Review
Read Reviews
NO REVIEWS AVAILABLE
The title has not been reviewed. Be the first to write a review by clicking here to start.
why yes..i think hell will be nice.

in my opinion..Shirley maclane had a sub par performance..it sucked like a lemmon.

music

I always watch this movie when it's on. If for no other reason than that I love the music - one of the greatest movie themes and soundtracks of all time - building up to the scene at the end when Fran is suddenly running down the street to Baxter's apartment and the music sings out.

Another Wilder Gem

Being a huge Billy Wilder fan, I just love this movie. The perfect blend of comedy and a turn to serious drama which makes this great entertainment. Unusual role for MacMurray as the creep and MacLaine plays the vulnerable woman well. A Top 50 film to this viewer.

A great film

Starts out as a run-of-the-mill sex comedy, but slowly evolves into something very deep. Billy Wilder made several good films after this, but this was his last great one.

theme of the apt.

Regarding the previous reviewer, Dam8batta's, interesting take on "The Apartment" as a thematic sellout, I would respectfully disagree. While there are certainly examples of corporate corruption and opportunism abounding in this film I feel the main lesson that Wilder and Diamond wish the viewer to take away is that of love's redemptive power, in this case personified by Jack Lemmon's initially amoral man on the make who, after falling for the emotionally vulnerable Shirley Mac Laine, is transformed into a person with values that transcend career. And while you may reject this theme as hokey there is no denying the fact that Wilder believes in it, since it is the same theme that propelled such classic works as "Sabrina," "Love In The Afternoon," and as Dam8batta alluded to in his review, "A Foreign Affair." Great directors are capable of making wildly dissimilar kinds of films and Wilder was not always the dark cynic of "Sunset Blvd" and "Ace In The Hole." Therefore, I see the ending to "The Apt." as consistent with the movie's central concern rather than contradicting it. However, I thank Dam8batta for a thoughtful, provocative review that got me thinking. Something that is, alas, all too rare on this blogsite.

More satire than sentiment

Poor Jack Lemmon's character has no idea who he really is, but everyone else in the film does. He is a pimp for the executives, and he allows everyone to think he is an amoral 'sexpot' so he can keep on providing a pad for his bosses' extra-marital affairs. Which is worse? When Shirley MacLaine's character attempts suicide, he allows the honorable doctor and his wife to think he is a heel so he can protect his boss. He is a heel, just not the kind they thought he was. Billy Wilder is more cynical than his reputation admits. In the last 5 minutes of this film, as in A Foreign Affair (1948), he tacks on an unbelievable happy ending to please the Hollywood bigwigs and the movie-going public. Stop both films just before this whipped cream is added and they keep their thematic integrity. Hmmm. What does this say about Billy Wilder?

MacMurray's Pinnacle ! Honors to TCM !

Jack Lemmon is one of my favorite actors - all time. I believe the man was of Grecian Quantities. He plays the part of a Shakespearean "fool" in this one. But although Jack and Shirley have weighty parts. The star here is Fred MacMurray. I'm not a fan of Fred's film acting for the most part but this is different. He typically is a beat off, his costume is not worn correctly, he lacks character in his roles, he always seems to be a little short on the grand scale. NOT HERE ! In this role from the souls of his feet to the top of his head, he is perfect. His portrait here is so authentic that he wins the day, completely. This is of award winning caliber, I actually loved this film, also. So, well made so authentic, so melancholy and so human. Thank you TCM for giving us a very thorough sampling of Fred MacMurray. Very well done.

a LEMON, of a performance

Simply, I agree with the one reviewers previous statement that this One "lemon' of a sour performance nearly sinks and stinks any flowing enjoyment of an otherwise incisive movie. Billy Wilder was NOT at the top of his game in his male lead choice. This same schtick also drags down "Some Like It Hot".

Not a comedy

I love this movie; however, in my opinion it isn't a comedy at all - it isn't funny. What is funny about a young woman being sexually exploited? Or an attempted suicide? This movie is sad - about two people cruelly taken advantage of by a bunch of scheming executives. The movie had a beautiful ending which made up for the tragedy of how these two people were treated. I was so happy they found each other. Definitely a five-star movie but not a comedy, outstanding acting. I found it an emotional experience.

The Wilder Years

Dark, cynical, tough, and at the same time, displaying a conventional moral sensibility that seemed to satisfy most audiences of the times (read happy ending). Wilder at the helm, in the middle of an incredible run of unsurpassed films of American life. Brilliant cast, all the way...

The Apartment

Jack Lemmon and Billy Wilder made many movies together and their best one may have been "Some Like It Hot" which they did just before "The Apartment". But "The Apartment" won Best Picture about a New Yorker who loans his apartment out to guys in his office for their flings with their girls but eventually he quits doing that and concentrates on the elevator girl. A well-written comedy-drama which beat out some biggies that year like "The Alamo" and "Spartacus" this Billy Wilder comic concoction finishes with Jack Lemmon and Shirley Maclaine saying "I love you" on New Years Eve.

the apartment

At some point in his career Jack Lemmon should have been locked in a screening room and forced to watch the complete oeuvre of James Stewart. Maybe then he would have figured out how to play a comic/dramatic Everyman without the need to ham it up, mug for the camera, employ annoying actorish tics, overdo the New York accent, and all the other irritating stuff he brings to the service of being one of the most irksome actors in Hollywood history; right up there with Barbra Streisand, (whose older brother he could be.) Now that I've gotten that off my chest I can move on to an appreciation of "The Apartment," a very good Billy Wilder/I.A.L. Diamond comedy that, like "Some Like It Hot" and "Fortune Cookie" triumphs despite the Lemmon in the cast. (Alas, "Irma La Douce" was not so lucky.) The reason it transcends Jack L. is due to the quality of the writing. It's perfectly balanced between funny and sad, comedic and dramatic, farcical and satirical. Not easy to do. Also, Shirley MacLaine, who had a tendency to be like Jack, is blessedly low key here. Her sultry, doleful Fran Kubilek is a much needed counterpart to Lemmon's over the top C.C. Baxter. The problem is, of course, that there is a fatal lack of sexual chemistry between these two. You are much more likely to believe that she'd hop into bed with Fred McMurray's amoral exec than fall in love with Lemmon's schlub. And speaking of McMurray, it's amazing how much his character looks forward to the "Mad Men" persona of a Don Draper or Roger Sterling. In my opinion he gives the best performance in the movie. Give it a B plus. P.S. It's interesting that McMurray's two best roles were as morally corrupt insurance execs in Billy Wilder films.

Layers of learning, symbolically

MacLaine's mirror, personal compact, in Shirley's scene is symbolically significant. Shattered, it proves pivotal, pointing lead characters to dawning awareness. Similar to the script in "It's a Wonderful Life," it takes both male, leading characters (Jimmy Stewart and Jack Lemmon) some time to realize, that they are both beacons, bright stars, saviors, shining lights on reality, truly indispensible, in other people's lives. Uniquely giving hope, when in fact, the other people are so deeply depressed, desperate, they are facing financial ruin, bankruptcy, desolation, heartbreak, to Shirley's suicide. Masterful, musical accompaniment also adds, another, audience's layer of learning. Aspiring Jr. Executive C. C. Baxter/Lemmon is wistful with his own lonely and slightly sensuous, saxophone solo, theme song throughout most of this show until the climax on New Year's Eve, when Shirley splits; snake Sheldrake is left by the bar. As Shirley sprints away, a free-spirit finally free, happy, her hair blowing behind; her history with husbands of other women is behind her. Boogieing to Baxter's bachelor apartment, his memorable sax solo shifts, symbolically and appropriately to the climax, exuberant exaltation. Brilliantly Billy Wilder scores beautifully.

The Apartment

Wilder's Oscar- winning dramadey about corporate advancement in America. Lemmon's insurance clerk lends his apartment to his superiors for their affairs, falls for MacLaine's elevator girl whose MacMurray's 'other woman.' Lemmon and MacLaine were Oscar-nominated for their performances, as was Kruschen as an understanding doctor, MacMurray is effective against type. Winner of five Oscars including: Best Picture, Wilder for Best Director and Original screenplay, Best Film editing and Best B/W Art direction. Skillfully balances comedy, romance and cynicism, this is a first- rate film. I give it a 5/5.

The Apartment

Overall-5/5Lead Performers-5/5Supporting Cast-5/5Director-5/5Score-5/5Titles-3/5Screenplay-5/5Cinematography-4/5Importance-4/5Recommendation for fans of the genre-5/5

Funny Cynical and Sad

It's hard to like a character like Buddy in this film. A guy who gets ahead in the office by pimping his apartment to his bosses? Then falls for a sad girl who always makes bad choices with men. Her words, not mine.Fran is the nicest person in the story. She's young and foolish, at least she's aware than she has made stupid choices. She could do better than Buddy too!Everyone else jumps into their sordid joys with great relish.A cynical story about human nature. And funny!Jack Lemmon pulls out all his annoying affectations & tics for this movie, I actually have a hard time watching him. EVeryone else in the cast is great.

Wilder's Best Comedy

Christine Hoard-Barre

1/1/13

It is a cynical movie and that's the point. It is also funny, perfectly written/directed/acted/edited and filmed. This is a great movie and, in my humble opinion, Wilder's best comedy (and not just Oscar-wise).

My Favorite Discovery out of the Classics

I'm a big fan of Jack Lemmon...I first watched this particular film of his because it was his day on Summer Under the Stars. I've watched it every time it has been shown on tv. Is an all-time favorite now.

not a feel-good movie

I don't always agree with him, but I'm with Mr. Blandings this time. Completely. This movie takes a pretty cynical view of human nature. What I noticed particularly the last time I viewed it was how tacky the women were in it -- all those no-name broads that the men were shacking up with. Men acting like wolves may occasionally be funny, maybe. But women acting like feral felines, not funny.

The Apartment (1960)

Another highly-regarded comedy-drama that left me unimpressed. Why is any portion of this film considered comedic, anyhow? Is it because Jack Lemmon is in it, gibbering on in his bumbling, obsessive-compulsive way? Is it because the film's premise is so ridiculously thin? Maybe the sexually-frustrated executive types that visit this site can clear it up, but don't they typically cheat on their wives by going to five-star hotels and then write the visits off as business expenses? (That's what bohemian-minded politicians do--only they use our tax dollars instead). It seems doubtful that they would be willing to time-share their illicit liasons in a shabby apartment with several other cheating couples (who cleans up the bed? Who would want to??) On top of that the characters are all one-dimensional and unsympathetic--and Buddy and Fran are definitely no exception. Buddy is a contemptible brown-noser and Fran willingly had an affair with a married man. On that note, Fred MacMurray proves yet again that he looks completely out of place playing a sleaze. Was he cast to add to the "high comedy" of the film? Just not buying into the outpour of love for this overrated movie.

never boring

Part of what makes this a first rate film is the variety and complexity in the story, tone and execution. This film is many things and, mercifully, it is NOT many others. This is not a laugh riot or a Neil Simon nostalgia-fest. It is not a Woody Allen homage to Manhattan. It is not noir, nor a woman's film. It is not solely plot-oriented, farcical, racy or cynical. Instead this film is a skillful blending of all these elements. And it zips right along the whole time.What the French do for cooking -- combine some of everything, strategically leave out others, and make it all seem easy, natural and just delicious -- Billy Wilder did with this film. It's as satisfying as a perfect meal.

MUSIC OF THIS MOVIE

The theme song for this movie is the BEST. The theme song has the upsides of the people, then the downsides of peoples desires and finishes with the upsides of the result. Perfectly written theme song. PERFECTLY WRITTEN.

The Apartment (1960)

A classic. Worth your while to watch it...trust me.

I AGREE!!!

With everyone else who says they love this movie. It's one of the greats. Storyline, acting, and how 'bout that B&W photography? So crisp and really stunning. I adored the Jewish next-door neighbors. I wish she'd take care of me next time I'm sick. Yes, Lemmon does seem like he's on speed at times "I'm on a blitz!" but it's delicious none the less. And uplifting. Shut up and watch!

madison ave in n.y.

This movie is the best love jack and shirley. This to me seems like the place where Mad Men plot came fromit looks like they made the 60's story from this clip.

Another Billy Wilder classic!

A definite 5-star rated treat. The Apartment stars Jack Lemmon, Shirley MacLaine and Fred MacMurray and is directed by the amazing Billy Wilder. Taking home a total of five Academy Awards including Best Picture, Best Director and Best Screenplay it's no wonder The Apartment is such a hit. The set designs, music and editing are all fantastic and worthy of a mention, and the camera angles from Wilder are just divine. The screenplay is one of the most memorable thing's about the film. The Wilder-Diamond pairing is terrific and they both write film gold, with lots of humor throughout, as well as drama during the second half. The acting from both Lemmon and MacLaine is fantastic and both are terrifically skilled in both comedic and dramatic performances. It's hard to believe that Jack Lemmon didn't come home with the Oscar. The supporting performances are fine, too. The scenes are done very well and I don't have much bad things to say. The Apartment is a fantastic film.

Love it...

Although some movie buffs want to know how in the world could Wilder be on top with "The Apartment" but yet bomb out later on with 1964s "Kiss Me Stupid". This movie is the ultimate. Jack Lemmon plays a schmuck that lets the big dogs use his apartments for their "extracurricular activities" and when Shirley McClaine decides to off herself in his place on Christmas Eve after being with Fred MacMurray, everybody swears he's the one doing the dirt because he's the one covering up for these bastards. Throughout this whole movie, you feel sorry for Lemmon, but in a sense, he put it on himself by letting these lowlife dogs use his place to do their business, but then again one hand washes the other but like they say in the end, it ties up nicely. didn't know it was on now.

The first screen pairing of Lemon and Maclaine.

This is the first screen paring of Jack Lemon and Shirley Maclaine..in Mr.Wilder's screen satire of big business' sexual misconduct.The performances by these two is funny,charming and warm.The performances from the supporting cast is also memorable.

The Apartment (1960)

Billy Wilder and I.A.L. Diamond do a magnificent job writing this outstanding classic. The screenplay is fresh and brilliant. Witty, touching and funny, with an amazing cast. Jack Lemmon is perfect in the lead role. Expertly done, flawless production. A deserved best picture winner.

Enjoyable!

When I saw how many minutes the film was, I thought I would be bored, but instead it was so enjoyable time flew by. I really liked it and would recommend it.

One of the best movies ever!

Simply terrific movie. The Apartment should be in every serious top ten movie list. I fell in love with Shirley MacLaine watching this movie. They do not make women, or movies, or actors, like this anymore. Jack, Fred, and Shirley give five star performances throughout. This one has everything, and then some. One of the best movies ever.

I LOVE this movie!!!

this is my favourite movie of ALL timejust love Jack Lemmon and Shirley McLaine is a goddess of all goddesses

Highly Recommended

Never was too much of a fan of this cast of actors until I had the pleasure of watching this movie.What great performances.It was so well acted having a fantastic story that takes you through a range of emotions and seemed true to life.This is the type of movie that you dont want to end because its entertaining and enjoyable the entire time your watching it.So glad I took the time to give this one a chance.

Simply excellent!!

What a delightful movie! It has all the right ingredients for a modern-day tale of big-city life of an insurance clerk (a serious actuarian). He has big career ambitions and an undeserved reputation as a rake by his neighbors. He is really a very decent fellow with an unrestrained romantic streak. Jack Lemmon plays this character just absolutely perfectly. Shirley MacLaine is the love interest, and Fred MacMurray is surprisingly good in a rare role for him. There is bittersweet romance, and there is plenty of humor and satire. The social setting may seem outdated now, especially in the area of men's predatory attitudes towards women in the work place. But maybe it is only a matter of degree of sophistication. At any rate, as the doctor in this movie says, "Be a human being!"... and see The Apartment. I guarantee you will be well rewarded!

Please Read:)

Overall this film is great. The acting,story, directing, Jack Lemmon- all great! I reccomend it to anyone who loves a laugh and a great witty love story. I feel like this is the kind of film that's put off as just another romantic comedy, but its so much more than that. It's brilliant.

Great Movie!

Jack Lemmon is outstanding in this movie as well as Shirley Maclaine. I would pit this movie against any new movie. I was not a fan of the older movies until I watch Turner classics. YOU cant keep me away from watching movies like the apartment and others. Thank you Turner Classics.

One of my Favorite Movies

I enjoy Jack Lemmon in just about all his movies and I really love Shirley Maclaine as well. They both do an excellent performance. This movie still has social significance today, I think, even though it was made over 40 years ago. I am looking forward to watching it again. I never tire of it. One of the great movies and one of my favorites.

Understated brilliant movie

I saw this was on and thought, nah I have seen this before, know the story, etc. Yet after two minutes I was re-hooked. I was able to appreciate the direction and screenplay that were both seemingly simple yet had you totally captured. The movie move along effortlessly and had me engaged the whole time.If someone told you the storyline, you would think it was about tawdry extramarital sex. But it showed the shallowness of midde aged men lusts and the poor targets of naive youth. Shirley MacLaine is the true star - perfect acting, warm and beautiful in a simple way. She seemed much wiser than the actions her character carried out. Lemmon was great but did manage to be too corny at times. Fred MacMurray whom I never like was actually very good as the despicable powerful letch.The theme music is beautiful and haunting.It really is a superb movie one of the best.One funny bit. I looked at the trailer here at TCM and the first scene it showed was the very last scene of the movie - dont look at the trailer!

Great Movie

One of my favorites.

One of the best....

This is one of my absolute favorite movies of all-time! Jack Lemmon is so irresistibly funny and Shirley MacLaine is just wonderful - a must-see to anyone who hasn't yet!!!

A must see

Jack Lemmon is a genius. Please play this on TCM - we hardly see it played. Both genders will enjoy this classic!

One of my favorites

An all around great movie--great acting, great story, great (enter movie aspect here)!!
*We protect your personal infortmation and will not provide it to anyone without your consent. For a complete explanation, please refer to TCM's Privacy Policy. By submitting your contribution, you agree to TCM's Terms of Use.