DVDs from TCM Shop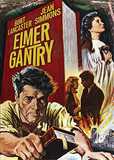 Elmer Gantry A young drifter finds success... MORE&nbsp> $14.96 Regularly $19.95 Buy Now blu-ray
USER REVIEWS
See Detailed Ratings
Acting of Lead Performers

Acting of Supporting Cast

Director

Music Score

Title Sequence

Screenplay

Cinematography

Historical Importance

Would You Recommend?

0 Member Ratings
Rate the acting of the Lead Performers

Rate the acting of the Supporting Cast

Rate the Director

Rating of the Music Score

Rating of the Title Sequence

Screenplay

Creatively uses the camera to tell the story

Importance in Cinema history

Would you recommend for fans of this genre
Submit Ratings
Cancel
Write a Review
Read Reviews
NO REVIEWS AVAILABLE
The title has not been reviewed. Be the first to write a review by clicking here to start.
QUITE a movie!

One scene captivated me early on, Lancaster is free-riding in a freight car and some hobos are going to steal his gear. He lays a few flat, sees he's outnumbered, jumps the train with his luggage. It's quite a picture, him plucking his way down the RR barefoot, then hearing that gospel hymn. Hope I never forget it. Also enjoyed watching old America between wars, when a tent would go up and many would gather and they'd be preached at and cajoled and solicited...all received with an open heart. A woman in an old fashioned velvet dress showing the crowd "Look...milk!" was just delightful, nothing strange about that. Tent revivals were a fascinating phenomenon, I'm glad good ole Sinclair wrote this story.

You Can't Fight God And Have A Hollywood Ending

Battling against God in his book Elmer Gantry, Sinclair Lewis' novel was about an alcoholic evangelist who would sleep with any woman he could. This Nobel prize winning author died in a clinic near Rome from alcoholism . . . not exactly a happy ending.

elmer g

The highlight of Richard Brooks' Pretentious Period, that roughly twenty year span between "Blackboard Jungle, " where the first stirrings of self importance can be seen, to "The Professionals," where Brooks happily decided (maybe because he felt he was slumming by directing a Western) to simply tell an exciting story. "Gantry," like "Brothers Karamazov," and "Lord Jim," two other products of the Pretentious Period, is based on an Important Novel (although not as great as the other two) so the film must be Important, as well, resulting of course in a general tone of pomposity. Any lightness and/or humor is strictly coincidental. Lancaster happily lends himself to the general mood, giving a loud, overblown performance that aims for the obvious and then hangs on to it for dear life (or Oscar.) The women fare better. I like both Jean Simmons' repressed sexuality in the Aime Semple McPherson type character and love Shirley Jones' flaunted sexuality as the whore who throws multiple monkey wrenches in Gantry's machinery. Give it a C plus for these two gals.

Great

My grandfather was the key grip,and my grandmother was the hairdresser on this and many,many movie classics,if you have any story's or things to share it would be great

Yuck!

Here we have Burt Lancaster gritting his teeth and over-acting as was his wont in nearly every film he made. I despise this film and everything it represents. It's only plus is the acting of Shirley Jones, so completely out of her usual sugar-coated character that it is startling.

the Crowd

I saw the movie several times in hopes I would spot my Grandfather (Edward Wick) who was bussed from Long Beach, CA to a location side of the crowed that was in the movie. I think he got a sack lunch and $7.00 for play in the crow scene.Mel Wick

Love this film!

Il love this film, not because it is a Christian film. It is not doctrinally correct. So, it cannot be called a truly Christian film. It uses portions of God's Word very effectively as part of the overall story (very effectively, I might add). But, nevertheless, I love this film because it has a terrific story, great photography, and, it has Burt Lancaster, Jean Simmons, and Arthur Kennedy in it. I never tire of the movie, nor the wonderful performances of these fine stars, especially, the great, Burt Lancaster. He truly outdid himself in this great film. I still get goose bumps ever time I watch the scene where he does the slide down the aisle to the altar, holds God's Word lovingly, and makes that wonderful reference to being on the team of "Jesus Christ, The Lord"). What acting! Was he acting? I can't tell. I truly hope he wasn't. I keep thinking I will tier of this movie. I haven't yet, after watching it 15 or 20 times. Thank you, TCM for showing such wonderful classics like, "Elmer Gantry".

A Classic that is not dated

Even the Hollywoodization of Sinclair Lewis' Elmer Gantry couldn't cover up ALL the hypocrisy of organized religion that Lewis gleefully portrayed in his book. Regardless, this movie stands the test of time, because the human condition regarding religion hasn't changed. There are still plenty of people who desperately want to believe, and plenty of charlatans who make a living feeding them childish stories of heaven and hell. Trouble is, the charlatans don't believe any of their sermons; they count success by the amount of the collections. I love this movie.What I didn't realize until recently was that the movie only covers a small part of the book. The movie shows Elmer as a morally deficient traveling salesman who just stumbles into the revival business. That's OK, as far as it goes, and it makes for a great movie. But I urge everyone to read the book. There you will find that Elmer is determined to be a rich preacher from his adolescence, and even goes to college to get his theology degree. After he runs into the Sister and turns her revival schtick into a big success, he and the Sister have quite a hot relationship. After she dies in the fire, Elmer moves on to bigger and better preaching gigs until he becomes a nationally recognized preacher man. Along the way he sets new records for hypocrisy. And Lulu has a bigger and even more fullfilling role.

ELMER GANTRY

A fascinating movie and also fascinating discussions. I have always been a Burt Lancaster fan and this film is truly a tour-de-force performance; one richly deserving of his Oscar win. The film by the excellent Richard Brooks (Cat On a Hot Tin Roof) certainly gives a balanced blend of the ins and outs, the political machinations of organized religion,and the danger of it becoming another human endeavor. The con man Elmer Gantry (Lancaster), and Lulu ( Oscar Winner Shirley Jones) are clearly defined. but I think the more interesting character was the the Evangelist Falconer (The great Jean Simmons); who started out with sincerity in her work, but ended up being seduced by her own ministry, which made her an even more tragic figure than Gantry himself. I was also moved by the film's last scene, in which when Bill (Jagger), who basically exploited Falconer and her followers; offers Gantry to take over for Falconer. Gantry's quote from 1 Corinthians 13 while he is walking away indicates he's on a new path of understanding himself, human nature, and even God.

Elmer Gantry

Imagine the thrill of going to church, now imagine that excitement in a great film like "Elmer Gantry." Lancaster won the only Oscar of his career as the title character, a coniving evangalist who joins Simmons' religious movement, Jones won a Best Supporting Actress Oscar as Gantry's prostitute ex-lover. Brooks directed & won an adapted screenplay Oscar creating an always-compelling drama. Riveting and engaging, a great film. I give a 4.5/5.

Bible Study 101

I have always, in the past, overlooked this movie. I didn't think it would be any good. But, since I've gotten involved in bible study, I realized how much I've missed out. This movie makes you want to open your bible and start memorizing God's Word. Also, beware of the wolves out there at the same time.

closer to Billy Sunday

The Elmer Gantry character, when he is preaching, reminds me of the real, old-time evangelist, prior to Billy Graham, Billy Sunday. Burt Lancaster truly "nails" that character, as he did in every film I have seen with him. What an actor!

Joel 'Elmer Gantry' Osteen

Does the Elmer Gantry character remind anyone else of that silver-tongued Bible slinger Joel Osteen?

'Elmer Gantry' film reaffirms faith

Those who think the film version of "Elmer Gantry" is an attack on faith may be missing a different perspective. Writer-director Richard Brooks indicated that his point wasn't to attack people of faith but to look at someone who uses the faith of others for his own selfish ends. (My book on Brooks, 'Tough as Nails,' explores the film in detail.) I think that's what Elmer Gantry is saying at the end of the movie. The 'childish things' aren't matters of faith, I would argue, but the unprincipled activities in which he's engaged. As far as Jean Simmons' performance, she is excellent, as usual, in a role that is a counterweight to Lancaster's.

I still believe in what I wrote...

It's been over a year since I wrote my comments about ELMER GANTRY. After noticing that a subsequent poster took issue with some of my views, I went back and looked at what I had originally written. I believe I wrote it correctly, and it is still how I feel. There is no need to apologize to anyone or to say anything is inappropriate (when it's not). We all look at film in our own unique ways. And again, this is the way I see Jean Simmons' work in ELMER GANTRY.

Not so Irresponsable ( In fact illuminating)

Pehaps this is not the forum to discuss this but I think Jarrod McDonald comment is inapropiate. Elmer Gantry has been a phony all his life and Shara a saint, yet at the end Jean Simons character is more focused on the church ( an idol she has created) than in what actually what she knows faith can do, and how she can be usefull to other people.On the other hand Gantry is transformed at the end, and he becomes more human and close to God ( wants a wife and love) and not to be a phony anymore.The end, when he says about "child ways" he means that transformation in himself, he has to become truthful with himself and with people, from then on. So I think the movie is not actually against faith ( it may be against organized religion), is actually a warning that the faith has to be in God not in things or what we create to increase our ego.Sorry Jarrod, I had to say this.

Irresponsible cinema

Some express bewilderment about why Jean Simmons was neglected at Oscar time for her portrayal of an evangelist in this film. I think it's because she played neither the devil incarnate (as Lancaster did) or the lusty harlot (as Jones did). Instead, hers is a more sympathetic middle-of-the-road character who does have faith and who perishes because of that faith. That type of character would not be celebrated or applauded by liberal Hollywood. Also, I take great exception with Brooks' screenplay which ends on an irresponsible note, equating religion with child's play, something you outgrow when you mature. I don't think that holding on to your faith and making religion a priority is an immature thing to do at all. This film was produced around the time that 'Inherit the Wind' played on Broadway and came to the big screen. So it was fashionable to deride old time religion. And fifty years later, we are given this type of nonsense as a classic. Giving it several 'ones' to lower its overall average.

Great Movie!

Is not only the great acting. the story has different angles where to be studied from, great ending. Burt Lancanter has many good roles ( Seven Days in May, Run Silent..Run Deep), but Jean Simmons role is also great in this movie, as Arthur Kennedy and Dean Jagger. Have to watch it!

Burt's Best

The only performance that comes to mind that matches Burt Lancaster's portrayal of the title character, is George C. Scott's "Patton", 10 years later. Sinclair Lewis would have been overjoyed. Great direction by Richard Brooks, and an outstanding supporting cast. This movie deserved the awards it received; especially Burt.

What an incredible film and performance!!!

This was a VERY good movie and Burt Lancaster's performance was phenominal. Incredible powerful performance in which Mr. Lancaster truly deserved his Best Actor Oscar. This role was perfect for him!!!

Burt Lancaster

I LOVE Burt Lancaster and any movie he is in

Love this movie!

I love this movie. I wasn't that familiar with Burt Lancaster"s movies but this movie made me want to watch more of his work. This movie really shows off his talent and makes me smile to just think of his role in this movie. Watch this movie. It reminded me of Robert Duvall' movie The Apostle.
*We protect your personal infortmation and will not provide it to anyone without your consent. For a complete explanation, please refer to TCM's Privacy Policy. By submitting your contribution, you agree to TCM's Terms of Use.