DVDs from TCM Shop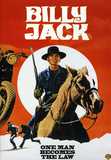 Billy Jack A former Green Beret fights to... MORE&nbsp> $10.95 Regularly $14.98 Buy Now
NOTES
DVDs from TCM Shop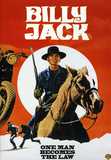 Billy Jack A former Green Beret fights to... MORE&nbsp> $10.95
Regularly $14.98 buy now
The opening and closing cast credits differ in order, with the closing credits excluding the names of several of the film's actors who portrayed villains. Although the opening credits indicate that the National Student Film Corporation copyrighted the film in 1971, the film was not registered for copyright. "T. C. Frank" and "Frank Christina," credited as director and co-writer respectively, are pseudonyms for the film's star, Tom Laughlin, as is the producer's name Mary Rose Solti. "Teresa Christina" is a pseudonym for Laughlin's wife and co-star, Delores Taylor. Teresa Kelly, who portrays "Carol" in the film, is the Laughlins' daughter. Actor Howard Hessemann appeared under the name Don Sturdy. Just prior to the film's production Hessemann had been involved with a Los Angeles improvisational acting group called The Committee, which had roots in the San Francisco "improv" theater. The Committee and members of the cast are acknowledged in the closing credits for "special improvised material. For more information on The Committee refer to the entry for 1968 Funnyman.
Billy Jack opens with voice-over narration by Taylor as the character of "Jean Roberts," which continues sporadically throughout the film. The Freedom School in Billy Jack was inspired by the Montessori method, a form of educating children that emphasizes the individuality of each child to discover and explore his or her unique gifts and talents, free from criticism or restriction. Laughlin and Taylor, longtime supporters of the method who opened the first Montessori school in Los Angeles according to a February 4, 1972 Los Angeles Times article, incorporated many of its tenets within the story of the film, which was shot on location in Arizona and New Mexico. Although Taylor appeared as an extra in Born Losers, Billy Jack marked her official feature film debut.
The following information was compiled from several news items and articles from 1971-1978: According to Filmfacts, AIP, the distributor of Born Losers, was originally to release Billy Jack, but Laughlin bought himself out of the deal because of repeated "suggestions" during filming. Laughlin then made a deal with Richard Zanuck, then head of Twentieth Century-Fox. When Laughlin discovered that Zanuck intended to re-edit and re-score the film, he protested vigorously. Unable to deter Zanuck, Laughlin stole the soundtrack, prompting the producer to sell the film negative back to Laughlin for $100,000.
Laughlin himself subsequently previewed the film in twenty cities and sent the enthusiastic preview cards to studio heads, but none expressed interest in its distribution. After Warner Bros. executive Ted Ashley privately screened Billy Jack, he urged the studio to buy it. In March 1971, Warner Bros. paid Laughlin $1.8 million for the film, but reneged on their original promise to full publicize the film and, with little or no fanfare, placed it in what Laughlin described as "porno houses" and drive-ins. Frustrated with the "hippie drug flick" advertising by Warner Bros., Laughlin devised his own campaign for Billy Jack and successfully raised revenue in small town theaters. Despite continued refusal by Warner Bros. to screen the film for major critics in big cities, within twenty months, due to Laughlin's personal marketing, Billy Jack grossed over $10 million dollars, making it a surprise box-office success.
According to a February 1972 Hollywood Reporter news item, Laughlin and Taylor sued Warner Bros. for $51 million dollars, accusing the studio of falsely representing intentions for distribution and promotion of Billy Jack and a 'monopolistic block booking' whereby the film was sold for fees drastically below those of other successful pictures." Daily Variety's February 2, 1972 article on the suit lists the amount as $34 million. According to articles in Daily Variety and Hollywood Reporter on December 21, 1972, Warner Bros. settled the suit out of court, and in January 1973, the studio devised a re-issue of Billy Jack with a new advertising campaign valued at over $70,000. An April 1972 Daily Variety item stated that Elizabeth L. James filed suit against Laughlin and National Student Film Corp. for $900,000 claiming that in 1966 she had entered an oral agreement to write and compose literary works for films in which the profits would be equally divided. The outcome of the suit is unknown.
By March 1973, with the film playing in major city theaters, Billy Jack grosses exceeded all expectations. In June 1973 Warner Bros. and Laughlin's Billy Jack Productions were asked by the Federal Trade Commission to soften the advertising campaign which described the film as "the most popular picture of our time," and compared its public impact to major blockbuster films like The Sound of Music and IThe Godfather . According to a November 1973 Variety news item, the film was predicted to be on the road to becoming "a $60 million phenomenon," credited largely to Laughlin's marketing and heavy booking saturation. In 1976 Laughlin brought another suit against Warner Bros. for $94 million, based on the film's sale to television. The suit was settled in August 1978, according to articles in both Daily Variety and Hollywood Reporter.
Reviews of Billy Jack ranged from dismissive to enthusiastic. The Washington Post reviewer called the film "a horrendously self-righteous and devious action movie," and maintained it was as much an exploitation movie as Born Losers, the 1967 American International production that introduced the character of "Billy Jack" (see below). As with Billy Jack, Laughlin's producer and director credits were under pseudonyms. Variety acknowledged Billy Jack was clearly a "labor of love," but found it heavy handed and overly long. The July 1971 New York Times review praised Laughlin and Taylor, in particular, then noted that "some of the non-professional delivery of lines...is incredibly awful," and found the violence predictable. The August 13, 1971 Los Angeles Times review called the film "crude and sensational, yet urgent and pertinent [and]...in its unique, awkward way one of the year's important pictures." In a second, later review, critic Charles Champlin acknowledged the film was "wildly and justifiably successful," and noted that in a year that saw the release of several brutally violent films, Billy Jack demonstrated "alternatives to violence" and was "a stunning piece of work."
After the box-office success of Billy Jack, Laughlin and Taylor re-teamed for a sequel, entitled The Trial of Billy Jack (see below), which was released in 1974 by Laughlin and Taylor's own company. A third sequel produced in 1976, Billy Jack Goes to Washington was never released in theaters. In a June 20, 2005 New York Times interview with Laughlin and Taylor, they announced their intention to produce another "Billy Jack" sequel, out of frustration with political and social events, including the 2003 Iraqi war.