DVDs from TCM Shop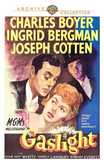 Gaslight A newlywed fears she's... MORE&nbsp> $14.36 Regularly $17.99 Buy Now
FULL SYNOPSIS
After her aunt and guardian, Alice Alquist, a renowned opera singer, is strangled to death in their London home at No. 9 Thornton Square, traumatized teenager Paula Alquist moves to Italy. Ten years later, Paula confesses to her devoted voice teacher, Maestro Guardi, that she has finally put her past behind her and fallen in love. Guardi encourages Paula to follow her heart, and consequently, she accepts the proposal of Gregory Anton, a pianist whom she has known for only two weeks. During their honeymoon in Lake Como, Gregory tells Paula that he has always dreamed of living in a fashionable London square, and anxious to please her husband, Paula suggests they move to her aunt's house in Thornton Square. As soon as they are back at long-deserted No. 9, however, Paula's terrifying memories begin to resurface, so Gregory insists that all of her aunt's belongings be stored in the attic. Paula then finds a letter hidden in her aunt's sheet music, dated two days before her murder, in which the writer, Sergius Bauer, begs to see her aunt. When Paula reads Bauer's name out loud, Gregory angrily grabs the letter and silences her.

Three months later, as they are about to leave for a much-anticipated Tower of London tour, Gregory presents Paula with his great-grandmother's brooch, but cautions her not to wear it until the clasp has been fixed. Paula, who has not strayed from the house or entertained any visitors since marrying, puts the brooch in her purse, dismissing Gregory's warning that she might lose it. During the tour, however, Paula senses that the brooch is missing and becomes agitated. Then, while walking toward the Crown Jewels exhibit, Paula is greeted warmly by Brian Cameron, who had been a fan of Alice's and momentarily mistook Paula for her aunt. Gregory is immediately suspicious of Brian, even though Paula insists that she has never met him. Once back at home, a contrite Paula confesses to Gregory that she lost the brooch, and he accuses her of being forgetful. Later that night, after Gregory has left for his music studio, Paula sees the gaslights in her bedroom dim inexplicably and hears footsteps overhead. Two months later, Brian appears in Thornton Square and questions Paula's nosy neighbor, Miss Bessy Thwaites, about Paula. At that moment, Brian sees Paula standing in her front door, apparently preparing to leave. When Nancy Oliver, a saucy young maid hired by Gregory, asks Paula exactly where she is going, however, the increasingly insecure Paula retreats inside. Made suspicious by Paula's odd behavior, Brian, a Scotland Yard detective, studies the police file on Alice's unsolved murder and learns that several foreign crown jewels, which had been given secretly to Alice by a royal admirer, disappeared on the night of the murder. Convinced that Paula is in danger, Brian assigns Williams, a constable, to keep an eye on No. 9. Later, after Gregory accuses Paula of harboring an irrational mistrust of Nancy, Brian, posing as Miss Thwaites's nephew, tries to call on Paula, but is turned away on Gregory's orders. Paula is upset and confused by Gregory's manipulations, but forgives him as soon as he announces that he is taking her to the theater that night. Paula's joy is cut short, however, when Gregory accuses her of absentmindedly removing a painting from the parlor wall. Although Paula pleads her innocence, Gregory finds the painting on the staircase, where it had ended up twice before, and contends that she moved it in a thoughtless daze. Gregory then tells Paula she is too sick to go out and prepares to leave for his studio.

Revealing that she has been hearing strange noises, Paula begs Gregory not to go, but he dismisses her fears and leaves. Soon after, Paula sees the lights dim and hears the overhead footsteps. Sometime later, Brian and the Antons are invited to a piano concert at Lord and Lady Dalroy's. As the evening is about to start, however, the Dalroys receive a note from Gregory stating that Paula is too ill to attend. At home, Paula becomes upset when Gregory tells her about the note and threatens to go to the Dalroys' alone. Gregory then agrees to attend, but during the concert, he whispers to Paula that his watch is missing. Paula immediately finds it in her purse and starts to cry, disrupting the performance. Gregory and Paula return home hurriedly and, unknown to them, are followed by Brian. When Paula comments that her mental problems began with the discovery of her aunt's letter, Gregory angrily informs her that the letter never existed and that she is going insane, just as her dead mother had years before. He then tells her that he has arranged for two doctors to examine her, with the intention of committing her to an asylum, and leaves for his studio. Brian and Williams trail him as he circles around the block, but soon lose him in the fog. Inside, Paula begins to hear the footsteps and asks Elizabeth Tompkins, the cook, if she hears them too. Elizabeth is hard of hearing, however, and says no. Later, Williams reports to Brian that he saw a disheveled Gregory emerge from the mews outside his house, causing Brian to speculate that he must have gone into the deserted No. 5 and crossed the roof to No. 9.

That night, Brian waits for Gregory to depart and then pushes past Elizabeth to see Paula. While Brian talks with Paula, convincing her that she is sane, Gregory is tearing apart Alice's furniture in the attic, searching for something. Brian forces open Gregory's desk and notices that Gregory's gun is missing from its box. At the same time, Paula finds her aunt's letter, and by comparing the handwriting on the letter against Gregory's note to the Dalroys, Brian concludes that Gregory is Bauer, whom he knows was one of Alice's accompanists. Brian speculates that Gregory killed Alice for the jewels but, as he was unable to find them on the night of the murder, married Paula to gain access to the house. At that moment, Gregory, still upstairs, finally finds the jewels, which were sewn onto one of Alice's opera costumes, and tears them off. Seeing the gaslights suddenly brighten, Brian leaves the house before Gregory descends from the attic. As Gregory confronts Paula about the broken desk lock, Brian, having entered the attic through the roof, appears with the torn costume and accuses Gregory of Alice's murder. The two men begin to fight upstairs, and, when Paula hears a gunshot, she rushes to the attic and finds Gregory tied to a chair. After a distraught Paula taunts the imprisoned Gregory, he confesses his crimes, noting that the jewels had an unnatural hold over him. As they wait for the police, Brian consoles Paula and offers to visit her whenever she needs him.