DVDs from TCM Shop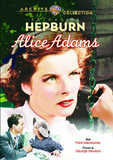 Alice Adams A small-town girl with social... MORE&nbsp> $14.36 Regularly $17.99 Buy Now
NOTES
Booth Tarkington's name appears above the onscreen title. Onscreen credits do not include a listing for editor. Modern sources credit Jane Loring, who worked as an editor on Hepburn's previous film, Break of Hearts, and was a friend of the actress at the time of this production, with the editing. Studio production files, however, indicate that Loring was paid $3,500 out of the picture's directing budget. RKO borrowed Fred MacMurray from Paramount for the film. A Hollywood Reporter news item states that RKO executives wanted Randolph Scott to play MacMurray's role, but were unable to cast him because of his commitment to star in Paramount's So Red the Rose. In Hollywood Reporter production charts, Walter Brennan is listed as a cast member, but his participation in the final film has not been confirmed. The New York Times reviewer, like many other reviewers, commented that in Alice Adams Hepburn "resumes her high place after faltering in several bad pictures." Prior to this film, Hepburn had appeared in Spitfire, The Little Minister and Break of Hearts, all of which were box office failures. Hepburn earned her second Best Actress Academy Award nomination for the film, but lost to Bette Davis in Dangerous. The film was nominated for Best Picture, but lost to another RKO film, The Informer.
Modern sources give the following information about the production: Producer Pandro Berman had two directors in mind for the film-George Stevens and William Wyler. One modern source states that Hepburn preferred Wyler and pushed Berman to choose him. Another says that Hepburn's friend and collaborator, director George Cukor, advised her to push for the relatively unknown Wyler, but that Berman felt that Wyler's European background was inappropriate for the small town American setting. Still another source states that Hepburn and Berman, unable to express their preference for Stevens, who had only a handful of undistinguished feature films to his credit, flipped a coin until Stevens came out the winner. When Jane Murfin's first draft of the script proved inadequate, Berman brought in Mortimer Offner. The script had not been completed by the time shooting began, and pages of it were brought in on a day-by-day basis. The interior of the Adams' house was inspired by a house that Stevens had seen in Los Angeles. During shooting, Stevens and Hepburn argued frequently about how to shoot certain scenes, and one of the "porch" scenes required eighty takes because of Hepburn's resistance to Stevens' direction. The scene in which Hepburn cries in her bedroom caused the actress particular distress, and it wasn't until Stevens threatened to use dubbed-in crying that she agreed to perform the scene as shot. (One modern source, however, contends that Stevens moved Hepburn to cooperate by delivering a touching speech.) Although modern sources state that Hepburn used Fred Stone's delivery of the word "home" in one scene to provoke genuine tears in herself, the word was not heard in any of Stone's speeches in the viewed print.
Modern sources credit Mel Berns with makeup and Max Steiner with musical score, and add Harry Bowen (Laborer) to the cast. In 1923, King Vidor directed his then wife, Florence Vidor, in an Encore Pictures version of Tarkington's novel (see AFI Catalog of Feature Films, 1921-30; F2.0087). Although several early 1956 "Rambling Reporter" items in Hollywood Reporter announced that Judy Garland and Eddie Albert would star in a remake of Alice Adams, that film was never produced.