DVDs from TCM Shop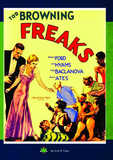 Freaks A lady trapeze artist violates... MORE&nbsp> $10.95 Regularly $14.99 Buy Now
USER REVIEWS
See Detailed Ratings
Acting of Lead Performers

Acting of Supporting Cast

Director

Music Score

Title Sequence

Screenplay

Cinematography

Historical Importance

Would You Recommend?

0 Member Ratings
Rate the acting of the Lead Performers

Rate the acting of the Supporting Cast

Rate the Director

Rating of the Music Score

Rating of the Title Sequence

Screenplay

Creatively uses the camera to tell the story

Importance in Cinema history

Would you recommend for fans of this genre
Submit Ratings
Cancel
Write a Review
Read Reviews
NO REVIEWS AVAILABLE
The title has not been reviewed. Be the first to write a review by clicking here to start.
Johnny Eck, the half man

I had seen a midnight showing of Freaks in the 1970s and found it to be compelling, upsetting but also enlightening as to the lives of people born with deformities.Little did I know back then, that when I moved to the Fells Point neighborhood in Baltimore in 1982 that I would actually meet Johnny Eck.Johnny Eck was a fraternal twin. His brother Robert had no deformity but Johnny was born with feet attached to the bottom of his torso but no legs. They were born in Baltimore in 1911 to the Eckhardt family and Johnny soon learned how to walk on his hands. Johnny was always upbeat about his birth defect saying he was "snapped off at the waist". He was a big star in the circus world of sideshows, takiing the name of Eck. When the sideshow business dried up because of moral concerns about taking advantage of deformities, Johnny was out of work. Like many other "freaks" the sideshow was his family and it provided him with a good living.Oddly enough, instead of helping out the freak show stars by ending the side shows, it took away their income.Johnny and his brother Robert returned to Baltimore to the family home at 622 North Milton Avenue. Some of my older neighbors told me that in the 1950s, the brothers started up a children's train ride in a local park and he had a special race car made for himself with hand gears that he would drive around the city. He began to learn the art of painting scenes on window screens, an old Baltimore tradition and that is how I met him. He would sit on his front stoop with his little dog and was very gracious with young fans who had just discovered "Freaks" often inviting them into his home to see his model sets and trains and his painted screens. Unfortunately, Baltimore grew more dangerous in the late 1980s. He and his brother were attacked and robbed in 1987 and they no longer invited strangers into their home.He died peacefully in his sleep at the age of 79. He never thought of himself as handicapped

Excellent Movie

There is little question that people knew how to make movies in the 1930s. Freaks is a textbook example of good movie-making and 1st class direction.

Bizarre Creepy and Unusual

The strangest great movie which still holds up well today. Browning who has a long list of horror and bizarre films, especially during the silent era, comes up with a truly one of a kind classic. The non-professional cast of sideshow performers come off as if you are there. The closing scene is shocking and deserved but does she lay eggs? A top 50 film in my book and recommended for film buffs. The first I saw this gem. I was expecting something different but Browning makes a classic. His handful of sound films are all unique. A must-see film.

Horror movie?

This is a fascinating, one-of-a-kind movie. I'd be lying to deny that any of any of my fascination is due to the actual physical deformities of the actors. But they are real people, and their roles, as well as their real lives, are not about being monsters, but about being human. Their presence in a movie does not make it a "horror movie." "Horror" is being stalked by a serial killer, bitten by a vampire, or turned into a werewolf. Being extra-short or lacking a limb has nothing to do with being an evil killer, or anything else but human. I appreciate that TCM airs this film and hope it continues to do so. But it doesn't have to be at only at selected Halloweens, and for crying out loud, STOP CALLING IT HORROR! This is 2015!

Amazing film

As a collector of 16mm horror films I just had to add this film to my collection i would not classify this as a horror film per say but a shock film for first time viewersit will numb you But, as the story progresses and your senses get use to seeing the deformed you then start seeing them as people with the same human emotions as we all have they stick up for each other and assistlike a family eating together, living together, playing together and trying to get through life together best way they knew how. Just like a real family you hurt my brother you brought the wrath and gore on yourself from the family this is a film not easily forgotten

Freaks 1932

This is one of my all time favorite films, a true classic. I love this film so much I decided to create some FREAKS collectors items. You can check them out at Kickstarter https://www.kickstarter.com/projects/1662009592/freaks-playing-cards?ref=search

Gooba Gobble

I remember seeing a different version of Freaks many years ago in the pre-Ramones early seventies. The beginning had an overly long disclaimer, stating more or less that, even though actual freaks were used in the production of the movie, they are really just like us "normal" people. That's scary. There was another scene that was not shown in the TMC version. The part where Prince Randian, The Human Torso, rolls a cigarette and lights up using only his mouth. In the TMC version, you only see Prince Randian lighting the cigarette, not rolling it. I wonder if the censors edited that scene as it may appear that the Prince was twisting a cannabis joint. Of course, the infamous castration scene was cut. Please excuse the bad pun, I couldn't help myself. Gabba Gabba Hey, Everybody!

Gabba Gabba Hey!

Roger Steinbrink

10/19/13

So classic. I can just see Joey, Dee Dee, Johnny, & Marky sitting around grooving on this movie.It's actually quite touching; the romance angle, and the bonding of the others when someone tries to hurt one of their own. I don't know if Mr. Browning meant for this to be shocking sensationalism, or telling a good story with unusual characters. In any event, I think he succeeded on many levels. A true classic.

Haunting

When I was in college in Boston in the 1970's, I shared an apartment with a woman who was very knowledgeable about classic films. She was from New York and was able to visit many art cinemas. I, on the other hand, was from a small town in Western Massachusetts so had not been exposed to these directors. We viewed "The Freaks" in an art cinema in Boston, and till this day, I cannot forget this film. I'm not sure when the thirty minutes got lost, but I suspect we saw them. What remains in the darkest recesses of my memories is the freaks sitting around a dinner table pounding their knives and forks and shouting, "Gibble, gobble, gibble, gobble, we accept her." Cleopatra is horrified to discover that she has been mutilated and transformed into a duck of some sort. As a child, I remember visiting freak shows at Riverside Park in Agawam, MA. That was way back in the 50's, and now Riverside is a "Six Flags." The freak show tent was dark and scary. A woman with a small head was wrapped in a blanket and presented as the "monkey lady." You could ask her simple questions like, "What kind of pie do you like? "She replied slowly and quietly, "Apple pie." I was scared out of my head and had constant nightmares. Of course this is exploitation of those who are born with deformities, but in those days, they did not have the advantages of modern medicine and ability to make robotic limbs. Also, there is a community in Florida (I think) where former circus freaks have a neighborhood and, last I checked, were very happy. That was a long time ago. I think if babies are born now with serious deformities, there is so much more science can do for them, and we don't have to hide them away. I'm not sure if I can sit through this again tonight, but I will try, in memory of my beloved roommate, Maureen, who passed away too soon.

Freaks

Overall-4/5Lead Performers-4/5Supporting Cast-4/5Director-3/5Screenplay-4/5Cinematography-4/5Importance-3/5Recommendation for fans of the genre-4/5

Certainly A Must See

I was very glad to be able to see the whole film last night. I'd previously seen only part of it in the middle of the night. So I got to enjoy the whole story. To me, it was kind of scary when I saw what had happened to cleopatra. I wonder how they did that.

"Play it again, Sam"

On Saturday night, April 20th I had my auto-tune on for 8:00pm. I had heard a movie that I had tried to describe to my friends many times, was going to play. I cleaned the room with the television spotless and invited a few friends over for a cinematic treat.Many years before, I was lying awake with insomnia and on the television came "Freaks"...It was one of the most fascinating movies I had ever seen..I never forgot it!But, guess what, I live in California, and the ad did not say Eastern Standard Time, so I didn't know it was on at 5PM. Could you have in on again later in the evening so that we in California can see it? Do you ever have Encore presentations? If so, please repeat this film, as I would give it all four stars. It was so unique and so well presented that I am just heartbroken that I missed it! Please let me know if and when this is possible!!! Thank you so much!

Horror???

Why this film is classified under the horror genre is simply beyond me! Perhaps, if the original 30 minutes had been found and reinserted into the film, then maybe that would give it a horror content but, as it stands, it is in no way horror. The interesting part of the film is the freaks are the normal-bodied people and those who are born with deformities are normal and not freaks at all. I have viewed this film many times and I am always left with wondering what people who are born with deformities do today. A hundred years ago, they found work in shows such as these "freak" shows or circuses. Now, with our abhorrence of all that isn't "normal," we do not see these people.

Freaks review

I just watched this really interesting movie. I'm surprised in all the talk about the movie and its cast, that nobody bothered to mention that Angelo Rositto (Angeleno) was actually a professional actor, whose career spanned decades. Most people would remember him as Master in Mad Max Beyond Thunderdome.

Fascinating

As many others have said, this film is unique. At one time, it was banned because it was felt to be exploiting people born with birth defects. I do understand that perspective, but these handicapped people were actually exploited in side shows and carnivals at the time. The other side of that coin is that they at least had some employment, albeit as "freaks". Once you get past these issues, you can see the sense of family these people had and the genuine affection shown for the girls with microcephaly (small skull cavities). I guess the overall theme of this movie is don't assume you can use a handicapped person without consequences because he might have handicapped friends that will mete out their unique sense of justice.

Freaks - Following-up

I bought the DVD of director Tod Browning's creepy horror film "Freaks" earlier this year. It has in depth interviews, features about the making of the film, and bios on all of the performers. It also has the alternate ending, but I'm way disappointed that the almost 30 minutes deleted from "Freaks" isn't included (i.e., the scene of Hercules singing soprano after he was emasculated, and also Cleopatra being attacked by all of the freaks and being changed into the "Duck Woman" seen at the end). Hopefully, when and if this missing footage is ever found it should be added to a new, updated DVD version of "Freaks", which I will buy as soon as it is released! It will be even better than the one I have now!

Those Amazing Freaks!!

This is one of those films that is difficult to discuss without inserting social commentary. Still, I found it to be a touching melodrama as opposed to being a macabre/horror film. Browning captured a real story here, (though I'm not really sure it was intended) and the cinematic perspectives of these so called Freaks were warm and human. Turn of the century Sideshow oddities were both spectacular and an abomination. This little film seemed to bypass both of those extremes'. I was left wanting to know more about these unusual and challenged people.In all, this was a unique film that has a style unto its own. I enjoyed it and believe it to be an important film.

Freaks

One of the most original & creepiest films made in the 30's, "Freaks" is a visual joy to watch for classic horror fans. What this film does so well is have us relate to the freaks caught up in their circumstances. We loathe the 'big persons,' notably Olga Baclanova & Henry Victor as the antagonist's. My favourite line sums up this movie, "...you insult one of them. You insult them all." A must-see for classic horror fans. I give it a 4/5.

Freaks

***1/2

Much is missing

I read a book on director Tod Browning ("Dark Carnival"), it states that much had to be cut from this film to meet the demands of censors or whoever, this accounts for the choppiness and lack of continuity. Would love to see the scene where the male villian is singing soprano after the gang castrates him! The bearded lady was called "The Duchess" because of her grand manner (she wanted to put a perm in her beard before filming started).....please know that the Hilton Sisters/Siamese twins lived and died here in my hometown of Charlotte NC after their careers and money evaporated. There is recent bio book on them as well, very detailed and loads of interviews with survivors.

Freaks (1932)

Now this is a totally unique film. It is so odd and so fascinating. It has a good plot, unpredictable and always interesting. What works is the unexpected twists throughout the film. One thing that hurts the film, a lot of the acting is quite poor and it can be a bit distracting. It has an unforgettable ending, and it's not a film you will easily forget.

google gaggle 1 of us

to those who have not seen this movie i highly recommend it. classic ten times over.

Freax-ploitation Film

"Freaks" is the first of many films to exploit a group of people because of their race, ethnic background, etc. The group being exploited in this case are people who were born into the world with various physical deformities that made them social outcasts. The only way they could live were as circus freaks, being put on display to be laughed at and humiliated by the "so-called" normal people. "Freaks: features almost every type of "freak" imaginable (a human torso, siamese twins, pinheads, an armless girl, a legless boy, etc.), and the film shows their secret code of honor and them finding a special form of beauty in their deformities. I wonder how Cleopatra "The Peacock Of The Air" was transformed into the grotesque "Duck Woman" seen at the end. Maybe it was shown in the footage I've heard was edited from "Freaks". I hope it wasn't lost, and that a fully restored version of this "freax-ploitation" film will someday be seen on TCM and on DVD.

POSSIBLY THE MOST SHOCKING MOVIE EVER!!

Wow! Please someone in Hollywood re-release this as a feuture film that includes the [30 MINUTES!] that were edited out of the movie in 1932. I could only image the shocking sequences that we have not been fortunate enough to see the past 77 years! Gobble Gooble!!!

Different

Different. Tells a story of the abuses of the disabled in a society intrigued by different and odd. It sends a message that is still true today. A good lesson on greed and self-acceptance.

Horrifically beautiful

I am a huge fan of the old horror flicks and when I saw this movie I was dumbfounded. The emotion and plot twists and the out and out showing of true human nature was unbelievable. This movie was far beyond its time and I have since shared this with my friends and even changed some of their minds on these movies. A++++ in my opninion.

Way Ahead of It's Time!

I saw this movie about 3 years ago and watch it everytime it runs again. It is soooo good! What' so amazing is that it was made in the 30's at a time when people hid their "abnormal" relatives in attics and institutions. But in this film, they are portrayed as having more humanity than the "normal people". What a statement about our society! Interestingly enough, this film was banned in many areas across the country.

Ingenious

The different types of deformities featured in the film adds to an allready brilliant plot, of how those who are labeled "normal" are actually the "freaks"- and those that were considered abdnormal turned out to be more deep and compassionate in the longrun. Great acting and scenery. Wonderful all-around.

EXCEPTIONAL....

This film however thought provoking, was excellent! The actors, despite they're obvious deformities were absolutely brilliant! A MUST SEE! Best cult movie I've ever seen! Keep 'em coming tcm! BRAVO!

disturbing in a "good" way..

I only caught the dinner party though the end of this movie, but wow it's been awhile since I watched a movie that truely disturbed me, this one sticks with you. This is something special that will have you thinking about it days later

Sweet flick.

I didn't get to catch the first part of the movie, but caught on easily. That was one of the most interesting movies I have seen from that era, and the people in the movie well...they were something else. :)

GREAT MOVIE

This movie will keep you watching, no intermission on this show, the acting is great, and very interesting to say the least, lessons are to be learned, this movie will stick to you........just like glue.....Tracia in Wichita

freaks by tod browning

a very strange but intresting part of film history-very good film

Tod Browning's movie; FREAKS,

I was awe struck by this wonderful movie.It was so real that I searched every moment for computer graphics techniques, but then I realised it was reality as The God of The Universe allows. My Gratitude to Mr. Osborne for his dedication to show us the best in entertainment that exists in the industry. Many thanks once more for this movie and the many more that I enjoy on TCM.
*We protect your personal infortmation and will not provide it to anyone without your consent. For a complete explanation, please refer to TCM's Privacy Policy. By submitting your contribution, you agree to TCM's Terms of Use.