DVDs from TCM Shop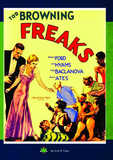 Freaks A lady trapeze artist violates... MORE&nbsp> $10.95 Regularly $14.99 Buy Now
NOTES
The working title of this film was Spurs. According to Hollywood Reporter and Film Daily news items, first Jean Harlow and then Myrna Loy was set for the role of Cleopatra, which was played by Olga Baclanova in the completed film. According to a Film Daily news item, the Flying Codonas were to be in the cast, but their participation in the completed film has not been confirmed. The picture did not open in New York until July 8, 1932, and several reviews noted that it had been playing in other parts of the country earlier in the year. Although a December 24, 1931 Hollywood Reporter news item stated that the picture would soon be playing at Grauman's Chinese Theatre, and a February 5, 1932 Hollywood Reporter news item noted that it would have its Los Angeles premiere on February 12, 1932, the exact date of the Los Angeles opening has not been determined.
The Variety review gives the film's running time as 52 minutes, although Motion Picture Herald and Film Daily list it as 64 minutes. A Film Daily news item, printed the day after the picture opened in New York, noted that Freaks was advertised with "a warning that children will not be permitted to see this picture and adults not in normal health are urged not to!" The picture was very controversial, and many reviewers asserted that it would be difficult for audiences to sympathize with the "freaks" in the film because they were real and not created through makeup or special effects. The reviews were mixed in their reactions to the picture, with one of the most extreme, the July 16, 1931 Harrrison's Reports review, stating: "Not even the most morbidly inclined could possibly find this picture to their liking. Saying that it is horrible is putting it mildly: it is revolting to the extent of turning one's stomach, and only an iron constitution could withstand its effects....Any one who considers this entertainment should be placed in the pathological ward in some hospital." In the July 23, 1932 Motion Picture Herald review, however, the critic was less alarmed: "If Freaks has caused a furore [sic] in certain censor circles the fault lies with the manner in which it was campaigned to the public. I found it to be an interesting and entertaining picture, and I did not have nightmares, nor did I attempt to murder any of my relatives."
According to Monthly Film Bulletin, Freaks was banned in Great Britain until August 1963, when it was finally released with an "X" certificate. Modern sources note that the picture was banned in other countries as well. Modern sources include Murray Kinnell, Elvira Snow and Jennie Lee Snow in the cast, and add the following credits: Producer Irving Thalberg and Harry Sharrock; and Art Director Cedric Gibbons and Merrill Pye. Modern sources also add the following information: Dwain Esper, who acquired the film's distribution rights in 1948, exhibited it under the titles Nature's Mistakes, The Monster Show and Forbidden Love. Esper added a written prologue to the version entitled Nature's Mistakes, describing the history and travails of "misshapen misfits." Although the print viewed was titled Freaks, it included this written prologue. Some modern sources state that it was producer Thalberg who added the prologue when he attempted to re-issue the film in 1933 as Nature's Mistakes. The original ending purportedly showed "Hercules" singing in a music hall, his falsetto voice indicating that the freaks had emasculated him rather than killed him. It is unclear whether a version of the picture with this ending was ever distributed. The 1967 Sonney-Friedman film She Freak, which was directed by David F. Friedman and starred Claire Brennan and Lee Raymond, appears to have been inspired by Freaks (see AFI Catalog of Feature Films, 1961-70; F6.4451).