DVDs from TCM Shop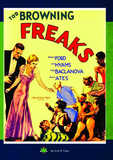 Freaks A lady trapeze artist violates... MORE&nbsp> $10.95 Regularly $14.99 Buy Now
Home Video Reviews
Who would have thought that a prestigious studio like MGM, the home of Greta Garbo, Clark Gable and the singing duo of Jeanette MacDonald and Nelson Eddy, would produce a movie set in a carnival sideshow featuring real pinheads, Siamese twins, a bearded lady, and other human oddities? What were they thinking? Believe it or not, 1932's
Freaks
(now on DVD from Warner Video), was originally commissioned by MGM's enterprising mogul, Irving Thalberg, who usually favored adaptations of tasteful literary classics like
Camille
or
David Copperfield
. As a favor to Tod Browning, who had previously directed such successful Lon Chaney films for the studio as
The Unholy Three
(1925) and
The Unknown
(1927), Thalberg offered the director a lavish mystery thriller,
Arsene Lupin
, the tale of a master thief. However, Browning was more enthusiastic about filming "Spurs," a short story by Tod Robbins about a midget who takes revenge on a beautiful circus bareback rider. Despite some reservations, Thalberg put a team of writers to work on the project with the intention of creating a horrific tale to surpass the success of Browning's
Dracula
(1931) for Universal, a rival studio.
In the early stages of production on
Freaks
, Thalberg considered Myrna Loy for the part of the evil trapeze artist, Cleopatra, and Jean Harlow as Venus, the kindly seal trainer who's in love with the circus clown, Phroso. But the mogul obviously changed his mind after seriously considering the subject matter because these roles eventually went to Moscow Art Theatre star Olga Baclanova and MGM contract player Leila Hyams, respectively. Casting the circus freaks proved to be more challenging with the exception of Harry Earles, the diminutive star of
The Unholy Three
. He had always been Browning's first choice for the role of Hans, the midget whose romantic infatuation with Cleopatra sets the stage for a grotesque tragedy. And Harry's sister, Daisy Earles, agreed to play her brother's on-screen fiancee, Frieda. For the rest, casting director Ben Piazza solicited photographs and screen tests from freak-show talent across America and beyond. Johnny Eck, the "half boy" whose body ends at his rib cage, was discovered in a Montreal sideshow. Siamese twins Daisy and Violet Hilton were recruited from the vaudeville circuit. Other discoveries included Prince Randion, an armless, legless native of British Guiana who could shave himself and roll his own cigarettes; Schlitze and her entourage of fellow pinheads; Josephine/Joseph, the Austrian hermaphrodite; Pete Robinson, a sixty-five pound "human skeleton"; Angelo Rossitto, a dwarf (who out of all the "freaks" went on to enjoy a long career in films).
When
Freaks
began filming on the MGM lot, Thalberg took extra precautions to discourage gawkers and to keep the more unusual cast members out of sight. Only the Siamese twins and the midgets were allowed to eat in the studio commissary while the rest of the carnies were fed at an outdoor mess hall. Nevertheless, Johnny Eck later complained that some of his co-stars let Hollywood go to their heads and "started wearing sunglasses and acting funny." Schlitze, the most sociable of all the pinheads, probably enjoyed the experience the most. According to David J. Skal and Elias Savada in
Dark Carnival: The Secret World of Tod Browning
(Anchor Books), Schlitze "was actually male, but for simplicity of hygiene wore a sack-like dress and was described publicly as a woman." "Here was a triumph of personality if I ever saw one," wrote film journalist Faith Service, who called Schlitze "the pet and favorite of the M-G-M lot," finding a fan even in Norma Shearer. "She made a great to-do over new dresses, tricks of magic, gay hats, bits of string, the sword swallower, games of tag and Tod Browning." Service noted "One of her special likes was for Jackie Cooper, much to that small trouper's terror. He did not reciprocate the affection."
By the time
Freaks
was finally unveiled for a public preview, it had already gone through numerous changes. For one thing, the studio insisted on a macabre ending and rejected Browning's more melancholy fadeout, which sympathized with the plight of these much-maligned social outcasts. But after the horrified response to the preview screening of
Freaks
, the studio drastically cut the film from a length of around ninety minutes to just over an hour. According to the authors of
Dark Carnival: The Secret World of Tod Browning
, "The truncated version jettisoned the horrifying details of the mud-dripping freaks swarming over the tree-pinned Olga Baclanova and pouring into a circus wagon to castrate her lover. Several comic scenes were eliminated, including one of the turtle-girl being amorously pursued by a seal. A rambling epilogue set in a second-story London dime museum called Tetrallini's Freaks and Music Hall...was completely discarded, save for the final shot of Cleopatra quacking; a new prologue was added, featuring a spieling barker....who introduces the "most amazing, the most astonishing human monstrosity of all time." And finally, a second epilogue, evidently intended as a happy....ending, depicted the reconciliation of the midget lovers in Hans' palatial estate, approvingly played by Phroso and Venus."
When this new version of
Freaks
finally went into national release, it was not only savaged by most critics (
The New York Times
suggested that it should be screened at a medical center instead of a theatre) but also attacked by civic groups and the spokeswoman for the National Association of Women who pointed to it as a further example of Hollywood's collapsing moral standards. Undeterred, Thalberg, who actually felt it was an important film, continued to champion
Freaks
and later re-released it with a more sensationalistic ad campaign; the title was changed to
Nature's Mistakes
and the poster featured provocative captions like "Do Siamese Twins Make Love?" and "What Sex is the Half-Man-Half-Woman?" Still, it failed to find an appreciative audience, yet today
Freaks
is considered one of the most fascinating and unusual films ever produced by a major Hollywood studio. And its influence on other films has been considerable - everything from Edmund Goulding's
Nightmare Alley
(1947) to Federico Fellini's
La Strada
(1954) to Jack Cardiff's
The Mutations
(1973). Even the punk rock group, The Ramones, lifted their rallying cry of "gabba-gabba-hey" from the bizarre wedding sequence in
Freaks
where the sideshow oddities chant a strange toast to the newlyweds Hans and Cleopatra.
The Warner Video DVD of
Freaks
is a fine transfer of this much maligned film; there is some slight print damage - some minor speckling and the rare scratch line - but nothing of major significance. The audio is good considering the film's vintage though most viewers will have to struggle to understand every word little Harry Earles delivers due to his thick European accent. Of particular interest are the extras which include the special prologue added for the film's re-release, 3 alternate endings and "Freaks: Sideshow Cinema," a mostly talking heads documentary supplimented by clips and featuring fascinating behind the scenes details from author David Skal (
Dark Carnival: The Secret World of Tod Browning
), sideshow performer Johnny Meah, and others. In addition to learning about the real freaks who were used for the film, you'll discover, for example, that Victor McLaglen was the original choice to play the strongman Hercules plus you'll glimpse original poster art for the film (one tag line reads "Can a full grown woman really love a midget?"). Skal also provides a very detailed running commentary for the film which is both insightful and highly entertaining.
For more information about
Freaks
, visit
Warner Video
. To order
Freaks
, go to
TCM Shopping
.
by Jeff Stafford