DVDs from TCM Shop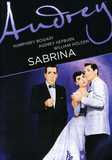 Sabrina Two wealthy brothers fall for... MORE&nbsp> $6.95 Regularly $8.99 Buy Now
Trivia
Humphrey Bogart was a last minute replacement for Cary Grant. Bogart and 'Holden, William' couldn't stand each other. Bogart disapproved of Audrey Hepburn (he wanted his wife Lauren Bacall in the role), while Holden fell in love with her. Bogart got $300000, Holden got $150000, and Hepburn only $15000. Asked how he liked working with Hepburn, Bogart replied: "It's ok, if you don't mind to make 20 takes."
The music features three main themes:- "Isn't love romantic?": Holden's theme (superficial love)- "La vie en rose?": Hepburn's theme (romantic "deep" love)- "Banana song": Bogart's theme (cynical, deceitful "love")- Hepburn's theme "wins."
Although Edith Head won an Oscar for costume design, most of Audrey's wardrobe was by Hubert de Givenchy. In fact, Audrey chose her own clothes to wear from Hubert's collection. This was her first time working with the French designer, and he would become her costumer of choice for most of her career.
This was the second film in a row where Audrey gets her hair cut as a symbol of maturity. The first was in Roman Holiday (1953). It is also the first of four films in a row where she'd play a character romantically linked with a man old enough to be her father.
Originally titled Sabrina Fair, the title was changed in the US so audiences wouldn't link it with highbrow stories like Vanity Fair.
Contributions
NickNC14 (2006-04-20)

Source: imdb.com

During production Billy Wilder was continuously working on the script. One day he asked Audrey Hepburn to feign illness so he would have enough time to finish the scene to be shot.

NickNC14 (2006-04-20)

Source: imdb.com

When Linus takes Sabrina to the theatre, they see the play "The Seven Year Itch", which was director/writer Billy Wilder's next movie project. The play is mentioned at least twice.

Holz (2008-07-22)

Source: not available

Goof: When Linus and Sabrina are sailing, there is no wind in the sail and the main sheet has no tension; obviously a studio shot with a backdrop.